Looking to purchase the best Solstice inflatable boat?
Then you should read this review, where I'll be looking closely at five of the best Solstice inflatable kayaks and boats. After reading all about their advantages and disadvantages you will be able to make an informed decision on the right Solstice boat for you.
The Solstice Watersports Brand Information
Essential Information On Solstice
Solstice Watersports is a subsidiary of Swimline, a family-run business founded in 1971, which produces all kinds of pool products, from pool liners to leisure accessories like pool toys and floats. In 2007, Swimline entered the watersports market with Solstice, offering inflatable kayaks, inflatable dinghies or quest inflatable boats, and even fun towable items and animal-shaped inflatables.
Where To Purchase Solstice Inflatable Boats?
The products can be purchased on Solstice's website, however, Amazon.com is recommended due to frequent discounts. It also has an added benefit of offering useful customer reviews and a nifty system for asking questions quickly and complication-free. Amazon.com will ship internationally, while the Solstice website ships for the US only.
The Price Range of Solstice Inflatable Boats and Kayaks
Solstice inflatable kayaks can be found at very cheap to high-range prices, offering products for both beginners and more advanced watersports hobbyists. To be considered is that most of the inflatable boats do not come with oars or a pump – these accessories can be purchased from Solstice as well on Amazon.com.
Warranty And Instruction Manuals
Solstice inflatable boats come with a 1-year warranty which can be requested directly from the manufacturer. You can check out the direct terms from their website. Detailed instruction manuals for Solstice inflatable boats and kayaks can also be found on Solstice's website.
Top 5 Solstice Inflatable Kayak Reviews
Solstice Rogue Inflatable Kayak
Classic Solstice Design
The Solstice Rogue Inflatable Kayak, model number 29900, is made in classic Solstice design with two inflatable and removable front seats. The convertible design is intended for one or two paddlers with a capacity of up to 360 lbs. The design comes in blue and white color combination.
Made From Durable Material
The Solstice Rogue Kayak is made from extremely durable 26G K80 material and has radio frequency welded seams, which help it resist wear-and-tear. Equally important is its 3 chamber construction with the I-beam floor, which helps with the buoyancy and rigidity of the Solstice Rogue Inflatable Kayak.
Front And Back Spray Covers Keep You Dry
The Solstice Rogue Kayak comes with front and back spray covers to keep you dry and is self-bailing to help excess water exit the kayak. In the case of punctures, you can follow the maintenance instructions on Solstice's website and the included repair kit to fix the damage.
Easy To Transport
Thanks to its dimensions of 22.5 x 7 x 15 inches and weight of 24 pounds, the Solstice Rogue Kayak is the perfect choice for anyone searching for a lightweight and easy-to-transport model. Its shorter length allows it to cut more efficiently through water, giving it more speed on whitewater rapids.
Easily Found Replacement Parts And Accessories
The inflatable kayak seats for the Solstice Rogue Kayak are easily replaced and fit in most kayaks and canoes. The pump and paddles are sold separately – Solstice recommends their Solstice by Swimline 4-piece Quick Release Paddle with an adjustable blade angle, available on Amazon.com.
Characteristics:
Easily adjustable and removable seats
Made from extremely durable material
Lightweight and portable
Front and back spray covers keep you dry
Solstice Voyager 4-Person Inflatable Boat
Fits Up To Four People
The Solstice Voyager 4-person inflatable boat is a multi-capacity inflatable dinghy perfect for leisure time on pools, lakes and other water surfaces. Reviewers have noted that the Solstice 4-person inflatable boat offers a tight fit for two adults and two children or four adults, and a good fit for two adults.
Heavy Duty Material With A Sturdy Feeling
The Solstice by Swimline Voyager 30400 is constructed from heavy-duty PVC material with radio frequency welded seams, giving it a rigid and sturdy-feeling. It comes with four DIN air chambers and has a double hull design, which provides stability and comfort throughout your time on the water.
Perfect For Fishing On Open Seas
The Solstice Swimline Voyager comes with swivel oarlocks that add maneuverability in open waters. Coupled with an integrated and fully replaceable grab line, this compact inflatable dinghy is perfect for a fishing fanatic. Another reviewer states that fully inflated, the boat holds up to a 9-inch pole with a medium-sized reel.
A Practical Choice For Beginners
The Voyager 30400 is sized 20 x 5.5 x 14 inches with a weight of 18.3 pounds. Its practical dimensions and low cost make it perfect for watersports or fishing beginner or anyone looking to save a couple of bucks.
Oars And Pump Sold Separately
As with other Solstice products, the oars and pump do not come included with the model. But, it is possible to purchase a Voyager Series Kit #30401 which includes the boat with these necessary accessories at a slightly higher price, also available on Amazon.com.
Characteristics:
Multi-capacity boat
Made from durable PVC material
Suitable for fishermen
Solstice Inflatable Boat 6 Person Other Version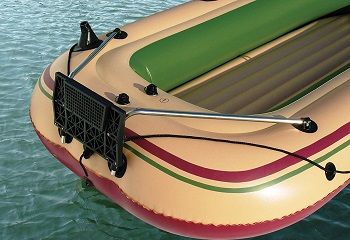 Larger Capacity Boat
This is a larger capacity boat of the previously mentioned Solstice Voyager 4-Person boat. The Solstice 6-person raft, model 30800, is compatible with a 2 HP gas or electric motor. Aside from the increased capacity and dimension and weight (15 x 10 x 21 inches; 25.8 pounds), the Solstice Inflatable Boat 6 Person is identical to the 4-person model.
Solstice Traveller Inflatable Kayak
An Ideal Solo Excursion
The Solstice Inflatable Solo Kayak, model 29510, provides an ideal one-person experience, with a padded backrest and adjustable seat cushion adding additional comfort. Your gear will be perfectly safe thanks to the stainless tie downs that are included with the model.
Stable And Reinforced Construction
The Solstice Traveller Inflatable Kayak is made from durable 500 Denier 3 ply PVC reinforced fabric. Its 3 high-pressure chambers add rigidity to the kayak and improve its stability and overall performance.
Streamlined For Speed
The Solstice Traveller Solo Kayak is touted as one of the fastest one-person kayaks that Solstice has to offer. This is due to directional strakes that help with maneuverability, and its lightweight and sleek design which helps diminish water resistance and offers a speedier experience.
Perfect For Travellers
The Solstice Traveller comes with everything necessary for a kayaking expedition: a backpack carry bag, quick-release paddle, pump, and gauge. It is one of Solstice's most practical kits – once you purchase it, you're set.
Product Dimensions And Weight
All of the accessories included, the Solstice Traveller weighs 48 pounds and has the dimension of 30 x 14 x 19 inches. This is comparatively heavy to other inflatable dinghies and kayaks by Solstice, however, its inflatable nature makes it easy to deflate and transport. This kayak is also reported to be roomy and sturdy enough to support the weight of another adult.
Characteristics:
Perfect for a one-person excursion
Added comfort
Streamlined for speed
Comes with essential kayaking equipment
Solstice by Swimline Durango Kayak
Easily Convertible Design
The Solstice by Swimline Durango Kayak, model 29635, is perfect for those who like to have additional space for a plus one, as it has an easily convertible design and can accommodate up to two people. Other Solstice by Swimline Durango Kayak reviews have mentioned lacking back support of the chairs, which should be taken into account along with the practical, adjustable design.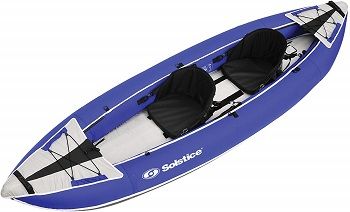 Simple To Assemble
The Solstice by Swimline Durango Kayak is simple to assemble and comes with an array of useful accessories, such as a carry bag, detachable skew, repair kit, and owners' manual. This makes it a good choice for a kayaking beginner.
Made From Quality Material
The seats are covered with sturdy nylon, and the top cover is made of tough PU coated 840 Denier nylon oxford fabric. The 22 gauge K-80 PVC interior construction is durable and sturdy with a 1000 Denier nylon bottom & 1/3 sides.
Numerous D-Ring Tiedowns And Carry Handles
In comparison to most other inflatables, the Durango offers numerous heavy-duty "D" ring tie-downs which provide more gear tie-down options. The bow and aft stern covers are also covered with elastic cords for cargo, which adds convenience to the design.
Optimal Performance In Whitewater Rapids
The Solstice by Swimline Durango Kayak features a V-shaped bottom and a 1-inch webbing strake for optimal navigation and maneuverability. Whether in whitewater rapids or in a lazy lake, the Durango will control with ease.
Characteristics:
Practical convertible design
Simple to assemble
Numerous sturdy tie downs and carry handles
Navigates efficiently
Conclusion: Which Best Solstice Inflatable Boat To Purchase?
For water sports fans looking for a fun, team-activity to enjoy with family and friends, the Solstice by Swimline Voyager 6-person boat is an excellent choice: both durable and practical, this inflatable dinghy offers everything you need. For solo adventurers, the supremely comfortable and speedy Solstice by Swimline Traveller Solo Kayak is recommended.
If you're interested in reading more about inflatable boats, check out this article on inflatable boats for sale. For those that are interested in fishing boats, refer to this review of the best inflatable fishing boats. In case you want an inflatable with a bit more speed, you can find them in this inflatable raft with the motor review.