Do you want to purchase an inflatable boat?
Then check out Hydro-Force inflatable boats, the leading products coming from a well-known watersports company.
In this article, I will be reviewing four of the best Hydro-Force inflatable boats and kayaks available in 2020. Keep reading to find out all about their technical and other specifications, including their advantages and disadvantages.
More About the Hydro-Force Brand
Subsidiary Of Bestway
Hydro-Force is actually a part of Bestway, its parent company that started out in 1994. Today, Bestway offers more than 1000 products manufactured by teams all over the world, including the US, Europe, and Australia. Their service reaches over 110 countries across all six continents. The categories of their products are immensely varied, ranging from water and winter sports to spas and indoor airbeds. Hydro-Force, as a subsidiary, is responsible for its inflatable line-up.
Products That Hydro-Force Offers
Hydro-Force offers not only inflatable boats but also stand-up paddleboats and parts and accessories, like their coil leash and paddles. Their line of inflatables covers Hydro-Force dinghies (for ex. the Hydro-Force Mirovia Pro inflatable boat), Hydro-Force kayaks (notably the Bestway Lite Rapid x2 inflatable kayak) and Hydro-Force inflatable rafts, offering customers different designs, sizes, and prices to choose from.
Hydro-Force Technology& Construction
Hydro-Force intends to set itself apart from its competitors with an array of technologies employed both in their Hydro-Force kayaks and SUPs. The Inflatashield technology along with drop-stitch bottom construction provides rigidity and puncture-resistance to Hydro-Force inflatables. Hydro-Force inflatable boats make use of tritech, 3-ply reinforced material encased in 2 layers of PVC to add durability and allow products to withstand the effects of UV rays and petroleum exposure. Finally, their Fortech technology, a fusion of polyester mesh and high gauge PVC, ensures that their products stay light-weight.
The Price Range Of Hydro-Force Inflatable Boats
Hydro-Force Inflatable kayaks stand in the low to low middle price range of the inflatable boats market. Some of their products, such as their rafts, are extremely affordable, yet that fact is balanced with their extreme simplicity of design and features. Though not particularly innovative compared to some other offerings on the market, inflatable boats by Hydro-Force are a good choice who want a durable product that gets the job done.
Where To Buy Hydro-Force Kayaks?
On their website, Hydro-Force list the retailers that carry their goods physically. For online purchases, Amazon.com is recommended. Hydro-Force has a detailed and easy-to-use market place where you can browse all of their products, and, frequently, purchase them at a discount.
Top 5 Hydro-Force Inflatable Boats and Kayaks Reviews
Hydro-Force Mirovia Pro Inflatable Boat
A Perfect Boat For A Group Excursion
The Hydro-Force Mirovia Pro inflatable boat is sized for up to four adults and one child at its length of 10'8'', though reviews recommend 2-3 people for better stability. Extremely lightweight, this Hydro-Force inflatable is a great choice for both adepts and beginners, as it is very easy to control and manoeuver.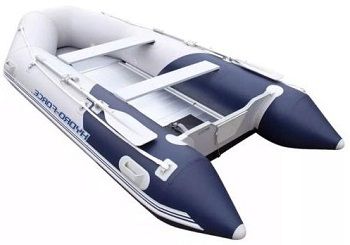 Durable Design Gives Value For Money
Many reviewers praise the Hydro-Force Mirovia Pro inflatable boat for its excellent durability; for its low price range, this Hydro-Force dinghy is constructed with heavy-duty materials to ensure longevity. Marine Grade Aluminum Floorboards not only protect the floor from abrasions but provide a safe, non-slip surface. Constructed out of heavy-duty PVC which is supported by terylene, this boat can easily resist the harmful effects of UV rays. Due to its reportedly excellent construction, the Hydro-Force Mirovia Pro inflatable boat Is covered by a 1-year warranty.
Highly Versatile Hydro-Force Inflatable Dinghy
This Hydro-Force inflatable boat is equipped with a high-pressure inflatable keel, which in combination with rigid floorboards gives it directional stability and ease of rowing. It can also be equipped with an outside motor, thanks to its fixed buckle, juicing its functionality up with the extra speed and power.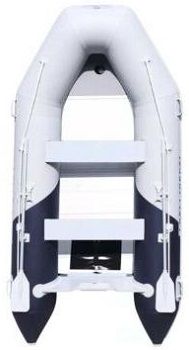 Many Features For Convenience
The Hydro-Force Mirovia Pro inflatable boat comes with various features for your maximum convenience. This includes an adjustable bench seat, safety ropes, omnidirectional oarlocks and carrying handles. The only downside, as mentioned by other reviewers, is that this Hydro-Force inflatable does not come with a D-ring on the front to tie it up with.
Comes With Many Additional Accessories
With the Hydro-Force Mirovia Pro inflatable boat, you only need to purchase and inflate it to be ready for your kayaking trip. With the included aluminum oars, hand pump, carrying bag and repair kit, you can slip right into the water at no additional cost.
Characteristics:
Extremely affordable yet heavy-duty inflatable
Has a motor buckle for versatility
Extremely stable and rigid construction
Two bench seat positions
Comes with oars and hand pump
Hydro-Force Mirovia Pro 2019 Other Version
The Hydro-Force Mirovia Pro 2019 differs in no significant way to its original version, the Hydro-Force Mirovia Pro inflatable boat. The only significant difference is the Bestway Hydro-Force 65049e Mirovia Pro 130 is slightly smaller at 10′ 3" and even more affordable.
Bestway Lite Rapid X2 Inflatable Kayak
Part OfBestway's Premium Range
With a capacity for two adults and a weight limit of 350 lbs, the Bestway Lite Rapid X2 kayak is a great choice for all manner of water sports, whether adventures on rivers, fishing expeditions or leisure rowing on a lake. Simple to inflate and deflate, this Hydro-Force inflatable kayak can be transported with ease.
Kayaking In Comfort
During long kayaking trips, there is nothing more important than your comfort. This is why the Bestway Lite Rapid X2 inflatable kayak comes with two inflatable seats with a comfortable backrests. As with the Hydro-Force Mirovia Pro inflatable boat, these seats are adjustable for your convenience.
Easy To Manoeuver
The Bestway Lite Rapid X2 kayak will cut through waves with ease and comes with a removable middle keel fin for directional stability. You won't have to worry while rowing thanks to the kayak's form-fitted construction and integrated drain valve which help with water regulation.
Hydro-Force Trademark Quality
In other Bestway Lite Rapid X2 kayak reviews, Bestway boasts their affordability coupled with quality, durable construction. The pre-tested vinyl material is UV, oil and saltwater resistant – it will remain stable in water and resist environmental and other wear-and-tear.
Accessories Included
The Bestway Lite Rapid X2 kayak comes with two lightweight aluminum oars, 86'' long with a double-bladed design. Unfortunately, it does not come with a pump like the Hydro-Force Mirovia pro inflatable boat, so this will have to be purchased separately.
Characteristics:
Multi-purpose tandem kayak
Inflatable seats feature backrests
Removable middle keel fin
Pump not included
Bestway Hydro-Force 91 inch Caspian Pro Inflatable Boat
Spacious Design & Capacity
The Bestway Hydro-Force 91 inch Caspian Pro inflatable boat is a two-person Hydro-Force inflatable dinghy. It will accommodate up to 3 adults and 1 child with its generous weight capacity of 568lbs. Alternatively, go paddling with just two and bring in extra gear.
Heavy-Tier Construction
The Bestway Hydro-Force 91 inch Caspian Pro inflatable boat is made to be extremely durable, featuring all of the construction materials and tricks that are expected from higher-tier Hydro-Force inflatables. This includes the rigid and non-slip marine grade plywood flooring and durable Nylon PVC material which is shock absorbent and UV-resistant.
Easy To Assemble And Transport
Despite its size, theTheBestway Hydro-Force 91 inch Caspian Pro is a very lightweight inflatable dinghy, which comes useful not only in transporting the boat but also controlling it on water. No tools are needed to assemble the floorboards and bench seats – you will be able to set it in no time with the included Air Hammer hand inflator pump.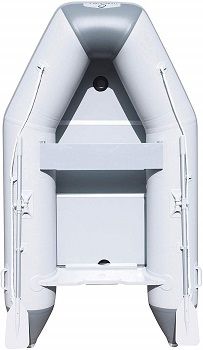 Additional Features
The Caspian Pro includes an extra tough strake to protect against impact and abrasion. It also comes with many other convenient features and accessories that mirror those of the Mirovia, such as omnidirectional oarlocks, safety ropes, drain valve, and motor mount.
Characteristics:
Large capacity of up to 568lbs
Very lightweight and easy to transport
Features marine-grade plywood flooring
UV-resistant and shock-absorbant
Bestway Hydro-Force Caspian 7'6 Other Version
The Bestway Hydro-Force Caspian 7'6 is a smaller version of the Bestway Hydro-Force 91 inch Caspian Pro inflatable boat. Another notable difference is in the construction: unlike the marine-grade plywood flooring of the larger version, the Caspian 7'6 is made with drop-stitch flooring, which, while durable, does not provide the same amount of support. This version also only comes with one seat, though it can be used by two adults.
Bestway Hydro-Force Sunsaille
The Largest Hydro-Force Inflatable Boat
The Bestway Hydro-Force Sunsaille inflatable boat is the newest and the largest boat Hydro-Force has to offer at the capacity of 6 people and the size of 12′ 6". This Hydro-Force inflatable has a stunning capacity of 1719.6 lbs, which is one of the top capacities to be found on the market. This boat can also be fitted with a 25HP motor.
Drop Stitch Material Floor
The flooring of the Bestway Hydro-Force Sunsaille is made from drop-stitch material. Though this floor is not as slip-resistant as plywood or aluminum flooring, it is incredibly sturdy and rigid all will support the number of people marketed. It also features marine-grade plywood in the transom, which is a good trade-off.
Resists Elemental Damage
Like other high-tier Hydro-Force boats, this affordable inflatable is sunlight resistant and utilizes terylene supported PVC material. It also features 4 air chamber construction with high-pressure inflatable keel, also used in the Hydro-Force Mirovia Pro Inflatable Boat to give it more stability and maneuverability.
Other Details & Accessories
Like most of the Hydro-Force inflatable boats I've reviewed, the Bestway Hydro-Force Sunsaille rib 6-person boat comes with a steel two-ring, carrying handles, integrated drain-valve, safety-grab ropes, oars, and a hand pump. It also features a fixed buckle for an oil box.
Characteristics:
The largest Hydro-Force inflatable dinghy
Drop-stitch material flooring for rigidity and sturdiness
Comes with all of the essential accessories
Hydro-Force Parts And Accessories
For their inflatable kayaks, Hydro-Force sells 45" and 57" sectional aluminum oars on Amazon.com. The sectional aluminum oars can be used separately or combined into one 86" twin-blade paddle. Both have ribbed blades for added durability.
Conclusion: Which Top Hydro-Force Force Inflatable Boat, Kayak & Dinghy To Choose?
We've seen four different Hydro-Force inflatable boats in this review. For those looking for the classic dinghy design that features all of Hydro-Force's best technologies and construction tricks, the Hydro-Force Mirovia Pro Inflatable Boat is a great choice for a durable, ready-to-go inflatable choice. For those who value more speed in their kayaking, the Bestway Lite Rapid X2 Inflatable Kayak with its fitted hull design and comfortable seating will provide everything you need at a bargain price.
If you've enjoyed reading this article, you are advised to read this review on boat tenders for sale. If fishing is more of you think, click on this article on best inflatable fishing boats, and if you're looking to travel in bulk, read this article about giant inflatable boats.