Interested in finding the best pontoon boat on the market?
If yes, you will enjoy reading this review, where I'll be looking at five different pontoon boats from four well-known brands, separating them into important categories: best one-man pontoon boat, best fishing pontoon raft, best frameless pontoon boat, best inflatable pontoon boats motorized, best 2-person inflatable pontoon boat. Find your perfect inflatable pontoon boat!
All You Need To Know About Inflatable Pontoons
What Are Pontoon Boats?
Pontoon boats are named after their namesakes, pontoons, the supporting structures that they are made of. These long, hollow structures, not unlike tubes, support the weight put on top of them and give it buoyancy. These tubes can be made either of hard material or soft material, resulting in inflatable pontoon boats.
What Are The Different Kinds Of Inflatable Pontoon Boats?
Pontoon boats differentiate on their size and materials, but most prominently on the different features and accessories that they do or do not include. We have, for example, fishing pontoon boats with specially integrated fishing gear, speed pontoon boats that are motorized and affordable pontoon boats. We can also differentiate between inflatable pontoon boats that come with a frame and without a frame.
Inflatable Pontoons Vs Other Inflatables
Compared to other inflatables, pontoon boats feature a sit-on-top design that is more beginner-friendly due to the fact that it is easier to get on and off a pontoon (compared especially to inflatable kayaks). They also offer more space than your average inflatable boat or kayak. A downside is that pontoon boats are not as maneuvrable and are not suited to take on rough seas.
The Price Ranges Of Blow Up Inflatable Pontoon Boats
Inflatable pontoon rafts come at varying prices, but they do not reach prices as cheap as your cheapest inflatable boat or kayak would. In this review, I will be talking both about affordable brands, such as the Classic Accessories Colorado pontoon boat, and also models from the opposite side of the spectrum such as the 13' pontoon boat from Outcast.
Where To Buy Inflatable Pontoon Boats For Sale
Get these inflatable pontoon boats for sale either from retailers or from each of the brands' websites. Alternatively, you can purchase them from Amazon.com – this online marketplace is recommended for frequent discounts and ease of purchasing and reviewing.
Best 5 Blow Up Pontoon Boats For Sale
Best Fishing Pontoon Raft
Classic Accessories Colorado Pontoon Boat
High Capacity Personal Pontoon
This 9' Classic Accessories Colorado inflatable pontoon boat is a great choice for any passionate angler with its weight load capacity of 400lbs, more than enough to accommodate the biggest of catches. Another great feature that every self-respecting inflatable fishing pontoon should have is a weatherproof trolling motor mount, and the Classic Accessories Colorado pontoon goes even further in including two possible positions that you can mount your motor on.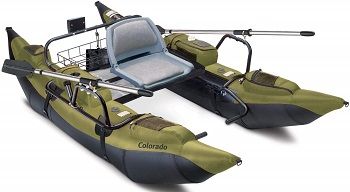 Heavy-Duty & Damage-Resistant Construction
This Inflatable Pontoon fishing boat features Classic Accessories trademark construction – heavy-duty pontoons are coupled with an abrasion-resistant PVC bottom and nylon tops to provide great durability. The Classic Accessories Colorado inflatable pontoon boat for sale also features rod holders with non-corroding oarlocks. Better yet, these holders can be rotated in three different positions on each oar stand, providing optimal reach.
Generous Storage Space And Options
High weight capacity would not mean much without specialized storage space – this is why the Classic Accessories Colorado pontoon fishing boat comes with more than enough options. It features 10 mesh pockets, 12 zippered pockets, and two insulated drink holders. Detachable micro-foam fly patches will keep your gear safe yet allow you easy access.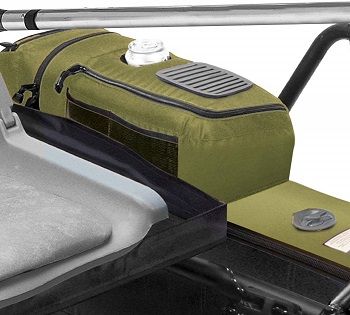 Offers A Comfortable Ride
The Classic Accessories Colorado pontoon boat comes with a padded plastic seat that can be folded down. For enhanced comfort, an adjustable footrest and seat mount are included. The footrest is also no-slip for your safety. Ride high on this Classic Accessories Colorado pontoon and enjoy the optimal visibility it provides.
Why Buy This Inflatable Pontoon:
High load capacity and a myriad of storage options
Includes a weatherproof motor mount
Rod holders can be rotated in three positions
The complementary plastic seat comes with an adjustable footrest
Best One-Man Pontoon Boat
Classic Accessories Roanoke Inflatable Pontoon Boat
Light And Affordable Model
This one-man pontoon is a very affordable model from Classic Accessories; this also means that it is stripped off some features that the Classic Accessories Colorado pontoon comes with, such as the motor mount and rod holders. This also makes this one person pontoon boat very light at 43lbs – while this is good for portability, it also makes this pontoon less resistant to strong wind, so care should be exercised.
Built To American Boat And Yacht Council Standards
The safe construction and maintenance of this 1 man pontoon boat are backed by official ABYC standards. Built from the same durable materials as the previous model, abrasion-resistant PVC for the bottom and heavy-duty nylon for the top, quality of construction is ensured with this model.  A 1-year limited warranty is included in case of damage.
Storage Capacity & Seating
The Classic Accessories Roanoke provides slightly less load capacity than Colorado at 350lbs; it is also smaller at 8'. Gear can be stored in two large zippered pockets integrated into the armrest, or stowed away on the rear-facing storage platform.  This one-man pontoon comes with a fold-down molded plastic seat that features a footrest just like the previous model.
Comes Included With Quality Oars
Many inflatable brands that do include oars with their products skimp on the quality; this does not happen with Classic Accessories. These 6' oars can be separated into two parts for easier transport, and also float in water if you happen to drop them. Oarlocks with steel tubing are integrated to minimize the chance of that happening.
Why Buy This Inflatable Pontoon:
Affordable and lightweight model
Features safe and durable construction
Comes with high-quality oars
Best Frameless Pontoon Boat
Sea Eagle Inflatable Pontoon Boat
Frameless Sea Eagle Pontoon
The Sea Eagle 285 frameless fishing pontoon boat is a very light and extremely portable boat at 42lbs of weight. Due to its lack of an aluminum frame, this personal pontoon will pack very small and fit in the back of any car. It will inflate in a matter of four minutes.
Comes With An Optional Motor Mount
This Sea Eagle pontoon can be equipped with an electric or 3 HP gas motor thanks to the included, optional motor mount. It is estimated that this frameless pontoon boat will reach 5-7 miles per hour with the gas motor, and 3-4 miles with the electric one.
Suited To Anglers
Some very necessary accessories for anglers are the two built-in rod holders and many storage options, including a side pouch and stern bag. An inflatable seat with an aluminum footrest is included for when you want to kick back and fish in comfort; the optional swivel seat allows you to rotate around and sit even higher to reach all the best fishing sports.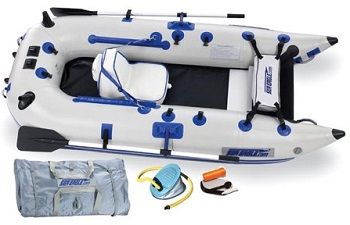 Stable Flooring Allows You To Stand
Another important feature for anglers is the stability of the flooring. Thanks to the integrated wooden floorboards covered by durable 1000 DEN reinforced fabric; you can safely stand while fishing, without worries of damaging or wearing down the flooring. This frameless pontoon also features two air chambers and quadruple overlap seams.
The Pro Package Has You Covered
The Sea Eagle 285 frameless pontoon boat pro package comes with all the necessary kayaking accessories: the aforementioned swivel seat, motor mount, pump, oar set, clip-on stow pouch, stripping apron, two-rod holders, carry bag, repair kit and owner's manual. You won't easily find a better deal than that.
Why Buy This Inflatable Pontoon:
Packs down very small which is suitable to solo anglers
Swivel seat rotates and adjusts to a higher position
Comes with a motor mount for greater speeds
Wooden flooring will allow you to fish standing
Best 12-Foot Inflatable Pontoon
Aquos Inflatable Pontoon Boat
Heavy-Duty 2 Person Inflatable Pontoon
The Aquos pontoon boat is an interesting design that resembles traditional pontoon boats much more than inflatable boats. This over-sized 12.5 ft pontoon inflatable boat also weighs a whopping 149lbs, much more than any other model on this list – however, it also admits a whopping capacity of 970lbs or two adults. Made out of 0.9 mm PVC and Thermo bonding seams, this inflatable pontoon raft is sure to resist damage.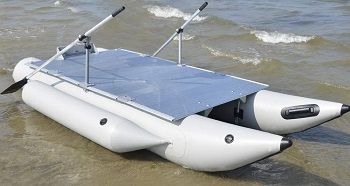 Engine Capacity
The Aquos Inflatable pontoon boat boasts its modifiable nature – this boat can also be equipped with either an electric trolling motor or gas motor up to 6HP. It will withstand 79lbs of maximum motor weight. Aquos boats the gas-saving nature of this model.
Can Be Broken Down
Fortunately, this large inflatable pontoon can be broken down into its components and assembled later for greater convenience. However, installation time is measured to take about thirty minutes, more prep time than you will ever need with more traditional kinds of blow-up pontoon boats.
Comes With Full Aluminum Floor
The weight is in one part attributed to the full-size aluminum floor that is positioned on top of the two inflatable pontoon tubes. This floor not only allows unprecedented space for gearboxes and similar storage accessories, but it also allows a remarkably stable structure for the angler to stand on.
Multiple Chambers For Safety
You can be certain that you will not get wet while going to water on the Aquos inflatable pontoon boat. Four air chambers, including two reinforced ones, will make sure you stay buoyant even in case of punctures. For greater damage, a 3-year warranty ensures free replacement parts but no repairs is provided.
Why Buy This Inflatable Pontoon:
Customizable pontoon boat that supports two people
Can be equipped with a 6HP gas motor
Extremely stable and secure aluminum flooring
Can be broken down and transported for convenience
Best Motorized Inflatable Pontoon
Wilderness Inflatable Pontoon Boat
Affordable And Simple Model
The most affordable model on my list is the Wilderness SE 9t inflatable pontoon boat, Costco exclusive. This personal inflatable pontoon boats a great load capacity of 400lbs – the not so good news is the marked heaviness of this 9 footer at 80lb. Thankfully, it comes with a removable transport wheel that lets you get into the water faster. The transport wheel also includes oars and an anchor system.
Well-Crafted Blow Up Pontoon
This Wilderness inflatable pontoon boat features a durable powder-covered steel frame along with an abrasion-resistant PVC bottom and nylon top, equal to the Classic Accessories Colorado and Roanoke, two other great models. This 2-man inflatable pontoon boat is suitable for calm waters as well as Class I rivers. It also features an optional trolling mount – at such an affordable price, all of these features are a steal.
Great Storage Options
Other inflatable pontoon boat reviews have praised the storage options on this single man pontoon. With six mesh and six zippered pockets, this inflatable pontoon is sure to satisfy all of your storage needs. The high capacity is another great plus in this regard.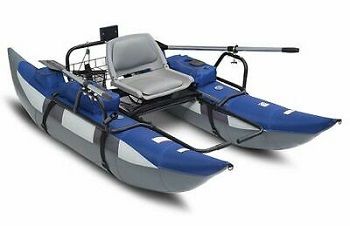 Convenient Swivel Seat
The Wilderness inflatable pontoon continues to show its versatility and great quality to price ratio by offering a padded swivel seat with the purchase. This is a great feature especially for anglers, who can use it to perfectly adjust their position while fishing. Comfort and convenience are ensured.
Why Buy This Inflatable Pontoon:
Affordable and simple starter model
Optional transport wheel includes oars and anchor system
Features a padded swivel seat for anglers
Inflatable Pontoon Boat Accessories
If you want to buy inflatable pontoon boat accessories, look no further than these Classic Accessories pontoon parts available on Amazon.com. They offer replacement inflatable pontoon parts in their Classic Accessories Inflatable Pontoon Boat Repair Kit, including tools and valves, spring clevis pin, inflation adapter, bladder repair kit, and non-corrosive oarlocks.
Conclusion: Which Best 2 Inflatable Pontoon To Buy?
Although all of these pontoon models are great, I would especially recommend two of them. Firstly, the Classic Accessories Colorado pontoon boat, a jack-of-all-trades that comes with great storage options, adjustable rod holders and a trolling motor mount. The second and last inflatable pontoon boat that I would recommend is the Aquos inflatable pontoon boat, an incredibly large yet spacious and stable inflatable pontoon that will let you take a friend along.
Find out more about this subject by clicking on this inflatable rubber boat article. Want to take a look at some other great inflatable boat models? Then check out this review of the best inflatable dinghy. If you want to read more about pontoons, check out this article dedicated to 2 person pontoon boats.