Are you looking to have some fun party time on the water?
Then check out this review of the five top 5 & 6-person inflatable boats to buy in 2020 from five different brands. Spread across categories such as a cheap 5-person dinghy, 6-person inflatable boat with motor and 6-person inflatable raft for the ocean, you are sure to find the model most suited to your needs.
More Details On 5-6 Person Inflatable Boats, Rafts & Dinghies
What Are Inflatable Boats?
Inflatable boats are a type of water-vessel that needs to be inflated before use. They are built with softer materials than hard-hull boats, however, today these materials are engineered to maintain their integrity and bounce off sharp rocks. Even in case of punctures, inflatable boats come with multiple air chambers to get you to land safely.
Different Types Of Inflatable Boats
There are many different types of inflatable boats: the standard model is the inflatable boat or raft, the most standard and simplest model of the bunch. The inflatable dinghy is similar to inflatable rafts, but they are predominantly used as boat tenders and even emergency boats. Furthermore, we have inflatable pontoons, boats built on two pontoon tubes that are beginner-friendly, and inflatable kayaks which are streamlined for speed and tracking.
5 & 6-Person Inflatable Boats Tips
The first thing you must know about 5 & 6-person inflatable boats is that they are quite heavier than solo or tandem inflatables – this is only natural, as they are also much larger than inflatables due to their capacity. Furthermore, many of them are even bulkier due to the inclusion of an aluminum floor, which comes in handy for supporting the weight of multiple people & gear. Lastly, 5 & 6-person inflatable rafts are much likelier to come with a motor mount as they are necessary to efficiently propel the vessel.
The Price Range Of 5 & 6-Person Dinghies
5 & 6-person inflatable boats are generally pricier than smaller inflatables. However, you can still find some affordable models on the market, such as inflatable boats from Intex, notably the Intex Excursion 5 inflatable boat. Other models, especially those with aluminum floors like the Saturn 18 ft inflatable boat are much pricier.
Where To Buy 5 & 6-Person Inflatable Rafts
It is recommended that you purchase your 5 & 6-person inflatable boats on Amazon.com. You will be able to profit from frequent sales, as well as a nifty review system that will give you some customer opinions that might help make or break the purchase.
Best 5 & 6-Person Inflatable Rafts Reviews
Best Cheap 5-Man Inflatable Boat
Intex Excursion 5 Inflatable Boat
Popular Large Inflatable Boat
This new model of the Excursion 5 inflatable boat is all the rage on the inflatable market, netting a grade of 4.1 stars with 908 ratings, which is an impressive ratio.  This Intex 5-person inflatable boat is 12′ by 5′ 6" and will withstand a weight capacity of 1100lbs. With its extra-wide cockpit, you are sure to stay comfortable in this Intex 5-person raft.
Key Construction Features
The Excursion 5 inflatable boat features tight yet fairly lightweight vinyl construction; at 57.40lbs, this model is one of the lightest 5-person inflatable boats on the list. The featured I-beam floor is rigid enough to ensure good performance, yet still comfortable to kneel upon. Three air chambers couple with one auxiliary are integrated for safety and buoyancy. The simple construction of the Intex 5-person boat also means that it can take a relatively weak motor up to 1.5HP.
Getting the Intex Excursion Boat Ready
Two Boston valves are featured on the main hull chambers to ensure quick inflation and deflation. A high-output manual pump is provided with the purchase for these purposes. Once you're done using your Intex Excursion inflatable boat, deflate it and pack it inside the included carry bag.
Handling The Boat & Packing Gear
To make handling your Intex 5-man inflatable boat simpler, grab handles are included on each side of the bow, along with an all-around grab line. Use the dry, side rear pouch for storage, and the welded oarlocks to secure your paddles.
Intex Excursion 5 Boat Set
The Intex Excursion 5 boat set is made even more affordable by the fact that it comes with everything you need to get kayaking. A pump and 54" deluxe aluminum oars are included, along with the already mentioned carry bag and motor mount. Two fishing rod holders provide convenience to anglers.
Features:
Affordable 5-person inflatable raft
Lightweight vinyl construction with I-beam floor
Three air chambers plus auxiliary chamber for buoyancy
Comes with all the necessary accessories
Best 5-Person Inflatable Boat With Motor
Bestway HydroForce Mirovia Pro
Features Metal Motor Mount
The HydroForce Mirovia Pro 5-person inflatable is a 10′ 8" longboat, smaller than the Intex Excursion 5. Hence, it is recommended to use the Mirovia Pro with a group of four adults and one child rather than five adults. At 113lbs, it is also considerably heavier than the previous model, but this is due to the special floor construction.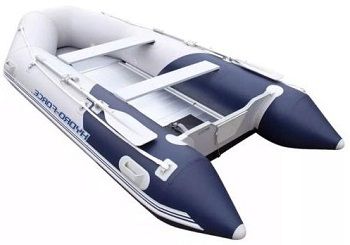 Heavy-Duty Materials And Flooring
The Bestway HydroForce Mirovia Pro is a very durable boat at its middle-range price, and the featured heavy-duty materials provide longevity. Marine Grade Aluminum Floorboards protect the flooring from abrasion damage, but also provide a non-slip surface. Terylene supported PVC protects the boat from sun damage. The Mirovia Pro is backed by a 1-year warranty in case of damage.
Multiple Features Add Versatility
With its rigid aluminum floorboards and a high-pressure inflatable keel, the Hydro-Force inflatable boat has good tracking and directional stability. All of this makes it easier to paddle the boat along. The HydroForce Mirovia Pro also features a metal motor mount that can, according to reviews, take a motor up to 15HP that can replace paddling entirely.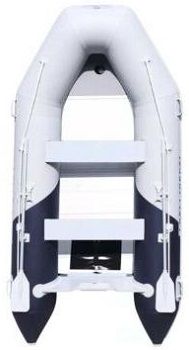 Provides Maximum Convenience
There are many other small yet significant features that the HydroForce Mirovia packs. The seat bench can be adjusted to two positions, the oarlocks are omnidirectional to allow ease of control while carrying handles along with safety ropes help with handling the boat.
Which Additional Accessories Are Included
No additional cost is incurred while buying the HydroForce Mirovia Pro, an excellent feature it shares with the Intex Excursion 5-person boat. A pair of oars, hand pump with a pressure gauge, carry bag, 33-foot tow rope, and repair kit are all included in the purchase.
Features:
Marine Grade aluminum floorboards protect the floor and passenger
Features inflatable keel for better tracking
Comes equipped with a metal motor mount
Best 6-Person Inflatable Boat With Motor
Saturn 18 Ft. Dark Gray Inflatable Boat
Stunningly Large Inflatable From Saturn
The Saturn 18 ft. Inflatable boat, also known as the Saturn SD518, is the largest inflatable from this Korean/Chinese brand. With its oversized dimensions of 8′ by 6′ 6", the Saturn 18 ft. 6-person raft will comfortably accommodate 6 people but can pack on four more for slightly less optimized performance. With a stunning capacity of 2500lbs, you will have ample opportunity for gear. However, this size comes at the price of weight, which is equally great at 270lbs with the floor.

Use It For Many Different Occasions
The Saturn SD518 will not disappoint with its many capabilities – you can use it for both commercial and private use. Hobbyists will enjoy taking this large Saturn dinghy for a fishing or crabbing expedition with a group of friends, while professionals can use it for coastguard duties and even military operations.
Features Sectional Aluminum Flooring
As was mentioned, the Saturn SD518 goes one step further to ensure optimal stability and rigidity with a sectional aluminum floor. This heavy flooring can be broken apart and stored easily beside the folded Saturn SD518. The Saturn SD518 also uses a heavy-duty Marine Grade plywood transom, along with rugged PVC material construction with double layers along the keel and the bottom of the tubes for extra protection. Thanks to this construction, the Saturn SD518 can withstand a motor up to 50HP.
Includes Numerous Safety Features
The Saturn 18 ft. 6-person inflatable boat is extra buoyant thanks to oversized 20" diameter tubes. The standard three air chambers are included to ensure safety, along with air-tight flat air valves with pushpin design. The deep, inflatable V-keel has a tough rub strake protector, allowing you to take this Saturn 6-person dinghy both into deep and shallow waters. Multiple one-way drain valves regulate water intake.
Features:
Incredibly large inflatable with a capacity of up to 10 people
Can be used for commercial and private considerations
Sectional aluminum flooring is extremely tough yet portable
Extra buoyant 20'' diameter tubes keep you afloat
Best 6-Man Inflatable Boat For Fishing
Airhead Angler Bay 6-person Inflatable Boat
Dimensions & Capacity
This 140in By 66.55in boat by Airhead is a great choice for a fun family fishing trip. With a relatively modest weight capacity of 900lbs, the Airhead Angler Bay 6-person will accommodate up to six people, though it might not leave much room for gear.
Construction & Performance Details
The Angler Bay 6-person inflatable boat is made from 32-gauge vinyl with electronically welded seams to ensure integrity. This 6-person dinghy is equipped with both an external grab line for easier handling and an internal grab line. Four drain valves drain any water that enters the boat, which is already unlikely due to the high sides of this inflatable.
Suitable For Anglers
The Airhead Angler Bay 6-person inflatable boat is equipped with various convenient features, such as two-rod holders, molded drink holders, and swiveling oarlocks. This boat is also compatible with the Airhead trolling motor transom made from Marine Grade hardwood and metal arms, available on Amazon.com.  The addition of a motor will further upgrade your fishing capabilities.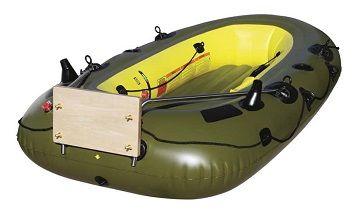 Airhead Angler Bay 6-Person Modifications
The Airhead Angler Bay 6-person inflatable boat can be modified in different ways to make it an even better experience. First is purchasing the already mentioned Airhead trolling motor. You can also install a canopy to provide you with shade; or, you can install a hard floor. This last feature is particularly important for anglers, allowing them to stand up while fishing, so it is something to look into.
Comes In Two More Versions
The Airhead Angler Bay 6-person also comes in two more versions, each smaller than the other. The first is the Angler Bay 4 with a capacity for four people, and the other is the Angler Bay 3 with a three-person limit. Both of these models are also available on Amazon.com.
Features:
Constructed with 32-gauge vinyl and RF welded seams
External and internal grab line included for stability & convenience
Comes with rod and drink holders
Compatible with an Airhead trolling motor transom
Best 6-Man Dinghy For Ocean
6-Person Inflatable Bay Breeze Boat
Partying Has Never Been Easier
Don't come to this boat if you're looking for a heavy-duty, rugged inflatable: the Bay Breeze boat is the ultimate choice for hours of comfort and relaxation. Released in 2019, the Bay Breeze boat by Sun Pleasure Inflatable set the inflatable market on fire with its great capacity, size, price, and many fun features.
Versatile Fun On Water
The Bay Breeze boat is compatible for all kinds of water-based fun – you can use it for a large backyard swimming pool, a lake or ocean bay, and even as comfortable, oversized poolside furniture. This raft can be used by children 14 years of age and older and will accommodate up to six adults with a weight limit of 1320lbs.
Designed For Hours Of Comfort
The Bay Breeze boat is perfect for hours of leisurely fun with friends – to hop onto this 6-person inflatable boat, use the five handles on the rear platform which provide a safe entry and exit point. While you're relaxing on the inflatable bench seat and cooling your feet on the porous mesh floor, enjoy some drinks from your built-in cooler. They will be in hand's reach in one of the eight cup holders.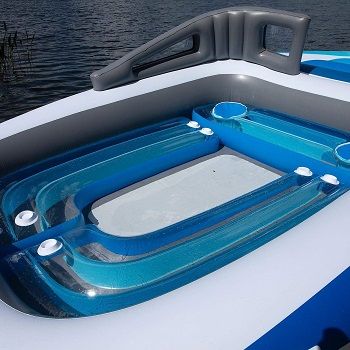 Setting Up The Bay Breeze 6-Person Inflatable Raft
Though this inflatable boat is not the longest on the list, that being the 18 ft. long Saturn inflatable boat is certainly the widest with its dimensions of 10' by 20'. Therefore, it will take a longer time to fully inflate – according to reviews, 30 to 40 minutes are enough. Integrated valves are used for inflation and deflation, but the Bay Breeze boat does not come with a complimentary pump.
Features:
Suited for leisure time with friends & family
Features a built-in cooler and comfortable bench with cup holders
Mesh floor allows you to cool yourself off in hot summer days
Conclusion: Which Of These Five Best 5 & 6-Person Inflatable Boats Should You Get?
I would especially recommend two models from these great 5 & 6-person inflatable rafts. The first is a 5-person inflatable boat, the extremely affordable and lightweight Intex Excursion 5 Inflatable Boat – with its simple yet effective design, this boat will provide you with all you need. The second great option is the Airhead Angler Bay 6-Person Inflatable Boat that will satisfy even the pickiest angler out there.
To find out more about this topic, why not click on this article for the best inflatable boats? If you're looking for sturdy, stable models, you'll enjoy these reviewed hard bottom inflatable boats. Finally, if you're looking for a tender or emergency boat, refer to this article on inflatable rescue boats.