If you want to find the best inflatable kayak for whitewater, keep reading this review.
In this article, I will be analyzing the technical specifications of five inflatable river kayaks from five different brands. You will find out about all kinds of different specialized inflatable whitewater kayaks, like solo ducky kayaks, 2-person whitewater kayaks, hard-hull whitewater duckies and more.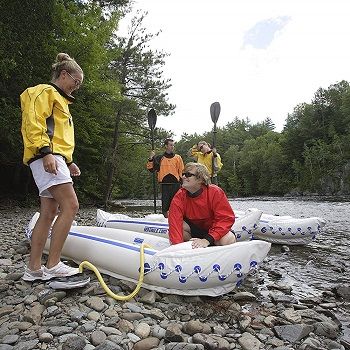 Find Out Everything About Ducky Inflatable River Kayaks
Inflatables & Which One To Buy
Inflatable boats are popular nowadays for their great portability and affordable nature as compared to hard-hull boats. There are also many different types of inflatables, all of which have different features and are suitable for different circumstances, such as inflatable boats & rafts, dinghies, pontoons, and inflatable kayaks. Inflatables also differ in their materials, the eco-friendly viny, standard PVC or heavy-duty Hypalon.
What You Need To Know About Whitewater Duckies
Whitewater duckies, also known as whitewater inflatable kayaks, are a special kind of inflatable kayak that is suited for whitewater settings. Whitewater inflatable kayaks feature a streamlined design with high sides to protect from water, as well as a self-bailing system. They are usually built tougher than other inflatable kayaks to help them protect from damage & abrasions.
Different Kinds Of Ducky Kayaks
As there are different types of inflatable boats in general, we can also pinpoint a couple of different types of whitewater kayaks. This distinction tends mostly to capacity and preferred use of the inflatable, thus we have solo ducky kayak, 2-person inflatable whitewater kayaks, 3-person ducky kayaks, hard-hull ducky kayaks, and fishing-oriented inflatable river kayaks.
The Price Range Of Ducky Inflatable Kayaks
Inflatable whitewater kayaks usually cost more than your cheapest recreational inflatable kayaks due to the need for sturdier materials and sophisticated features to help with safety and tracking in busy waters. Still, affordable models can be found, like the Sea Eagle SE370 Inflatable Sport Kayak. Another affordable model is the Sevylor Big Basin 3-Person Kayak, while the Driftsun and Aire Tributary are the most expensive models on the list.
Where To Buy Inflatable River Kayaks?
These best inflatable kayaks for whitewater can be purchased on Amazon.com. Though they are also available on each of the brand's websites, Amazon.com is recommended if you want to profit off discounts and the customer review system.
Best 5 Ducky Inflatable Kayaks For Whitewater Reviews
Best 1-Person Inflatable River Kayak
Aire Tributary Tomcat
Starter Model From Tributary
The Aire Tributary Tomcat is a great model for those who are just starting to explore whitewater kayaking with its middle-range price and included features. The tomcat series, including the solo and tandem models, has recently been revamped and now offers new bow and stern dodgers, logo, mesh drain system, flip handles and more. The Aire Tributary Tomcat comes in four colors: red, lime, blue and teal.
Features Innovative AireCell System
The Aire Tributary Tomcat features the excellent AireCell system, an internal bladder system enveloped by PVC. This makes Aire Tributary kayaks less likely to get damaged and also much easier to repair. This particular model features 500 DEN outer PVC tubes and a 1000 DEN outer PVC floor. It also features Airtight 20-gauge inner vinyl bladders as well as three air chambers for safety. This model also features a 1-year manufacturer's warranty against defects.
Transporting The Aire Tributary
The Aire Tributary Tomcat is a 10′ 10" long and 36" wide inflatable kayak with a weight of 34lbs, which is not too much for a solo inflatable kayak. It packs down small and is therefore easy to transport. The already mentioned three air chambers are equipped with high-quality Summit II valves which make inflation and deflation a simple task.

Storage Options & Comfort
Both you and your gear will stay dry thanks to the Aire Tributary kayak's bow and stern covers. The self-bailing system ensures the kayak does not fill up with water. As for storage options, the Aire Tributary Tomcat comes with 12 pairs of cargo loops that you can clip your gear to; with a load capacity of 375lbs, a fair amount of storage is provided. You also receive an adjustable inflatable seat with your purchase.
Why Buy This Ducky Inflatable Kayak:
Features the extremely puncture-resistant AireCell system
Lightweight and equipped with quality valves for quick set up
Provides 12 pairs of cargo loops for storage options
Backed by a 1-year manufacturer's warranty
Best 2-Person Inflatable Whitewater Kayak
Driftsun Rover 220 Inflatable Tandem Kayak
Features A Streamlined Rocker Profile
The Driftsun Rover 220 is perfectly suited to whitewater rivers up to Class IV with its pointed bow and aggressive rocker profile. The rocker profile designates the degree of the curvature at the bottom of the boat – this boat features more curvature, which in turn allows for better maneuverability.
Best Suited For Intermediate Kayakers
The Driftsun Rover 220 2-person whitewater kayak is a very light model at only 28lbs, which is only more prominent compared to its two-person or 600lbs load capacity. This also means that the Driftsun Rover 220 is not as stable – while certain maneuverability isn't a disadvantage in whitewater rivers, this does make the Rover 220 harder to control for beginners. This is why it is recommended for intermediate kayakers.
Uses Durable Material In Construction
The Driftsu Rover 220 2-person inflatable whitewater kayak is constructed from durable reinforced 1000 Den PVC, with double layers of protection against abrasion, saltwater and UV damage. The floor construction features Drop Stitch technology and can be inflated to a high 6 PSI pressure.
More Tracking & Water Control Features
The Driftsun Rover 220 has other features that make it well-suited for river running. The removable rear skegs only improve tracking and control, while the self-bailing system consisting of eight drain plugs is an essential addition for water spray control.
Quick Inflation Time
The Driftsun Rover 220 comes with a high-pressure pump with integrated pressure valves that assures an inflation time of 9 minutes. With its very lightweight of only 28lbs, the Driftsun Rover 220 inflatable kayak will transport easily.
Come With More Accessories
Some other convenient features of the Driftsun Rover 220 are plentiful gear tie-down points and a front camera mount. The Driftsun Rover 220 comes with two EVA-foam padded seats that feature adjustable footrests. It also comes with essential kayaking accessories such as two paddles, a travel bag, and a double-action hand pump.
Why Buy This Ducky Inflatable Kayak:
Ample rocker profile improves maneuverability
Features a high-pressure Drop Stitch floor technology
Comes with a front camera mount & many d-rings
Best 3-Person Inflatable River Kayak
Sevylor Big Basin 3-Person Kayak
Enjoy Some Fun With Family
With its inflated dimensions of 12' 3'' by 3' 1'', the Sevylor Big Basin 3-person kayak is a great choice for a group of two adults and one child, but it can also accommodate up to three adults. Its load capacity of 490lbs will fully support any of the two choices.
Construction Supports Various Purposes
The Sevylor Big Basin 3-person kayak features heavy-duty PVC construction with an added protection layer of a rugged tarpaulin bottom. Tarpaulin is a great material to be used in inflatable kayaks, as it is very resistant to both physical and elemental damage. This durable construction supports use in both calm lakes and easy whitewater rivers.
Sevylor Big Basin Keeps You Safe
As is standard with inflatable kayaks, especially, inflatable whitewater kayaks, multiple air chambers are included so the kayak stays afloat in case of punctures.  The double-threaded Boston valves feature an Airtight system that is sure not to leak air after the Big Basin 3-person kayak is inflated.

Keeps You Comfortable For Long Expeditions
The Sevylor Big Basin 3-person inflatable kayak features three fully-adjustable inflatable seats, which are also removable if you want to convert this 3-person whitewater ducky to a 2-person whitewater kayak. A large compartment in the back serves as storage space, while spray covers keep both you and your gear dry.
Does Not Include Oars And Pump
The Big Basin 3-person inflatable whitewater kayak features carry handles that make transporting this 35lbs ducky kayak easily portable. When deflated, simply pack it into its own Sevylor travel bag. Oars and pumps will have to be purchased separately – Sevylor sells their Heavy-Duty Aluminum Oars on Amazon.com.
Why Buy This Ducky Inflatable Kayak:
Perfectly suited for two adults and one child
Rugged tarpaulin bottom protects from damage
Large compartment storage in the rear provides space for gear
Multiple air chambers with Airtight system provides safety
Best Hardhull Ducky Inflatable Kayak
Advanced Elements Straitedge Angler Kayak
Solo Inflatable Fishing Kayak
This 9′ 8" by 35" inflatable kayak is the perfect choice for one person at a load capacity of 300lbs.  With its sturdy construction and variety of convenient features, the Advanced Elements Straitedge Angler kayak can be used for whitewater rivers up to Class III, lakes and ocean touring.
Features Built-In Aluminum Ribs
A great innovation that Advanced Elements use is the built-in aluminum ribs in the bow and stern that take performance to a new level. With its superb tracking and maneuvering, the Advanced Elements Straitedge Angler reminds of hard-hull kayaks. If you really want a top-class vessel, you can purchase the bow-to-stern frame modification by Advanced Elements, the Backbone, or their Drop Stitch floor, both available on Amazon.com.
Well Suited For Anglers
One great thing about the Advanced Elements Straitedge Angler is that it comes with a 1" accessory mounting rail. This rail can be customized with useful fishing equipment, such as a fish finder or rod holders. Furthermore, the Advanced Elements lumbar seat that comes with the purchase includes two integrated rod holders for your convenience.
Other Construction Details
The Advanced Elements Straitedge Angler features heavy-duty PVC tarpaulin material which protects from punctures; in case of greater damage, a 1-year manufacturer's warranty is provided. This boat features five air chambers, the most up until now, and added abrasion pads that increase your safety. An integrated pressure valve makes sure you don't overinflate.
Provides Ample Storage Space
The Advanced Elements Straitedge whitewater ducky features a spacious cockpit that both makes you feel comfortable and allows you space for storage. The bungee lacing over the deck can also be used to secure your gear.
Why Buy This Ducky Inflatable Kayak:
Comes with accessory rail equipable with fishing technology
Built-in aluminum ribs enhance performance
Abrasion pads and five air chambers keep you safe
Best Fishing Ducky Inflatable Kayak
Sea Eagle SE370 Inflatable Sport Kayak
Tandem Fishing Inflatable Kayak
The Sea Eagle Se370 is a 2-person whitewater inflatable kayak that weighs 32lbs, which is pretty light for a tandem kayak. With a load capacity of 650lbs, it also allows for an extra adult for a slightly tighter fit. The Sea Eagle whitewater ducky is suitable both for calm fishing trips and river running adventures.
Quality Construction & Floor
The Sea Eagle SE370 features NMMA Certified construction from K80 PVC material, that is sun and saltwater resistant. High-frequency welded seams ensure integrity, while two molded skegs covered with durable plastic help with tracking. A 5-Tube I-beam floor offers a high paddling position and further optimizes the maneuverability of the Sea Eagle SE370.
Features Deluxe One-Way Air Valves
Sea Eagle prides itself on their Deluxe One-Way Air Valves, which they advertise as much sturdier than traditional pipe valves that are more likely to crack and lose air. These five deluxe valves allow for airtight inflation, while the large opening quickens the procedure. Molded O-rings with a tether attach them to the hull, while the final seal provides ultimate airtightness.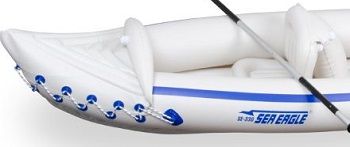 Includes Fishing Accessories
The Sea Eagle SE370 Inflatable Sport Kayak comes with a special fishing package. Along with the standard accessories of spray skirts, two 7′ 10" sectional aluminum AB30 paddles, three SEC seats, a high-capacity foot pump, and a small repair kit, this package also features the following: a multi-purpose storage box with two rod holders. This both provides for extra storage and gives you a handsfree angling option.
Why Buy This Ducky Inflatable Kayak:
Inflatable river kayak for two to three people
Feature rigid I-Beam flooring and high-frequency welded seams
Deluxe One-Way Air Valves optimize inflation/deflation
Comes with a multi-purpose storage box with integrated rod holders
Conclusion: Which Of These 5 Best Inflatable Kayaks For Whitewater To Choose?
You might feel a little confused after seeing all of these various options – that's why I will especially recommend two models. Firstly, I would recommend the Advanced Elements Straitedge Angler Kayak to any solo paddler that wants to enjoy all of the advantages of the innovative aluminum stern & rib design. For those who prefer conquering whitewater rivers with a partner, the Driftsun Rover 220 Inflatable Tandem Kayak with its streamlined sharp bow and rocker profile design is a great choice.
Find out more about inflatables by clicking on this article of inflatable kayaks for sale. Interested in some more fishing options? Why not read this review of inflatable fishing kayaks. And if a 3-person kayak is just not big enough for you, read this excellent article on giant inflatable rafts to find your ideal match.