Among all of the available inflatable kayak brands, Driftsun kayaks present some of the finest out there. Why?
To find out, read this article in which I will be reviewing three of the best Driftsun inflatable kayaks. Enjoy these Driftsun kayaks reviews that will tell you all you need to know, from specifications to performance and accessories included.
Everything You Should Know About Driftsun
Who Are Driftsun?
Driftsun is a fairly new company in the watersport scene, founded in 2014 in North Carolina by a group of water sports lovers.  They offer a standard 1-year manufacturer's warranty on all of their products. Though this is a new company, both their on-site and Amazon reviews feature great marks and comments, showing that quality is not always connected to a long working tradition.
Categories Of Driftsun Products
Driftsun sells products that can be separated into three major categories: water sports, ice chests, and sports & recreation.  The ice chest category is self-explanatory, while the sports & recreation category offers stadium chairs, soccer goals, apparel, and others. The most interesting category to us, water sports, provides a wide range of vessels such as paddleboards, kayaks, floating platforms, beach boards, accessories and more.
About Driftsun Inflatable Kayaks
Driftsun offers not only inflatable kayaks but hard-shelled one as well, such as the immensely innovative and currently sold-out Driftsun transparent kayak. With regards to Driftsun inflatable kayaks, they offer a good range of products varying in size, durability, and purpose.
The Price Range Of Driftsun Kayaks
Driftsun kayaks belong to the middle price ranges of the inflatable market, with the hard-shelled kayaks being appropriately more expensive but still affordable. Among the Drifstun inflatable kayaks, the most affordable model is the Driftsun Voyager kayak.
Where To Buy Driftsun Inflatable Kayaks
While Driftsun products can be purchased over their own website, Amazon.com is recommended for various reasons. Firstly, by making an account on Amazon.com you gain access to an immense range of products. Secondly, Amazon frequently offers steep price slashes. Thirdly, Amazon reviews are non-biased and written from experience, by other customers, and are therefore very useful and easily accessible.
Best 4 Driftsun Kayak Reviews
Driftsun Rover 220 Inflatable Tandem Kayak
Designed For Intermediate Paddlers
The Driftsun Rover 220 is a tandem inflatable kayak that can accommodate two people at a weight capacity of 600lbs. With its rocker profile and pointed bow shape, the Driftsun Rover 220 inflatable tandem kayak sacrifice primary stability for greater secondary stability; this means that the kayak will not tip over in rapids, but rather dip to the side, which takes some skill to correct.
Quick Inflation Time
The Driftsun Rover 220 comes with a high-pressure pump with integrated pressure valves that assures an inflation time of 9 minutes. With its very light weight of only 28lbs, the Driftsun Rover 220 inflatable kayak will transport easily.
Maneuverability Options
Thanks to its design, the Driftsun Rover 220 is perfectly suitable for white water rapids. The removable rear skeg helps with tracking and control, while the lightness of the vessel helps not only for transportability as mentioned previously but also with easier handling. Its self-draining drain plugs also allow for water control in busy III or IV Class rapids.
Durable Materials Used In Construction
The Driftsun Rover 220 inflatable tandem kayak features 1000DEN Reinforced Layered Construction that provides a double layer of protection against abrasion and elemental damage.  A High Pressure 6 psi Drop Stitch Floor combines the rigidity of a hard kayak with the lightness of an inflatable, giving the best of both worlds.
Comes With All The Necessary Materials
The Driftsun Rover 220 inflatable tandem kayak includes all the accessories you will need for your kayaking expeditions. These are two padded EVA seats with adjustable footrests and two paddles. It also includes the aforementioned rear skeg and travel bag for transportability.
Characteristics:
Streamlined design for white water rivers
Removable rear skeg adds optimized tracking
Double Layered PVC construction
Comes with oars & pump for instantaneous paddling
Driftsun Rover 120 Another Version
The Driftsun Rover 120 is a smaller version of the Driftsun Rover 220 inflatable tandem kayak. The Driftsun Rover has a one person capacity at a maximum load capacity of 300lbs, exactly half the bigger model. It is also slightly lighter at 22lbs.
Driftsun Voyager 2 Person Inflatable Kayak
Convertible Solo Or Tandem Model
With its weight limit of 450lbs and inflated size of 10ft. x 35"x 16" this model can accommodate either one or two passengers.  The light 27lbs weight of the Driftsun Voyager kayak will also allow it to be easily transported by one person via the included carry bag. The Driftsun Voyager is a recreational model – therefore, it is not suitable for white water rivers.
Built For Your Comfort
The two adjustable EVA seats that come with the Driftsun Voyager 2 are padded and fully removable for convenience. The EVA seats also feature high support backrests to allow you comfort during long trips. The complimentary oars feature ergonomic grips.
Performance & Construction Details
The 840DEN Nylon Oxford Fabric Tube Covers are slightly less rugged than the 1000DEN PVC of the Driftsun Rover 220; this difference is only natural, as the two models have different purposes. The Driftsun Voyager 2 person inflatable kayak also features a tarpaulin bottom and tarpaulin base floor, as well as standard Boston valves for quick inflation/deflation.

Other Accessories
Other features that Driftsun Voyager 2 person inflatable kayak reviews mention is corrosion-resistant hardware, along with nifty carry handles with bungee storage lacing on top of the splash guards. One Driftsun Voyager 2 review, positive in all other regards, has remarked on the lack of pockets on the inflatable kayak itself as a downside.
Characteristics:
Can be used as both a solo or tandem model
EVA seats feature back support and are removable
Splash guards with bungee lacing can be used for storage
Driftsun Almanor 130 Inflatable Kayak
Touring And Recreational Driftsun Kayak
The Almanor 130 is a 2 person inflatable kayak with a weight capacity of 400lbs. This 36lbs inflatable kayak, heaviest of all of the models reviewed so far, is perfectly suited for flat waters and calm stretches of the ocean. The long waterline of this Driftsun inflatable kayak allows it to cover greater distances more efficiently.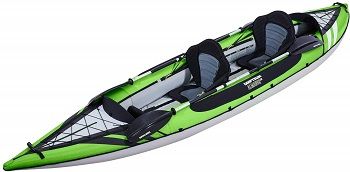 Long-Lasting Hull & Floor Design
The hull design of the Driftsun Almanor 130 is suited for longevity. Rugged 600DEN polyester protects not only from physical but also elemental damage, such as UV rays. Industry-leading 24 gauge air bladders are also featured, as well as corrosion-resistant hardware for the interior of this Driftsun kayak. An extremely rigid I-Beam PVC floor is used for stability.
Comfortable Seating Options
Like all of the Driftsun inflatable kayaks that I've reviewed, the Driftsun Almanor 130 inflatable kayak features high backed seats padded with EVA foam. This back support is essential for any longer paddling trip. Adjustable footrests on the interior can be customized for any leg length.
Inflation Time & Procedure
Featuring Boston Valves and a complimentary high-pressure pump, it will take you under 10 minutes to inflate this Driftsun kayak. Be advised that the recommended pressure settings for the floor is 1 PSI and 2 PSI for the sides – this information is also written on the tags attached to the valves.
Accessories Included With The Purchase
The Driftsun Almanor 130 has you covered with the multiple accessories that come within the purchase: these are the two padded EVA seats, two dual blade kayak paddles that can be detached for easier storing, a deluxe dual action pump, quick-release pin, two footrests, and a travel bag.
Characteristics:
Perfectly suited to long-distance paddling
Hull is made from damage and UV ray resistant material
Rigid I-Beam Floor ensures maximum rigidity
Comes with two EVA high backed seats
Conclusion: Which Of These Best 4 Driftsun Inflatable Kayaks To Get?
Though any of these three models is a great pick, I would single out the tandem Driftsun Rover 220 for its rocker profile design and sturdy construction that can withstand white water rivers up to Class IV. For those who enjoy a more peaceful paddling trip, I would recommend the Driftsun Almanor 130 Inflatable Kayak with its long waterline that allows it to cover distances quickly and efficiently.
Want to find out more about this topic? Why not read this article on boat tenders for sale. If, however, you are interested in something specific, such as other tandem inflatable options, this review of 2 person pontoon boats will provide all you need to know. Looking for something even bigger? Then read this article about giant inflatable rafts.