If you're a person that likes being out on the water but cannot afford an expensive boat or even an inflatable boat – you have come to the right place. There is no reason for you not to have a hobby that involves spending time at sea or lake since there are a lot of affordable inflatable boats out there.
This article will show you which cheap inflatable boats are the best, what they do and how they can be used. You will also find their most important characteristics and specifications, as well as links that show you were to order each one. Furthermore, all listed cheap inflatable boats are ranked based on their performance and user reviews.
Important Things To Know Cheap Inflatable Boats
Do Cheap Inflatable Boats Exist?
That's probably the first thing that comes to mind, but they're actually are cheap inflatable boats out there. By that, I do not mean the kids' versions that are used for the pool, but actual affordable inflatable boats which you can take out for fishing, rafting, paddling, and more.
Are Cheap Blow-Up Boats High Quality?
Just because their price is not high, it does not mean they are not safe or high quality. The industry has grown over the years and many ways of making the boats safe and durable are now available. Inflatable boats are as safe as regular boats, and many have the same features.
Why It Is A Good Idea To Get A Cheap Inflatable Raft
Many people's hobby is fishing, and if you're one of them but not a professional fisherman, you do not need a professional fishing boat. With cheap inflatable boats, you can go fish or do anything else you like, they do not take too much space and are very easily transportable.
How They're Structured
Since the time they were created, their structure has changed many times but some things have remained the same. One of them is the fact that the base of an inflatable boat is inflatable boards that contain air and puts the boat into shape.
Cheap Inflatable Boats For Sale
There is not just one model of an inflatable boat. There are rowing inflatable boats, inflatable boats with slats, boats with inflatable bottom, and RIBs, or rigid inflatable boats.
5 Best Cheap Inflatable Boats
Best Cheap Dinghy
Intex Excursion 5-Person Boat Set
Size And Dimensions
This 5-person cheap inflatable dinghy measures 66 x 17 x 144 inches and weighs 57.6 pounds. The maximum weight limit is 1000 pounds, enough to support 5 people. It assembles in a few minutes and you're ready to go on your adventure.
Structural Specifications
For long-term durability, this cheap inflatable boat is made of rugged, welded vinyl. It has an inflatable I-beam floor for comfort and rigidity as well as 2 inflatable seats with backrests.
What Else Does It Have?
Other included features are four fishing rod holders, so it is perfect for those of you that like to fish, as well as a motor mount fitting. In case you get tired of paddling, just turn on the motor you have previously installed.
There's A Bit More
Besides the above-mentioned features, there is a grab handle, a 360-degree grab line, gear pouch, and a repair patch. Also included are quick-fill Boston valves, 54-inch aluminum oars and a high-output hand pump.
Specifications:
5-person capacity
Hand pump included
Boston valve
Best Cheap Inflatable Fishing Boat
Sea Eagle PF7K PackFish
What It Looks Like
When inflated, this cheap inflatable fishing boat's exterior measures 7' x 3'3", and the interior measures 4'6" x 13". When deflated, the boat measures 5" x 20" x 20". It is made for solo use, so the weight capacity is 300 pounds with gear.
Included Fishing Features
There are 36" Fish Rulers, 2 molded rod holders, molded oar locks/carry handles, as well as front and back soft carry handles. Besides those, there are also four tracking strips to assist when fighting big fish to increase stability and reduce being blown around by the wind.
Other Included Features
Besides the soft and regular carry handles for easy transport, there is a comfortable inflatable seat. It is easily packed into a carry bag so you can take it to and from your car in no time. Fishing rods are not included, and it takes around 5 minutes to inflate and assemble the boat.
Some Technical Stuff
There are 2 chambers, the main one, and an additional upper safety chamber. The bladder is 30 mil Polykylar 2-chamber internal bladder, and the bladder seams are high frequency welded. The tube diameter is 13".
Specifications:
300-pound capacity
Rod holders
Oar locks
Tracking strips
Best Cheap 3-Person Inflatable Boat
Intex Seahawk 3
Great Boating Experience
You'll have more fun being out all day when you're with your friends than alone. The Seahawk presents an ideal solution for that idea, and it is affordable. You can fit up to 3 people in this 9ft 8in x 4ft 6in inflatable boat which has a 790-pound weight capacity.
Structural Information
The Seahawk is made of heavy-duty puncture-resistant vinyl. It has 3 separate air chambers, as well as a safety auxiliary chamber. For rigidity, the floor is inflatable I-beam. As for inflation and deflation, there are Boston valves to make the processes as quickly as possible.
More Included Features
There are 2 fishing rod holders, 4 rotational oarlocks, a gear pouch, inflatable seat cushions, and 4 oar holders. There is an all-around grab line for easy handling, as well as a grab handle on the bow. In case you get tired of paddling, you can attach a motor on the motor mount fittings in the back of the boat.
Also Included In The Package
You do not have to worry about getting a pump since a high output hand pump is included. There are also 2 54-inch aluminum oars, which in combination with the 4 rotational oarlocks make for easy rowing.
Specifications:
790-pound weight capacity
3 separate air chambers
Boston valves
Hand pump included
Best Cheap 2-Person Inflatable Dinghy
UBOWAY 2-Person Inflatable Dinghy Set
How Big It Is
This inflatable boat measures 230mm x 126mm, and it is 33cm high. It can support 2 people and has a 572-pound weight capacity. 4 valves make deflating and inflating is quick and easy, and it is made of triple-layered 0.9mm Polyester reinforced and anti-corrosive coated PVC.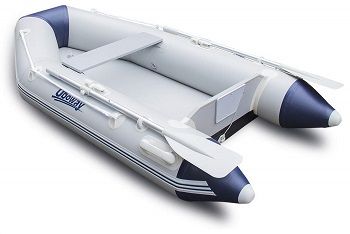 What's On It
There is a paddle lock, a deck holder, D-ring, transom, a safety rope, and a valve. The aluminum bench makes sitting more convenient, and for extra comfort, there's the inflatable bottom floor. The material which the boat is made of is resistant to corrosion, sun, salt, and other destructive elements you may encounter.
Included Equipment
For inflation, there is the included foot pump. The bench seat is removable, there are aluminum oars, a boat carry bag, a repair kit, and the inflatable bottom floor. There is also a 4-person model of the boat, and that one includes an extra bench seat.
Attach A Motor For Better Performance
The boat has great stability when turning, and you can achieve the top speed of 20+ mph if the conditions are right. As with many other inflatable boats, you can attach a motor to this one as well, which can be useful when you get tired of rowing.
Specifications:
572-pound weight capacity
Paddle locks
Foot pump included
Best Cheap Inflatable Kayak
Intex Explorer K2 Kayak
Size And Color
The size of the kayak when inflated is 10ft 3in x 3ft x 1ft 8in. The maximum weight capacity is 400 pounds, supporting 2 people. It comes in a bright yellow color for better visibility in case of an emergency. It is created for bodies of water such as lakes and mild rivers.
What's It Made Of
For safety, the inflatable kayak is made of heavy-duty puncture-resistant vinyl. It has 3 separate air chambers and an inflatable I-beam floor for rigidity. To make inflation and deflation easier and quicker, there are Boston valves.
What's On It
There are 2 inflatable seats with backrests for more comfort. The seats are also adjustable and removable. For better handling, there are grab lines and grab handles on both ends, as well as a removable skeg that provides directional stability.
Parts Included In The Package
In case of emergency, there is an included repair patch kit. Included are also 2 86-inch aluminum oars and an Intex high-output pump for easy deflation and inflation. For easier transport and handling of the kayak when deflated, there is also a carry bag.
Specifications:
400-pound weight capacity
3 separate air chambers
Repair patch kit included
Pump included
Adjustable seats
Conclusion: Choosing The Best Cheap Dinghy
While this article only showed you a tiny bit of cheap blow-up boats out there, the choice can be hard to make. Depending on the activity and the number of people there are, you can find the cheap inflatable raft that suits you just right. I would recommend the Intex Excursion 5 People Set because you can fit 5 people in it and comes with oars and a pump. The other one I like is the Sea Eagle PF7K because it is great if you enjoy your solitude the most and it is perfect for fishing.
For more information and products, read this article about best inflatable boats. If you want more options regarding inflatable boats with motors, read this article here. If you're interested in fishing, there's a great article about inflatable fishing boats as well.