Small dinghy boats are a perfect solution for people that love to go out to the water but simply do not have enough room at home to store any large inflatable boat. A small dinghy can easily fit into any storage room, locker, or even car trunk.
This article will provide information about small inflatable boats, the most important included features as well as overall specifications. You'll also find reasons why small dinghy boats are a good idea to get, as well as some small dinghies considered best based on their characteristics and user reviews.
Things To Know About Small Inflatable Dinghy Boats
Should You Get One?
Since this article is about small dinghies, the first reason is obvious. Furthermore, as they're small, they do not weigh a lot so you will not have any trouble transporting it once you get a small inflatable boat. Besides that, it can prove to be a lot of fun especially if you have young children.
As For Safety
Inflatable boats and that encompasses small dinghy boats, have the same level of safety as traditional boats do these days. The materials used to make them provide rigidity and long-term use, as well as comfort and. Technology has evolved and it is being put to good use here.
Do Small Dinghies Cost A Lot Of Money?
Not all small inflatable boats are expensive. If you take your time and research all available options, you will see that there are inflatable dinghies that are not too pricey and yet they offer a lot and have many included and useful features.
They Will Last
In spite of the fact that they are not expensive, you can get an inflatable dinghy which can last you a long time. As mentioned above, the materials used are intended to provide long-term use and durability.
What Can Little Inflatable Boats Be Used For?
If you get a single-person small inflatable boat, you can take a day off and just relax your mind on a fishing trip. If you get a bigger one, you can take your loved ones with you. Some small inflatable boats are paw and claw resistant so you can take your pet along.
5 Best Small Dinghy Boats For Sale
Best Small Inflatable Boat With Motor
Intex Mariner 3 Small Inflatable Dinghy
Made For 3 People
The Mariner is made to hold 3 people and has an 880-pound weight capacity. It weighs 68 pounds and measures 9ft 9in x 4ft 2in. This is a good idea if you like to go alone sometimes, and if you want to bring your friends on other occasions.
What's It Made Of
To ensure durability and extra strength, this small inflatable dinghy is constructed with 3 separate layers of material. Differently put, there are two outer layers of heavy-gauge PVC laminated to an inner layer of polyester mesh for extra reinforcement.
What It Features
There is a motor mount fitting, which is convenient since you can get an Intex trolling motor. For extra stability, there is a heavy-duty slatted floor, and for rowing, there are rotational oarlocks. For tracking, there is an inflatable keel with a rub strake.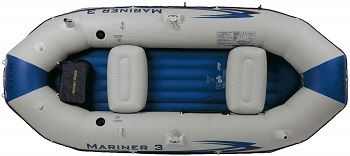 More Included Features
You can fish on this boat because it includes two fishing rod holders. Other features include a gear pouch, a batter pouch, and 2 inflatable thwart seats. For easier and quicker inflation and deflation, there are 2 built-in Boston valves.
Specifications:
For 3 people
Motor mount fitting
2 fishing rod holders
Rotational oarlocks
Best Cheap Small Rubber Dinghy
Intex Explorer 100 Inflatable Boat
Ideal For Solo Use
This Explorer, among others, is made for a single person. Ideal if you like spending time by yourself undisturbed. The weight capacity is 120 pounds, and the Explorer 100 measures 58 x 14 x 33 inches. It is ideal for use in pools or calm waters.
Safety Features
This little inflatable boat has 2 separate air chambers for safety. That means that in case one ruptures, the other one stays inflated and the small inflatable boat will not sink. There are also welded oarlocks and a US Coast Guard ID. For a better visibility, the small dinghy boat has orange and yellow colors and graphics.
What You Can Use It For
As mentioned above, the Explorer is made for use in pools or calm waters. You can use the Explorer in your pool or on the beach to teach your kid how to row for example. Even if it suffers a rupture or puncture, it does not cost too much money to get a new small inflatable rubber boat.
Specifications:
120-pound weight capacity
2 air chambers for safety
Welded oar locks
Best Small Inflatable Fishing Boat
Intex Seahawk 4 Fishing Boat
Fits 4 People
The Seahawk is made to hold 4 people in it, meaning that it has a 1050-pound maximum weight capacity. On the outside it measures 351 x 145 cm and weighs 37.5 pounds. In comparison with the first-mentioned small dinghy, this is a considerable difference since this one holds 4 people.
Materials Used
Heavy-duty puncture-resistant PVC ensures the comfort and long-term durability of this tiny inflatable boat. There are three separate air chambers and an inner auxiliary chamber inside the main hull for even more safety. An all-around grab line makes for easy handling, and there is a grab handle on the bow.
Included Fishing Features
For a better fishing experience, there are two built-in fishing rod holders and a gear pouch for your valuables. For seating stability and comfort there are inflatable cushions, and you even get a repair patch kit in case of a puncture of this small fishing dinghy.
More Included Features
For paddling, two 48-inch aluminum oars are included in the package. You can attach an Intex trolling motor to the included motor mount fittings. For easier rowing, there are heavy-duty welded oar locks and oar holders on each side.
Specifications:
Fishing rod holders
1050-pound weight capacity
Oars included
Repair kit
Best Kids Small Inflatable Boat
Intex Explorer 200
Recognizable Look
The Explorer 200 is really a classic choice when it comes to kids' small inflatable boats. It measures 73 x 16 x 37 in, and has a 210-pound weight capacity, meaning it is made for two people. The recognizable bright orange color ensures better visibility.
Safety Features Included
2 oars come with the mini dinghy boat, and when it is inflated it measures 6ft 1in x 3ft 1in x 2ft 4in. For more safety, there are two separate air chambers, and for better and easier handling there is a grab rope on the bow of the small inflatable boat.
Bond With Your Kids
The Explorer is a great choice if you have kids and have a pool or simply live near a beach. It will surely entertain your kids while out the whole day, and you can even teach them to row. That is a very useful skill to have later on in life.
Parts Included In The Package
For inflation, the Explorer package features a Double Quick double-action air pump. A repair patch is included as well in case there are any ruptures or punctures while you're out on the water.
Specifications:
210-pound weight capacity
2 oars included
Air pump included
Best Lightweight Small Dinghy Boat
UBOWAY 2-Person Inflatable Dinghy Set
Dimensions And Weight
The Uboway set weighs 52 pounds, and measures 230 x 126 mm, while it is 33 cm high. Made for two people, this small inflatable boat has a 572-pound maximum weight capacity.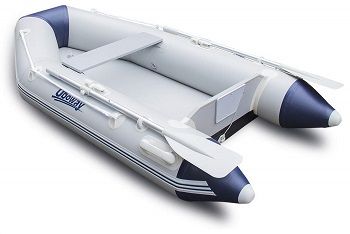 Construction Details
Triple-layered 0.9mm Polyester-reinforced and anti-corrosive coated PVC is the material used to make this small inflatable boat. Four valves ensure easier and quicker inflation and deflation. There are also motor mount fittings.
On-Board Features
A paddle lock, deck holder, D-Ring and a safety rope are also included for your convenience. While on the boat, you can sit on an aluminum sitting bench and there is an inflatable bottom floor. The small dinghy is resistant to sunlight, salt, corrosion, etc.
Other Included Extras
The package comes with a foot pump for inflation. Two aluminum oars and a carry bag are also featured. In case of emergency, there is a repair kit, and there is even a version of this small dinghy made for 4 people.
Specifications:
4 valves
Carry bag
For 2 people
Motor mount fittings
Conclusion: The Best Of The Best Small Inflatable Dinghy Boat
The five products listed above are there to help you better understand everything that small inflatable boats encompass and to maybe help you decide which one to get. If you still have any doubts, I would recommend the UBOWAY Dinghy Set because it has a lot of on-board features and comes with its own carry bag. If you do not like that one, another one I like is the Intex Seahawk 4, because it can hold 4 people and it is suitable for fishing.
If you are interested in inflatable boats in general, you should read what I have to say about the best inflatable boats for sale. There is even an article about best inflatable boats with motor. If you are looking for something that's more fishing-oriented, read more about inflatable fishing boats.