Not sure which inflatable boat to buy?
Why not try these top BRIS inflatable boats currently available on Amazon.com?
This article will feature BRIS inflatable reviews describing the performance and other features of four BRIS rafts, including bris inflatable kayaks, bris dinghies, and bris inflatable catamarans. Keep reading to find your perfect fit.
Everything About The Brismarina Brand
BRIS And Their Products
Brismarina or simply BRIS is a watersports-based company operating from China. The Brismarina brand offers a wide variety of inflatable boats and rafts, including inflatable dinghies, whitewater rafts, riverboats, and tender boats, in varying sizes to suit each preference. You can also purchase bris inflatable boat accessories, such as foot pumps, air pressure gauges, and other necessary items.
Should You Buy An Inflatable Dinghy, Kaboat Or Catamaran?
The dinghy is great for safety as it is frequently offered as an alternative to life rafts – it also offers more leg space to the traditional inflatable kayak. BRIS offers inflatable dinghies in various sizes, such as the BRIS 9.8 ft inflatable boat. A kaboat, such as the BRIS 14.1 ft inflatable kayak boat, is a hybrid between a kayak and an inflatable boat that combines speed with comfort, while the inflatable catamaran, for example, the BRIS 11 ft inflatable catamaran, offers great stability and is perfect for leisure boating activities.
Where To Buy BRIS Inflatable Boats?
BRIS inflatable boats can be bought on Brismarina's website only using Paypal. Amazon.com is recommended for all other payment methods. All products come brand new and securely packaged, and Brismarina vouches for the quality of all their inflatable boat accessories.
The Price Range Of The Brismarina Brand
According to other reviews, Brismarina gives good value for money, and its products are durable, easy to maneuver and good for professional use. All of the products also come with all the necessary equipment for boating (oars, foot pump, repair kits) and an instruction manual. Generally, their products are priced at the mid-range of the market.
Contacting BrismarinaAnd Warranty
All BRIS inflatable boats come with a 3-year warranty for the seams and 1-year warranty for auxiliary parts, oar-holders, d-rings, etc. In case of questions, customers can either e-mail Brismarina or use the questions-and-answers system on Amazon.com, where they will promptly receive an answer.
Top 4 BRIS Inflatable Boat Reviews
BRIS 9.8 ft Inflatable Boat
Versatile Model For All Your Needs
This BRIS raft is a great choice for those who like to enjoy watersports in the company. The BRIS 9.8 inflatable boat will carry up to four adults with its capacity of 1102 lbs. Robust yet comfortable, you can take this BRIS dinghy for fishing or camping, but it can also be used as a lifesaving raft in emergency situations.
Premium Quality Material
The BRIS 9.8 ft inflatable boat is built from top-of-the-grade materials: heavy-duty 1100 DN 0.9mm PVC with polyester support. Compared to the usual 1000DN PVC on the market, 1100 DN PVC is much more resistant to tearing and tension.
Heavy-Duty Construction
All of the seams on this BRIS dinghy are heat welded and will last in both fresh and saltwater, dry and humid conditions. They also feature quadruple overlaps for maximum strength and security. Separate internal air chambers are included, also for your safety in case of puncturing. The transoms are covered with triangular splash guards that protect it from water spray and UV rays.
Robust Aluminum Sectional Floor
The BRIS 9.8 inflatable boat features a high-quality, robust sectional aluminum floor that provides maximum stability – you can safely stand in this BRIS raft for activities such as diving, fishing or snorkeling. It also features a marine-grade plywood transom. The aluminum floor can be taken apart and stored conveniently alongside the BRIS dinghy.
Included Accessories
Included with the boat are a PVC hull, the aforementioned aluminum floor, and two aluminum bench seats. You also receive useful accessories such as a repair kit, two pairs of aluminum oars, a nifty foot pump (these are especially good news since most inflatables come with a hand pump) and a carrying bag for easy transport.
Features:
BRIS dinghy that can be used for leisure activities and safety
Built with high-quality 1100 DN PVC
Comes with robust aluminum sectional flooring
All the necessary accessories are included with the inflatable
Another Version OfBRIS 10.8 ft Inflatable Boat
The BRIS 10.8 ft Boat is a large version of the BRIS 9.8 ft inflatable boat. It can hold up to five people, or four people comfortably. Other BRIS raft reviews also note that it can be equipped with up to a 15 hp short shaft motor, which is not mentioned for the previous, smaller model.
BRIS 11 ft Inflatable Catamaran
Speedy Catamaran For Leisure Activities
The BRIS 11 ft inflatable catamaran is a sturdy, mid-range inflatable catamaran that is perfect for use with either a gas or electric motor. You can use this BRIS inflatable catamaran either as a tender for the main ship, or take it for a leisurely cruise. It comes in two colors, white and blue.
Construction Material & Features
Like the BRIS 9.8 ft inflatable boat, this BRIS inflatable catamaran makes use of sturdy 1100 DN 0.9 mm PVC. On the bottom tubes are two small fins for directional tracking, and in them are two air chambers for increased safety.
Lightweight & Removable Flooring
Something that makes this BRIS inflatable catamaran special is its lightweight and removable AIR DECK flooring, 80 mm thick. It also features a plywood transom for an outboard motor. The flooring is advertised as very low maintenance and easy to install and uninstall.
Designed For Safety
The bottom of the tubes is covered with an extra thick rub strake to prevent abrasions and allow beaching on rocky terrain as well as smooth terrain. The flooring also includes two drain plugs for water management.
Exercise Caution When Using For Speed
BRIS official raft reviews note that this BRIS inflatable catamaran is intended for leisure activities and not for speed racing. This is why care must be exercised when using it with a motor, as careless handing during windy conditions could cause the catamaran to flit. BRIS recommends using it with a life jacket for extra security.
Features:
Speedy catamaran for leisure activities
Features lightweight, low-maintenance flooring
Extra thick rub strake allows beaching on rocky terrain
BRIS 12.5 ft Inflatable Boat
Large But Portable BRIS Dinghy
The BRIS 12.5 ft inflatable boat is a large and quite heavy BRIS dinghy, measuring a length of 12.5' and width of 5.5'. At a weight of 180lbs and a capacity of 1675lbs, this boat can carry up to 6 adults. You might be worrying about transportability; however, other BRIS raft reviews vouch that the BRIS BSA380 can be easily transported with the use of a wheel dolly, for example.
Personal Or Professional Use
The BRIS 12.5 ft inflatable boat is built strong enough to take max 25 HP engines, which is truly remarkable compared to other products on the market, which generally recommend 10 or 15 HP motors. Other BRIS raft reviews also report with satisfaction on the speed that the BRIS 12 ft inflatable boat achieves. Thus, this versatile and sturdy BRIS raft can be used both for personal and professional use.
Even Sturdier Material
Compared to the BRIS inflatable boats I've reviewed so far, the 12.5 BRIS inflatable boat is by far the sturdiest of them all. It features 2000 DN 1.2mm PVC fabric with polyester support, which is much greater than the 1100 DN PVC material that the others make use of.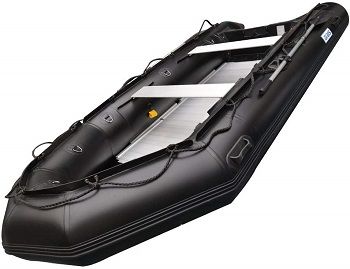 Convenience & Safety Features
The BRIS 12.5 ft inflatable boats come with many convenience and safety features that need to be mentioned, most of which it shares with the previously mentioned models: seams are heat welded and feature quadruple overlap, it features three individual air chambers, thick rub-strake protection and one-way drain valve with a plug.
Many Interior And Exterior D-Rings
The BRIS 12 ft inflatable boat comes with a built-in oarlock for easy rowing and features many stainless d-rings both on the bow and rear tubes that can be used as trying points or for securing of gear when interlaced with rope.
Features:
Quite large and heavy, can take up to 6 adults
Made from sturdiest material yet
Comes with many convenience and safety features
D-rings make securing gear and the inflatable easier
BRIS 14.1 ft Inflatable Boat
Spacious TandemBris Inflatable Boat
The BRIS 14.1 inflatable boat has a maximum capacity of up to 2 adults and 1 child people with its weight capacity of 750 lbs. The BRIS 14.1 will fit in a medium-size bag – however, other BRIS inflatable reviews have remarked on the poor quality of the included carry bag, so customers are included to purchase a separate one. This BRIS inflatable raft will run with a small electric trolling or gas motor.
Quality Construction & Design
Like the previous two models reviewed, the BRIS 14.1 ft inflatable kayak profits from high-quality 2000 DN PVC construction. Compared to other brands of kaboats (such as Saturn), this BRIS kaboat is a very affordable choice. It's lifted hull design helps resist water traction and allows the BRIS 14.1 to cut easily through waves. It comes with 5 air chambers for your safety.
Removable Drop-Stitch Floor
The BRIS 14.1 ft inflatable kayak boat differs from the aforementioned models by featuring a drop-stitch floor – though less stable and rugged than a plywood or aluminum floor, this kind of flooring is much lighter, giving it better speed, and makes this BRIS kaboat easily portable.

Stable And Easy To Track With
The BRIS 14.1 features large 17.5'' diameter tubes for greater buoyancy and stability. It also comes with four directional fins for better tracking, which is a generous amount, positioned both on the sides and the bottom of the boat.
Seating Options
Unlike all of the other reviewed models, the BRIS kaboat doesn't come with aluminum seats but three marine plywood removable benches. These have less give and are hence less comfortable, and also heavier than the aluminum benches. They are, however, easier to modify, as one BRIS raft review mentions installing a canopy on them.
Features:
Easily portable BRIS kaboat despite its size
Features a light-weight removable drop-stitch floor
Comes with plywood removable benches
BRIS 15.4 ft Inflatable Boat
In much, the BRIS 15.4 inflatable boat is similar to the previous model, the BRIS 14.1 ft inflatable boat. Along with the obvious difference, the length, the BRIS 15.4 ft inflatable boat can accommodate many more people (up to 9 adults) with its capacity of 2094 lbs. To withstand this weight, it also features a heavy-duty aluminum sectional flooring. To reach the same amounts of speed as the lighter model, the BRIS 15.4 ft inflatable boat can be equipped with an up to 35 HP motor.
BRIS Inflatable Boat Accessories
Bris offers a very wide array of BRIS inflatable boat accessories on its marketplace on Amazon.com. Some of these accessories are storage bags, waterproof bow skirts, foot pumps for inflatables, air valves, replacement d-rings, under-seat bags with cushion and many more. All of these bags are priced quite affordably.
Conclusion: Which BRIS Inflatable Boat, Raft, Kaboat Or Catamaran To Buy?
Out of all of these BRIS inflatables, I would recommend the BRIS kaboat, BRIS 14.1 ft inflatable boat, for its affordable yet innovative design and speedy and lightweight nature. For those who are looking for a heavy-duty BRIS inflatable and are not worried about weight or portability, the extremely durable and quality-built BRIS 12.5 ft inflatable boat is recommended.
To read more about this subject, read this article on inflatable boats near me. For those who are looking for a fishing-specific inflatable boat, refer to this review on inflatable fishing boats. If tandem cruising is your passion, find your perfect pick with this article about 2 persons inflatable boat.