Are you looking for the best 1-man inflatable kayak to purchase in 2020?
Then you should read this article, where I'll be reviewing five of the best one-person inflatable kayak. These five best one-person inflatable kayaks come from different brands, all with their different specs and performance details. Keep reading to find out the perfect model for your interests.
Before You Buy An Inflatable Kayak For One / Single Person
The Advantages Of Inflatable Kayaks
Inflatable kayaks boast a couple of advantages over hard-shell ones. First of all, they are built from lighter materials, which makes them lighter as well. This also means that inflatable kayaks can admit more weight capacity, unlike hard-shell kayaks with a low capacity threshold. Inflatable kayaks are frequently cheaper than hard-shell kayaks and are easily portable since they can be deflated to a smaller size.
Choosing An Inflatable Kayak
There are a couple of considerations you need to make while choosing an inflatable kayak. Do you want to go kayaking alone or with more people? Then you're looking either for a single person inflatable kayak, tandem kayak or 3-person inflatable kayak. Where do you want to take it? You can choose from motorized kayaks, touring kayaks, whitewater kayaks or fishing kayaks. Finally the choice of material matters as well: standard PVC, environment-friendly nylon or rugged Hypalon.
More About Single Inflatable Kayaks
One-person inflatable kayaks are a great choice for those who enjoy optimal convenience and portability. Single man inflatable kayaks are the lightest version of inflatable kayaks due to their size and are therefore easier to control and navigate than, for example, tandem inflatable kayaks.
Price Range Of Single-Person Inflatable Kayak
1-man inflatable kayaks are some of the cheapest models of inflatables that you can find on the market. Most of the one-person inflatable kayaks in this review boast very affordable prices, starting from the incredibly affordable Intex Challenger One-Person Kayak. The Hobie Mirage Inflatable Single Kayak i11s is the most expensive model on the list, courtesy of the innovative design.
Where To Buy One-Man Inflatable Kayaks
These one-person inflatable kayaks can be purchased on the brands' websites, which are Aquaglide, Intex, Hobie Mirage, Sevylor and Advanced Elements. But if you want to find all of these best single person inflatable kayaks on one website, Amazon.com is recommended due to frequent discounts.
Best 5 One / Single Person Inflatable Kayak Reviews
Best One-Person Inflatable Fishing Kayak
Aquaglide Chinook XP Inflatable Kayak 2-Person
Single Inflatable Kayak For Recreational Use
The Aquaglide Chinook XP 2, named the Chinook 100 for the 2019 season, belongs to Aquaglide's Chinook series. Though the Chinook 100 can accommodate up to two adults, its recommended use is as a one-person inflatable kayak for optimal performance and space. The Aquaglide Chinook XP 2 boats a generous cockpit space that becomes even more comfortable when converted to a single-seat inflatable kayak.
Special Technology Construction
For the Aquaglide Chinook XP 2, Aquaglide used its proprietary construction methods. Durable and rigid PVC beam flooring was achieved by combining an inflatable chamber with Aquaglide X-beam technology – this kind of technology improves stability and navigation. Duratex hull material blended with 600DEN polyester gives puncture and UV-ray resistant. The Aquaglide Chinook 100 also included molded handles for easier boarding and handling.
Comes With Comfortable Seats
The Aquaglide Chinook XP inflatable kayak 2-person includes Comfortable Core seats with the purchase. These seats feature high backrests, fore and aft seat straps and an adjustment system for your convenience. These seats also come with a mesh storage pocket and integrated fishing rod holders for anglers.
Additional Accessories Included With Purchase
The Chinook 100 comes with multiple important accessories, such as  Quick-Release Fin that sets up easily and helps with tracking and navigation. Two Core Seats with two footrests and four PVC rod holders are also included. A carrying bag helps you transport your inflatable, while a repair kit can serve to repair smaller damage. A pump & oars need to be purchased separately.
Characteristics:
Recreational 1/2-man inflatable kayak
Features rigid flooring and quality hull construction
Comfortable Core seats allow you to kayak in comfort
Integrated fishing rod holders and mesh storage for anglers
Best Cheap One-Person Inflatable Kayak
Intex Challenger One-Person Kayak
Features Sporty Design
The Intex 1-person kayak is a compact lime-green kayak featuring stylish graphics. This extremely affordable kayak is perfect flatwater settings, such as lakes and ocean bays. It is also the perfect pick for kayaking hobbyists that are just starting out and do not want to commit to a more expensive kayak.
Small & Easily Portable
The Intex k1 Challenger kayak 1-man is 9′ long and 30" wide and weighs only 27lbs when fully inflated and 23.9lbs when deflated. This means that the Challenger One-Person kayak inflates and deflated extremely quickly with the integrated Boston valves and also packs down very small in the included Intex traveling bag.
Construction Details & Materials Used
Though the Intex Challenger One-Person kayak is a very affordable model, it does not skimp on durability and construction. Sturdy puncture-resistant vinyl fabric is used in construction, and two separate air chambers ensure safety in case of punctures. An inflatable I-beam floor provides good rigidity, while a removable skeg helps with tracking and efficient paddling.
Seating And Storage Options
Though the Intex Challenger 1 kayak features a closed design, the cockpit is designed to prioritize space and passenger comfort. An inflatable seat with a backrest that is easily adjustable is included, along with a cargo net lacing over the hull for storage. With a weight capacity of 220lbs, you do not need to worry about capsizing with your gear.
Which Accessories Are Included?
The Intex Challenger One-Person kayak includes everything you need to get started at its affordable price, making it an even better purchase. A high-output hand pump along with one 86" aluminum handle is included in the purchase. Furthermore, a carry bag, repair kit, and NMMA Certified U.S. Coast Guard I.D. are complimentary with the purchase.
Characteristics:
Perfect choice for beginners
Extremely lightweight and small
Uses vinyl fabric and inflatable I-beam floor
Features a spacious cockpit with inflatable & adjustable seat
Oars and pump are included in the purchase
Best One-Person Inflatable Kayak For Ocean
Hobie Mirage Inflatable Single Kayak i11s
Uses Special Mirage Drive Technology
The Hobie Mirage i11s single inflatable kayak stands apart from others with its stunning, innovative MirageDrive Technology: the pedals mounted under your seats, attached to flexible underwater fins, allow you to pedal the kayak rather than just paddle. This is a superior way to cover distances and will suit you finely for ocean touring. The fins can be turned at 180° thanks to shifting cables.
Kick-Up Fin Technology Included
Along with the MirageDrive 180°, the Hobie Mirage i11s is coupled with Kick-Up Fin technology that allows for an optimal kayaking experience. When you get to an obstacle, the fins will "kick up" on impact and return to its previous positioning when the obstacle is cleared. This allows for efficient shallow water paddling and provides for an easy landing.
More Construction Details
The hull of the Hobie Mirage i11s features standard, durable 1000 DEN PVC with an extremely rigid Drop-Stitch floor construction. This kind of floor, layered with thousands of interconnected tiny threads, results in high structural rigidity and greatly improved performance while preserving the portable aspect of an inflatable.
High Seating For Comfort And Visibility
The Hobie Mirage i11s is a sit-on-top kind of kayak, similar to an inflatable canoe. The patented ergonomic Vantage Seat is highly adjustable, from the seat-back to the bottom and lumbar support. You can also adjust your positioning via a kickstand that allows you to sit even higher. It can also be removed and used as a beach chair.
Characteristics:
Innovative MirageDrive 180° technology allows you to pedal
Kick-Up Fins lift on impact to provide for a safe experience
Features sit-on-top design with extremely adjustable seating
Best One-Person Inflatable Kayak / Pontoon
Sevylor Quikpak K1 One-Person Kayak
Features Sit-On-Top Design Resembling Pontoon Boats
This Sevylor 1-person kayak features a sit-on-top design reminiscent of pontoon boats. This kind of kayak design has a couple of advantages to traditional sit-in kayaks; firstly, it is easier to get on and off of, making it friendlier for beginners. It is also more spacious so it combats that feeling of claustrophobia that can sometimes be felt in sit-in kayaks. However, you are also likely to get wet, as you are not protected by the sidewalls of the kayak.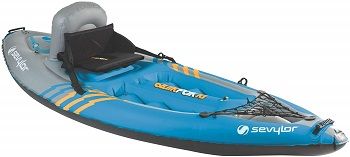 Very Lightweight & Portable
The Intex Challenger One-Person Kayak isn't the only lightweight kayak on this list, nor the lightest. This accolade goes to this Sevylor one-person inflatable kayak that weighs a diminutive 18 pound at its inflated dimensions of 8 ft. 7 in. by 3 ft. The Sevylor Quikpak k1 one-person kayak is thus very portable and will easily fit into the included backpack with padded shoulder straps.
Material Used In Construction
This Sevylor single inflatable kayak is built from 21-gauge PVC with an additional tarpaulin layer on the bottom. Tarpaulin, as one of the strongest and most water-proof materials out there, will work together with the separate air chambers to ensure that your kayak stays afloat.

Comfort & Storage Features
The Sevylor Quikpak k1 one-person kayak comes with an adjustable seat with a supporting backrest. The integrated multi-position footrest increases this support for longer kayaking expeditions. Bungee lacing is provided on the hull for you to securely tie down your gear, while the cup holder integrated with the seat allows you to keep your drinks close.
Characteristics:
The sit-on-top design reminds of pontoon boats
Good design for beginners
Very lightweight and easily portable
Comes with an adjustable seat with multi-position footrest
Best Hard-Shell One-Person Inflatable Kayak
Advanced Elements AdvancedFrame Kayak
Hybrid Design Results In Optimal Performance
Advanced Elements is known in their market for their innovative design which combines a hard-shell kayak with an inflatable kayak. Aluminum ribs are built in the bow and stern to emulate the tracking and efficiency of hard-hull kayaks, while the lightness and portability of this 1-man inflatable kayak is courtesy of inflatable technology. You can take this Advanced Elements kayak for a ride on calm bodies of water, but also rapids up to Class II.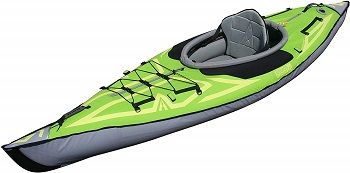 Dimensions & Capacity
The Advanced Elements AdvancedFrame kayak is a 10'5'' by 32'' kayak suited for one person with its weight capacity of 300lbs. The carry duffel bag included in the purchase adds to the convenience and portability of this single person inflatable kayak.
Can Be Modified With Additional Technology
If you want to take your Advanced Elements kayak to a whole new level, you can modify it with some additional Advanced Elements technologies, also available for purchase on Amazon.com. The Drop-Stitch Flooring increases the stability of the inflatable for even better performance, while the BackBone accessory, a bow-to-stern frame, enhances the rigidity already achieved by the aluminum rib technology.
Other Construction Information
This AdvancedFrame inflatable kayak features three-layer construction for the highest level of puncture resistance. Durable 600 DN PVC is layered with Diamond RipStop fabric, engineered to prevent tearing damage. Seven separate air chambers are included for your safety, which a truly large amount considering the standard two or three air chambers.
Other Features & Accessories Included
The Advanced Elements AdvancedFrame AE1012 features bungee lacing on the deck to tie down your gear. An inflatable coaming is integrated for the attaching of a spray skirt, though one is not included and needs to be purchased separately. The floor features a pressure relief valve to combat overinflation. You will also need to purchase a pump and a pair of oars as they are not included with the purchase.
Characteristics:
Aluminum ribs rival the performance of hard-hull kayaks
Can be modified with additional high-grade technology
Three-layer construction with 6 air chambers is highly secure
Pump and oars need to be purchased separately
Conclusion: Which Two Of These Best 5 Single Inflatable Kayaks To Pick?
Though all of these one-person inflatable kayaks are a great pick, I would single out two specific models. The first model I would recommend is the Intex Challenger One-Person Kayak, an extremely affordable model that is a great pick for kayaking beginners. For those who are looking to commit to an inflatable kayak, the Hobie Mirage Inflatable Single Kayak i11s features an innovative Mirage Drive technology which is sure to stun you.
If you want to find out more about inflatable boats, read this review of inflatable kayak near me. To learn about the best fishing inflatable models, click on this article on inflatable fishing kayaks. Looking to find out more about pontoons? Then refer to this article on two-person pontoon boats.