With so many inflatable boat companies on the market, you might find yourself confused as to which one is the best choice for you. That is why I'll be looking at Saturn inflatable kayaks in this review.
I will be describing five Saturn inflatables with all of their technical and general specifications while comparing them one to another and to the other products on the market. Keep reading to find out everything you need to know about Saturn kayaks.
Saturn Brand History & Products
Based In South Korea And China
Saturn inflatables are based in South Korea and China – located in Boise, Idaho, Saturn Rafts and Boats is responsible for importing the world-leading technology of Saturn inflatable kayaks into the US. Saturn prides itself on continued dialogue with its customers; they strive to engage their customer base with contests like the 2014 Saturn Boats photo contest.
Saturn Line Of Products
Saturn offers a stunningly large variety of all kinds of inflatable boats. This includes Saturn dinghies, Saturn kaboats, Saturn inflatable kayaks, Saturn catamarans, Saturn whitewater rafts, and even budget boats. Each of these categories offers a couple of sizes and designs so you can find your perfect fit. Saturn also offers a large array of accessories, including but not limited to NRS frames, oars and paddles, pumps and life jackets.
What Makes Saturn Inflatable Boats Different?
Saturn designs their inflatable boats in order to allow their customers to take on the toughest white water spots they can find. In their products, Saturn uses double-wall fabrics, high-pressure air deck floors, and pressure relief valves on all their inflatable kaboats, white water rafts, and dinghies.
Saturn Kayaks Price Range
Saturn inflatable boats for sale profit from their location of manufacturing which allows them to products at offer competitive prices. Saturn claims they are far below the price ranges of their wholesale competitors, though the relevant prices show middle to high range inflatable boats. It stands to see their quality in relation to the price in the next part of this review.
Saturn Inflatables Warranty Policy
Saturn offers warranties on both their accessories and inflatables. Plywood seats and oars are backed with a 6-month limited warranty, while carry bags and boat covers have a 3-month limited warranty. Saturn inflatable kayaks all come with a 2-year limited warranty on the base fabric and seams and 1-year limited warranty on auxiliary fittings.
Best 5 Saturn Inflatable Boats For Sale
Kaboat SK470
Versatile Kayak/Boat Cross Over
The Kaboat SK470 is a patent combination between a dinghy and a kayak that is a perfect fit for those looking for an adaptable and portable inflatable boat. The reduced weight from the Saturn dinghy reduces the weight of the kaboat without compromising seating. The Saturn SK470 can be rowed and paddled like any kayak, or it can be fitted with a small gas or even electric engine to reach great speeds. This 15' kaboat can hold up to four adults.
Benefits Of The Kaboat
Kaboats are more easily deflated and folded than conventional plastic or fiberglass kayaks, which makes them easier to transport. Furthermore, kaboats have firmer flooring, which can even allow you to stand while riding or fishing while standing on the kaboat. Kaboats can also reach faster speeds when fitted with a motor due to their narrow profile and specialized design.
Upgraded Model With Useful Changes
This upgraded version of the Kaboat SK470 features sun-resistant and durable handles in lieu of plastic handles. It also has triangular splash guards to protect the transom from UV rays and to minimize water splash. The Grommet PVC splash guards also feature safety grab lines that allow you to attach accessories like custom made frames and fishing rod holders.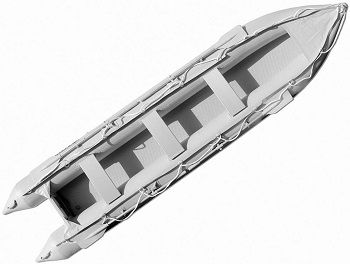 Construction & Materials
The flooring is made of drop-stitch material and is rated up to 8 psi on a pressure rating, indicating industry-leading rigidity and stability. The Saturn SK470 is built from 1100 DENIER PVC with an additional PVC layer on the bottom surface. It also has a durable marine grade plywood transom with a drain plug.
Additional Features And Accessories
The wide beam hull design gives this kaboat stability, and for tracking, four fins are used. This Saturn kaboat comes with three aluminum removable benches, and also includes a hand pump, repair kit, two oars and a carry bag for easy transportation.
Specifications:
Can be fitted with a gas or electric motor
Upgraded model with many quality of life improvements
Drop-stitch material construction with 8 psi pressure rating
Wide beam hull and narrow profile for speed and stability
Quick to deflate/inflate
Saturn Kaboat SK430 Other Version
The Kaboat 430 is identical in everything to the SK470 except in its size – it is 14' instead of 15'. The Saturn 14 foot inflatable boat also has diminished capacity (750 lbs vs. 900 lbs), though it has the same potential capacity as the 15' kaboat. You will need to be more conservative with your gear if you choose the Saturn Sk430.
Kaboat SK470XL
Rugged KaboatFor Adventure Kayaking
This heavy-duty 15' inflatable kaboat belonging to Saturn's Alaska series is designed for the most difficult boating conditions. The spacious interior of the SK470XL makes it a great choice for fishing, hunting or adventuring for two people – two sets of oarlocks and rowing oars come included.
Bulky Design For Damage-Resistance
The Saturn SK470XL features oversized 16'' diameter tubes that are extremely shock-resistant. For maximum durability, rugged rub strake protectors are installed along both sides of the tubes. This makes the SK460XL slightly heavier than other kaboats at 100lbs. For your safety, the kaboat comes with 4 air chambers, double the amount compared to the kaboat sk470 and upgraded C7 style air valves.
Extra-Thick Deck Floor
The Kaboat SK470Xl features a 1.5mm PVC floor, which is 70% thicker than the Saturn SK470 version (0.9 mm PVC floor). It's built out of the same 1100 DENIER PVC that is characteristic to all Saturn inflatable kayaks. Like the Kaboat SK470, it has a marine-grade plywood transom.
Will Keep You Dry
Identical to the Saturn SK470, this inflatable kaboat comes with triangular splash guards covering the transom corner and a grommet splash strip covering the tubes. The front spray skirt is water-resistant and laced with rope, just like the grommet splash strip. This new Saturn SK470XL model has shorter and lighter aluminum seats compared to the SK470.
Extremely High Capacity
The Saturn SK470XL will carry up to 1000lbs worth of weight. Gear can be stored safely under the front spray guard, and additional accessories can be attached to the ropes on the Grommet PVC splash strips.
Specifications:
Rugged kaboat for difficult conditions
Very high capacity Saturn kaboat
Comes with an extremely thick deck floor
Four air chambers integrated for maximum safety
Kaboat SK385XL Other Version
The SK385XL is another version of the SK470XL. Both a part of the Alaska Series, the Saturn SK385XL is lighter and smaller than the Saturn SK470XL at 13' and 80lbs. This makes the kaboat easier to control and maneuver by one person. Additionally, this Saturn kaboat is intended for one kayaker only.
Saturn SD365
One Of The Most Popular Saturn Tenders
This versatile Saturn dinghy that supports up to five people with its capacity of 1430 lbs is one of Saturn's most popular rafts. It can be used as a dinghy, fishing boat, and even stand in as a lifeboat. Though it is large at 12'', it can still be easily transported by one person. Like the Kaboat SK470, you can fit the Saturn SD356 with an up to 10 HP  outboard motor.
Improved Durability And Practicality
The Saturn SD365 for sale has been updated with great features that improved its performance and general durability. The air valves have been moved away from exposure to elements and more towards the inside of the dinghy's tubes, triangular splash guards were installed to protect the transom borders and an all-around rope was added for more tying points.
Saturn Quality Construction
The Saturn SD365 is built with the same construction materials and technologies that we have in mind when we think of Saturn. This is, of course, the 1000 denier Korean PVC fabric with great wear-and-tear resistance, inflatable V-keel with a rub strake protector and 24mm thick marine grade plywood transom. Double layers of fabric at the bottom of the tubes and rub strake protector add extra protection against punctures.
How To Inflate And Deflate The Boat?
This Saturn dinghy sets up extremely easily: it is easy to pack and inflates in up to 10 minutes. To deflate the Saturn SD365, simply open the air valves or suck it out with an electric pump. Fold it and fit it into the included carry bag, and you are good to go.
Specifications:
Supports up to five people
Can be used as a lifeboat, fishing boat or dinghy
Easy to inflate and deflate
Saturn-specific quality construction
Has multiple tying points
Saturn SD518
Largest Available Saturn Inflatable
The Saturn SD518 is the largest Saturn dinghy available on the market. With its dazzling length of 17.8' and a maximum capacity of 2500lbs, this Saturn 18 ft inflatable boat can fit up to 10 people – a capacity not a lot of inflatable boats on the market can boast. This size comes at a price – a weight of 270lbs with the floor included and 120lbs sans floor. Once folded, the Saturn SD518 will fit in the back of your SUV/minivan.

Multi-Purpose Vessel
The Saturn SD518 is a truly multi-purpose inflatable advertised for both commercial and private purpose. You can take this large-capacity, rugged Saturn dinghy fishing or crabbing, but you can also use it for coastguard activities and military operations.
Heavy-Duty Design
The Saturn SD518 includes three exterior air chambers and extra buoyant, over-sized 20'' diameter tubes for extra stability. The bow section features marine-grade plywood floor covered with gray resin. The rugged PVC material construction, along with the aforementioned double layers along the keel and bottom of the tubes, ensures protection from sharp rocks and sand.
Special Aluminum Flooring
This feature makes the Saturn SD518 truly stand out from other Saturn inflatables: instead of a drop-stitch floor, this Saturn dinghy comes with a sectional aluminum floor that, at a minimum weight to the boat itself, gives it top-of-the-grade support and rigidity. The aluminum floor can be broken apart and stored easily beside the Saturn SD518.
Other Saturn SD518 Features
Other features that the Saturn SD518 offers that are necessary to mention are front bow D-ring with lifting handle, stainless d-rings for towing, multiple one-way drain valves, a safety valve to regulate pressure and spare rope for attaching the anchor.
Specifications:
Largest inflatable that Saturn has to offer
Can be used both for leisure and business
Comes with an extremely rigid aluminum flooring
Extra buoyant tubes and air chambers ensure stability
Saturn FK396
A Fishing Kayak From Saturn
The Saturn FK396 is an offering from Saturn to fishing enthusiasts. This versatile Saturn kayak has a capacity for up to two adults and will handle 700 lbs of weight. For those who like to fish solo, it is possible to remove one aluminum seat and use the extra space for additional gear.
Intended For Calm Waters
The Saturn FK396 is not a self-bailing kayak; therefore, it is suitable for calm waters, such as lake, pond, flatwater and ocean fishing, and not white water rapids. It is possible to puncture bailing holes in the kayak bottom to let excess water out; however, Saturn warns that depending on the weight capacity, this may flood the kayak floor.
Extremely Stable Design
The Saturn FK396 has an extremely rigid drop-stitch floor that, coupled with high buoyancy exterior tubes, provides perfect stability. Therefore, you can safely stand up to fish if necessary. The narrow profile of this Saturn inflatable kayak also makes it easy to control and paddle.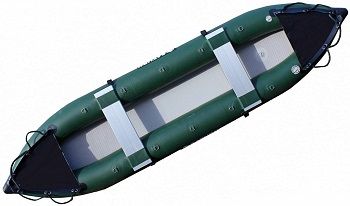 Multiple Configuration Options
This versatile Saturn dinghy gives you different ways of enjoying it: you can fish standing, or you can use the included comfortable aluminum benches. 8 heavy-duty d-rings also allow you to install kayak seats for full support – optional seats are purchased separately. You can also replace the rear aluminum bench with a longer version and vertical plate for an electric motor.
Construction & Material Details
The construction of the Saturn FK396 is characteristic of Saturn inflatable kayaks. Heavy-duty 1100 DN PVC and double layers of fabric coating the tubes in the cockpit areas ensure Saturn-grade durability. The Saturn FK396 also features a large, removable fin on the bottom for directional stability – remove it in shallow waters and add it in deep lakes.
Specifications:
Versatile fishing inflatable kayak
Can be configured to suit every preference
Features removable fin for directional stability
Other Products To Check Out From Saturn
Saturn offers many other kaboats and inflatable dinghies to buy that could not make it into this review: these are the Saturn 12 ft kaboat SK396, the Saturn whitewater raft, the Saturn ocean kayak, the Saturn SD385, the Saturn SD260, and the Saturn SD230. They are all available for viewing and purchase on Amazon.com.
Conclusion: Which Best Saturn Inflatable To Purchase And Why?
We have now seen five excellent Saturn inflatable kayaks, kaboats, and dinghies. Out of all of them, I would single out the Kaboat SK470 – if you want to try out the innovative kaboat design, this speedy and stable inflatable kaboat is a great choice. For those who prefer dinghies, I recommend the Saturn SD518, an incredibly spacious yet stable and durable Saturn dinghy that will comfortably carry six people and will fit four more if needed.
To keep reading about inflatable boats, click on this article on boat tenders for sale. If you're interested in inflatables that pack on a bit more speed, check out this review of inflatable boats for sale with the motor, and if you're looking for something that you could use both for leisure and safety, read about these emergency inflatable boats.