Want to find out more about Advanced Elements inflatable kayaks?
Then look no further than this review, where I will be reviewing the best Advanced Elements kayak available for purchase in 2020. Read about their technical and general specifications to find the best Advanced Elements kayak for you!
About The Advanced Elements Brand
The History Of Advanced Elements
Advanced Elements is a relatively new company compared to some other inflatable boat companies, having been started in 2007 by two investors with a desire to innovate the products on the market. Today, they offer more than a hundred varied products from their headquarters near San Francisco, California.
Advanced Elements Products On Offer
Advanced Elements offer a variety of products, including inflatable kayaks, inflatable SUPs, and paddle sports accessories with a desire for high performance, quality and ease of portability. They also offer Wartech Gear, a line of bags meant to be integrated with their Advanced inflatable kayaks and iSUPs, and also miscellaneous products such as summer showers to be used in camps or on boats.
What Is Special About Advanced Elements Kayaks For Sale?
Advanced Elements boast a variety of innovative technologies and quality construction methods; starting with what they name the first truly hybrid inflatable kayak, the Advanced Elements AdvancedFrame that mixes the rigidity and sturdiness of hard-shell kayaks and the portability of soft inflatables. Some of their technologies are the Aluminium Rib Frame design and multi-layer construction with multiple air chambers.
The Price Range of Advanced Elements Kayaks
Advanced Elements products vary from kayak to kayak; in general, their products are situated somewhere in the middle range of inflatable boat prices. Some Advanced Elements inflatables are priced very affordably, though the cheapest models still do not reach as low pricing as, for example, some Sea Eagle inflatables. However, their models do not come included with oars and a pump, so this is something that has to be purchased as well.
Where To Buy Advanced Elements Inflatable Kayaks
Advanced Elements kayaks can be purchased on their website or for various approved dealers, but Amazon.com is always recommended for its security, transparent returns policies and frequent bargain deals. Additionally, the reviews under each product will tell you all of the pros and cons of each product so you go into the purchase fully informed.
Best 5 Advanced Elements Inflatable Kayak Reviews
Advanced Elements AdvancedFrame AE1012
True Hybrid Advanced Kayak
This Advanced Elements AdvancedFrame kayak is a versatile, hybrid kayak combining a folding frame kayak and an inflatable kayak. The built-in aluminum ribs and trackability of the advanced elements AE1012 reminds of hard-shell kayaks, while it takes the lightness and portability elements of inflatable kayaks.  It is recommended for day touring on calm bodies of water but can also be taken for a ride on class I and II rapids.
Dimensions & Capacity
This 10'5" long and 32" kayak is suited for one person at its weight capacity of a maximum of 300lbs. This Advanced Frame kayak is easily transportable and storable thanks to the carry duffel bag that comes included with the purchase. It should be taken into account that kayak is a snug fit and offers very limited storage space.
Construction Details
This AdvancedFrame inflatable kayak is made of very durable 600 DN PVC material, layered by Diamond RipStop material to prevent wear-and-tear.  The truly innovative detail about the Advanced Elements AdvancedFrame AE1012 is the proprietary AdvancedFrame technology, that includes an aluminum rib stern and bow that makes it perform like any hard-shell kayak.
Compatible With Additional Technology
The Advanced Elements AE1012 is compatible with other Advanced Elements technologies, such as their BackBone accessory or high-pressure floors with Drop Stitch technology. These accessories can be used to further enhance the performance of your Advanced Elements Frame kayak. Some reviewers have remarked that these technologies should have been included in the price, rather than purchased separately.
Other Features& Accessories Included
The Advanced Elements AdvancedFrame ae1012 comes with high support, adjustable padded seat. It also includes an inflatable coaming for attaching of a spray skirt, though it does not come with a spray skirt. It also has molded rubber handles for easier transporting and handling. The boat comes with a repair kit, owner's manual, and other already mentioned accessories, though it does not include a pair of oars.
Characteristics:
A hybrid kayak that is both rigid and portable
Recommended for calm waters and Class I/II rivers
Features aluminum rib stern and bow
Compatible with Drop Stitch flooring
Does not come with oars included
Advanced Elements AdvancedFrame Convertible AE1007 Other Version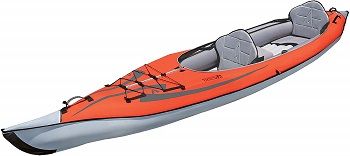 The Advanced Elements AdvancedFrame Convertible inflatable kayak is an Advanced Elements tandem kayak version of the Advanced Elements Advanced Frame ae1012. It comes with all of the great features and technologies of the solo model but also comes with a convertible deck that allows you to use this Advanced Elements AdvancedFrame convertible tandem inflatable kayak either as a solo or tandem kayak.
Advanced Elements AdvancedFrame Expedition Elite Kayak
Recreational AdvancedElements Kayak
This Advanced Elements Expedition Elite kayak is another one of Advanced Element's AdvancedFrame kayaks, boasting the great rigid yet portable combination. The Advanced Elements Expedition is somewhat bigger and heavier than the Advanced Elements AdvancedFrame AE1012 at 13′ of length and 42lbs of weight. However, it also supports a larger load capacity of max. 450lbs.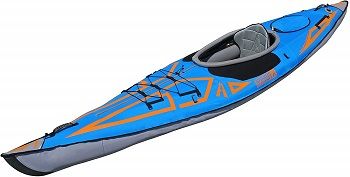 Comes With A Drop Stitch Floor
The Advanced Elements AdvancedFrame Expedition Elite inflatable kayak comes included with Drop Stitch floor technology, which upgrades this already rigid and sturdy Advanced Elements inflatable kayak. Welded seams ensure the integrity of the vessel, along with the already mentioned AdvancedFrame technology.
Easy To Maneuver
Coupled with a low center of gravity, as many as nine air chambers (an extraordinary number as most inflatables offer three plus one auxiliary air chamber), make this AdvancedFrame Expedition kayak remarkably stable and buoyant. The Advanced Elements Expedition kayak also features a skeg for easy tracking. This model also comes with a rudder mount for adding the AdvancedTrak Kayak Rudder Kit available for purchase on Amazon.com.

Roomy And Comfortable
The Advanced Elements Expedition Elite features bungee deck lacing that can be used for typing gear on top of this AdvancedFrame kayak. A raised deck and adjustable lumbar seat provide comfort during long kayaking expeditions – although the cockpit is comfortable to sit in, the kayak itself does not provide many interior storage options, which should also be taken into account.
Simple Set-Up
Thanks to Advanced Elements Twistlock valves and high flow Spring valves, the Advanced Elements Expedition Inflatable Kayak sets up in no time at all. It is easily transportable with the included duffel bag with removable shoulder straps – a pump is not included, and needs to be purchased separately.
Characteristics:
Drop Stitch floor included
Easy to maneuver thanks to nine air chambers
Comfortable lumbar support seat
Comes with a rudder mount
Advanced Elements Airfusion Elite Kayak
Another Hybrid Advanced Elements Model
The Advanced Elements Airfusion Elite provides yet another innovation by Advanced Elements in their aim to combine industry-leading rigidity and portability. Debuted in 2007, the Advanced Elements Airfusion features a fusion of aluminum alloy frame poles and pressurized air tubes which results in a high-quality, high-pressure product.
Model For A Solo Kayaker
This 13′ long kayak with a load capacity of 235lbs is a great choice for a solo kayaking adventurer. With its sleek and narrow beam design, this Advanced Elements inflatable kayak is easy to control and to paddle. You can store your gear inside the kayak with a rear storage access hatch for longer expeditions.
Quality Construction
The Advanced Elements Airfusion is made of heavy-duty PVC Tarpaulin for high-grade puncture resistance. Its aluminum frame, along with seven high-pressure air chambers, allows this Advanced Frame kayak to reach speeds comparable to hard-shell kayaks. For even better performance, you can purchase the Advanced Elements Airfusion kayak skeg on Amazon.com.
Other Important Information
Along with rear storage, the Advanced Elements Airfusion Elite features D-ring tie-downs for gear. Just like previous models, it also includes a carrying bag, repair kit, owner's manual and one folding seat. Other reviewers have identified the slightly longer time interval required to inflate the Advanced Elements Airfusion as one of its disadvantages.
Characteristics:
Features innovative Airfusion technology
Rear storage access hatch for gear
Made from heavy-duty PVC material
Advanced Elements Kayak Packlite
Extremely Lightweight Advanced Elements Kayak
At its length of 7'10", the Advanced Elements Packlite kayak is the smallest Advanced Elements kayak we've seen so far. But that's not all – at its weight of merely 4lbs, this kayak is also one of the lightest on the market. With its maximum capacity of 250lbs, it will comfortably accommodate one person.
Perfect For Intermediate Kayakers
Due to its heavily striped design that allows it to weight as little as it does, the Supreme Advanced Elements Packlite Kayak comes without many characteristic inflatable kayak features: quite short and lacking a skeg, this kayak can turn on a dime and cause problems for novice kayakers.
Eco-Friendly Construction
The Advanced Elements Packlite inflatable kayak features lightweight, PVC-free materials that add to the compatibility of this kayak. The fabric-reinforced Polyurethane construction is eco-friendly but also perfectly durable. This model features the least amount of air chambers of all Advanced Elements kayaks for sale reviewed so far, providing three of them for stability while conserving the lightweight of the boat.
More Storage Options
The Supreme Advanced Elements Packlite kayak red comes with an excellent mesh carry bag that can be tied down to included d-rings to provide extra space for storage. This kayak comes without a chair and instead consists of a raised sitting platform, which also frees up space inside the cockpit.
Compatible With Optional Accessories
The Advanced Elements Packlite is compatible with the new PackLite Outer Cover accessory that adds a tracking fin and another layer of durability and is available on Amazon.com for purchase. Advanced Elements also offers a light set of Advanced Elements Packlite paddles and a Packlite foot pump, also available on Amazon.com.
Characteristics:
Extremely lightweight Advanced Elements kayak
Suited for intermediate kayakers
Features PVC-less construction
Mesh carry bag doubles as additional storage
Advanced Elements Straitedge Angler
Rugged Advanced Elements Inflatable Kayak
This yellow/gray Advanced Elements inflatable fishing kayak has been constructed to withstand the elements with its many great construction features. At a mid-sized length of 9'8" and a maximum capacity of 300lbs, the Advanced Elements Straitedge Angler will accommodate one person and a decent amount of gear.
Great Choice For Fishing
The Advanced Elements Straitedge Angler kayak comes with 1" accessory mounting rail which you can customize with rod holders, a fish finder, or any other fishing equipment you may find useful. Bungee deck lacing provides ample gear storing, as well as the spacious cockpit itself.
Performance-Oriented
TheAdvanced Elements Straitedge Kayak features built-in aluminum ribs in the bow and stern that improves tracking and durability. Added abrasion pads and five integrated air chambers further help this boat resist punctures and shock damage. An integrated pressure relief valve in the floor will ensure that you don't overinflate your Advanced Elements canoe.
Many Convenience Features
TheAdvanced Elements Straitedge Angler includes many features that make this inflatable greatly convenient to use: for example, stainless steel d-rings for drift anchor and string attachment and paddle holders to secure your oars. The Advanced Elements lumbar seat has a high back for your comfort and also includes two rod holders for your convenience.
What It Comes With
The Advanced Elements Straitedge inflatable kayak comes with some equipment identical to other Sea Eagle inflatables, such as the carrying duffel bag, repair kit, lumber seat and owner's manual that make up the essentials of your usual inflatable kit (barring the oars and pump). It also comes with rod holders and an accessory mounting rail, which makes this model fishing-appropriate.
Characteristics:
Advanced Elements fishing kayak for one
Comes with accessory mounting rail and rod holders
Abrasion pads protect from damage
Includes many other convenience features
Other Advanced Elements Kayaks For Sale
Apart from these five excellent models that I've reviewed, there are other great Advanced Elements kayaks, such as the Advanced Elements AdvancedFrame Sport, the Advanced Elements Airfusion Elite, the Advanced Elements Firefly, the Advanced Elements Lagoon 1 and 2 and the Advanced Elements Straitedge 2. To find out more about these products, look them up on Amazon.com.
Advanced Elements Replacement Parts & Accessories
Advanced Elements offers a variety of inflatable boat parts on Amazon.com. Some of them we've already seen in this review; these are different models of Advanced Elements kayak paddles, such as the lightweight Advanced Elements compact touring kayak paddle or the Advanced Elements orbit paddle. Other accessories include the Advanced Elements Backbone, a bow-to-stern frame that enhances performance, the PVC Advanced Elements deck bag with waterproof zipper and Advanced Elements spray skirt for water protection.
Conclusion: What Is The Best 5 Advanced Elements Kayak?
We've seen many outstanding and innovative models from Advanced Elements. Out of all of these, an AdvancedFrame kayak is always recommended for the pioneering fusion of hard-shell and inflatable kayaks; you won't regret trying out the Advanced Elements AdvancedFrame AE1012. Another outstanding product is the remarkably light and eco-friendly Advanced Elements Kayak Packlite that you can take wherever you want, no backache required.
To read more about inflatable boats, click on this inflatable boats for sale article. Not so interested in light-weight inflatables, but rather looking for a big, rugged vessel? This review of heavy-duty inflatable boats will tell you all you need to know. And if safety is more of your thing, refer to this article on inflatable lifeboats.