Interested in some rafting fun with friends and family?
Why not check out some great 3 person inflatable boats & 4 person rafts?
In this review, I will be looking at both of these categories of inflatable boats and finding out which 3 & 4 person inflatable boats and rafts are the best options in 2020. Keep reading to find the best pick for you.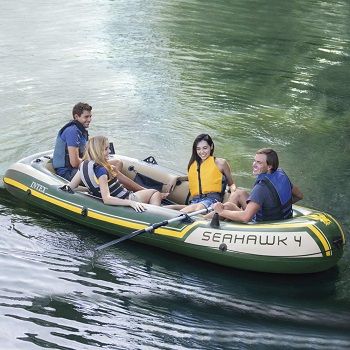 About 3 & 4 Person Inflatable Boats & Rafts
What Are Inflatable Boats?
Inflatable boats are boats that feature a bow and sides constructed of flexible tubes filled with pressurized gas.  Nowadays, inflatable boats differ on the fabric used to construct them: either the standard PVC or high-grade Hypalon material. Inflatable boats are also quite varied depending on their design, performance & purposes; hence you can purchase an inflatable dinghy, inflatable kayak, inflatable canoe or inflatable pontoon.
Inflatables VS Hard-Shell Boats
There are many perks that inflatable boats have over hard-shells; firstly, inflatable boats are built out of much lighter materials are hence much easier to transport. Most of them also pack very small and will fit in an average to large-sized carry bag. Inflatable boats can also be found for much cheaper, though there are quite expensive models out there. The only downside is that you will need to spend some time inflating them before they can be used.
The Characteristics Of  3 & 4 Person Inflatable Boats
Larger boats such as these 4 person inflatable dinghies and 3 person inflatables have some characteristics that are important to keep in mind. Firstly, they will, of course, be larger and heavier than smaller models; secondly, this size will make them harder to control and slower unless the boats come with trolling motors to give them some extra speed.
Price Range Of 3 & 4 Man Dinghies
3 & 4 person inflatables can be found at very affordable prices. Some such brands are Intex with their Intex Mariner 3 and Intex Seahawk 3, Solstice by Swimline with their Solstice Voyager 4 person inflatable boat and the Sevylor 4 person inflatable boat.
Where To Buy 3 & 4 Person Inflatable Rafts?
3 & 4 person inflatable dinghies can be purchased on their respective brands' websites, but they can all be found on Amazon.com as well. By using Amazon.com, you will be able to profit from often discounts, as well as from the useful rating system that tells you customer satisfaction and customer reviews which tell you everything you need to know.
Best 3 & 4 Person Dinghy, Raft & Canoe Reviews
Best 3 Person Inflatable Boat
Intex Mariner 3 Inflatable Boat
3 Person Inflatable From The Professional Series
The Intex Mariner 3 belongs to the Intex Professional Series. With a maximum weight limit of 600lb., the affordable Mariner 3 raft will accommodate up to three people. Designed either for rowing or for an optional battery-powered trolling motor, this 3-man inflatable boat is sure to satisfy all needs. As for the Intex Mariner 3 dimensions,  it is 117 x 50 x 18 inches and weighs 73 pounds.
High-Quality Materials And Construction
The Intex Mariner 3 features super-tough construction consisting of a stunning three layers of material that give extra strength and durability. Two outer layers of PVC material are laminated to the interior PVC mesh, providing extra-high abrasion and UV resistance. The plastic flooring is both sturdy and comfortable.
Other Intex Mariner 3 Specs
The Intex Mariner 3 for sale is a good pick for fisherman as it contains two convenient fishing rod holders, while two rotational oar holders secure your oars for you. Grab handles are included on both ends for easier transport, as well as an all-around grab line that provides extra safety.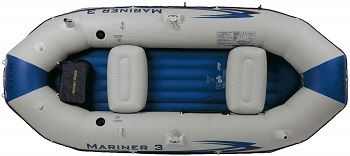 Intex Mariner 3 Accessories
The Intex Mariner 3 does not come with a trolling motor mount, so a compatible Intex Mariner 3 motor mount will have to be purchased separately. Included are, however, two thwart seats, one gear pouch and one battery pouch, and a pair of light-duty oars.
Another Version of the Intex Mariner 3
The Mariner 3 inflatable boat comes at a larger version: the Intex Mariner 4 raft. This 4-person inflatable boat boasts a weight capacity of 880lbs and can be fitted with an Intex Mariner 4 canopy from the affordable company BRIS. This is also a versatile model that will support many Intex Mariner 4 mods – for example, you can install a plywood floor to make it even sturdier. You can find the Intex Mariner 4 for sale on Amazon.com.
Features:
Super sturdy with 3 layers of material
Includes fishing rod holders as well as rod holders
Compatible with an electric motor
Includes grab line and grab handles for convenience
Four-person raft version also available
Best Cheap 4 Person Inflatable Raft
Sevylor 4 Person Inflatable Boat
Product Dimensions & Capacity
This extremely affordable Sevylor 4 man inflatable dinghy measures 9' 6'' by 4' 6'' and holds up to 840lb. It is a perfect choice for fun family time on rapids or river floats with its capacity of up to four people; the comfortable inflated floor will allow you to enjoy your trip to the maximum.
Performance & Construction Details
Though this 4 person raft comes at a very cheap price, this does not mean that the construction was an afterthought; quite the opposite. The Sevylor Colossus features durable 23-gauge PVC construction that is sure to ensure damage resistance; in case of damage, this 4 man dinghy comes with a 90-warranty coverage.
Safety Mechanisms In Case Of Emergencies
If a puncture should happen while you're still on the water, there is no need to worry. This 4 person blow up boat features four separate air chambers with extra puncture-resistance, and the Airtight system stops air leaking through the integrated Double Lock valves.
Included Accessories & Features
Like the Intex Mariner 3, the Sevylor 4 person inflatable boat comes with carrying handles that help you get this 4 person raft in and out of water. Two sets of molded oarlocks and four included oars make sure that everyone gets to chip in. A grab line is included to help with entering and exiting the inflatable boat. The construction of this Sevylor 4 person inflatable dinghy is NMMA certified.
Features:
NMMA certified construction & safety
Airtight system and four air chambers for coverage
Features durable 23-gauge PVC construction
Best 3 Person Inflatable Canoe
Sea Eagle 370 Inflatable Kayak
Second Most Popular Sea Eagle Kayak
The Sea Eagle 370 is one of the most popular products made by Sea Eagle, secondary only to the Sea Eagle 330, the smaller model. The Sea Eagle 370 is extremely light at its 3 people capacity and weight limit of 650lbs – it weighs only 32lbs and will pack down very small, fitting in the trunk of any car.
Features Special Floor Technology
This 3-person inflatable canoe features an integral 5-tube I-beam floor that allows the paddler a high sitting position. These larger I-beam tubes are much more rigid than their smaller counterparts. This higher overall floor rigidity improves the performance of the Sea Eagle 370 and allows you to paddle long distances with minimum effort.
Improved Tracking And Speed
The Sea Eagle 370 features two molded skegs made from extremely damage and shock-resistant molded plastic. This is especially important for inflatable kayaks that are harder to track with than with hard-shell kayaks. By including two skegs, the performance of this 3-person inflatable canoe is dramatically improved.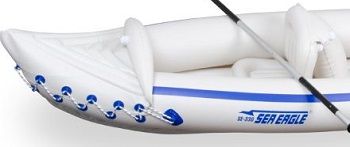 Integrated Deluxe One Way Valves
Unlike traditional air valves that let the air out and crack easily, the deluxe one-way valves that Sea Eagle uses are both simple to use and high-quality. Their construction allows for air to be pumped inside without escaping afterward. Additionally, the larger openings result in quicker inflation and deflation, while molded O-rings keep them attached to the hull at all times. For ultimate airtightness, a final seal is utilized.
Features:
Light-weight and affordable 3-person inflatable canoe
Rigid 5 I-beam floor provides improved performance
Two molded skegs help with tracking and speed
Deluxe valves ensure airtightness and quick inflation
Best 4 Person Inflatable Boat With Motor
Seahawk 4 Person Inflatable Boat
Ideal For Leisure Expeditions
This 11' 6'' x 4' 9'' boat is perfect for a fun summer day of enjoying watersports with friends and family. Two built-in rod holders and a gear pouch also provide you with all the necessary equipment to convert your boating expedition into a fishing trip.  The 814lbs capacity is sure to provide for the passengers and your gear.
Fitted With A Motor Mount
The Seahawk 4 inflatable boat comes with motor mount fittings that allow you to install a trolling motor. Intex offers a compatible product on Amazon.com called the Intex 12V trolling motor & mounting kit that detaches and stores easily, and also works very quietly. This is a real advantage for anglers trying not to scare away potential catches.
Made Out Of Tough Material
The Seahawk 4 person inflatable boat with motor is made out of very durable 30-gauge PVC material. This vinyl type material is resistant to all sorts of physical damage as well as elemental and chemical damage – it features UV, saltwater, oil and gasoline protection.
The Construction Of The Seahawk 4
The Seahawk 4 inflatable boat features construction with two air chambers and an extra one in the inner hull for safety precautions. The inflatable floor is comfortable enough to kneel upon and features two inflatable seat cushions. Welded oarlocks and an all-around grab line add convenience to this high-quality construction.
Comes With The Following Accessories
This 4-man inflatable dinghy includes all the accessories you need to get started on the water. Two 48inch aluminum oars and a hi-output pump, including a repair kit for small puncture damage and a U.S. Coast Guard I.D. make sure that you're all set.
Features:
Can be fitted with a quiet & easy to install Intex trolling motor
Built from durable 30-gauge PVC
Comes with all the necessary gear to get you started
Best 4 Person Inflatable Fishing Boat
Solstice 4 Person Inflatable Boat
Versatile 4 Man Dinghy From Solstice
The Solstice Swimline Voyager 30400 is the ideal multi-capacity product for lakes, rivers, outdoor pools and beyond. This 10' 7'' by 6' 4 person raft is best suited for families of two adults and two children, while four adults prove a slightly tight fit.
Material Used In Construction
The Solstice Voyager 4 person features 4 double hulls (DIN) chambers for safety in case of punctures. The heavy-duty PVC material is used all over to ensure durability and damage resistance. An extra feature is the radio frequency welded seams which provide product integrity.
Features Suited For Anglers
This 4-person inflatable boat includes many features that make it perfect for fishing use, especially in open waters. Swivel oar locks allow you great maneuverability to get you to those tough-to-reach fishing spots. It also features a rod holder along with an integrated yet replaceable grab line that can be removed in favor of more fishing equipment.
Extremely Lightweight And Portable
Those who favor portability in their inflatable boats & rafts will enjoy the Solstice Swimline Voyager 30400. At an extremely lightweight of only 18.3lbs, this 4 man rubber dinghy will be a breeze to transport, as well as to inflate and control.
Oars And Pump Purchased Separately
Most Solstice by Swimline products does not include complimentary oars or a pump. For the Solstice Voyager 4 person inflatable boat, the Voyager Series Kit number 30401 is available for purchase on Amazon.com. This package includes the Solstice 4 person inflatable boat along with these accessories at an appropriately higher price.
Features:
Lightest 4 person raft on the list
Best suited to two adults and two children
Features swivel oarlocks and rod holder
Oars and pump need to be purchased separately
Conclusion: Which 2 Of These Best 3 & 4 Person Inflatable Boats, Dinghies & Canoes To Buy?
The Sea Eagle 370 Inflatable Kayak is a popular 3 person inflatable canoe from Sea Eagle featuring many innovative and quality features such as an extremely rigid I-beam floor and deluxe one-way valves, which makes it an excellent choice. The Seahawk 4 Person Inflatable Boat is a great choice for those who enjoy the advantages of a trolling motor, along with an all-inclusive package and sturdy construction.
To read more on this subject, click on this article of inflatable boats for sale near me. Do you have a passion for inflatables that offer both speed and portability? Then check out these best inflatable boats with the motor. And if fishing is more of your thing, you will not regret reading this review of inflatable fishing boats for sale.