If you're a water-loving person, it is logical that you would want your kids to love water as well. What better way to help your kids connect to the water than getting a kids' inflatable boat! Not only that but if your child has a fear of water, this is a great way to help them get over that fear. Moreover, you can teach them how to row, which is a great skill to have later in life.
This article will introduce kids' inflatable boats, kids' inflatable kayaks and similar inflatable products, name their most important characteristics and specifics. It will also provide you with examples of best kids' inflatable boats and kids' inflatable kayaks available based on their specifications and user reviews.
Need-To-Know Basics About Kids Inflatable Boats
What Are Kids' Inflatable Boats?
These are boats that you manually inflate using an air pump. They can be taken out to the sea, a lake, or even to a pool. It is a great way of connecting to your kids while they're young. It is also good for quality family time, as you will see later on in the article.
Are Kids Blow-Up Boats Safe?
In comparison to traditional boats, of course, there is a difference. Traditional boats are made of materials designed to endure any number of rough conditions while at sea, but kids' inflatable boats are not really made for cruises. For controlled environments, of course with parental supervision, they do the trick.
Use Kids Inflatable Rafts For Various Activities
You do not have to necessarily have a pool at your house in order for you to get a kids' inflatable boat. You can get one for your summer vacation, or even for kayaking, as there are also kids' inflatable kayaks. You can instill in them your sense of adventure through fun activities you can do together.
More Pros Of Getting One
If your kid was born in the summer, getting a kids' inflatable boat is a great birthday party prop. You can take the kids to the beach or to a lake near you, and have a water-themed birthday party, which is a change from traditional backyard birthday parties.
Children's Inflatable Boats Are A Cheaper Option
Unlike "serious" inflatable boats and kayaks, kids' inflatable boats and kids' inflatable kayaks are much cheaper for the purposes you need them for. You do not have to spend a lot of money on traditional boats or kayaks in order to have fun with your kids in the water.
5 Best Kids' Inflatable Boats Reviews
Best Kids' Inflatable Dinghy
Intex Explorer 200
A Classic Choice
The Explorer has been around for ages all over the world. With the recognizable orange color, and he 210-pound weight capacity, the Explorer measures 73 x 16 x 37 in. It is 3 in high and 4 in wide, made for 2 people.
The Explorer's Safety Features
To ensure the safety of everyone on board, there are two air chambers for safety and grab rope on the bow of the Explorer. The inflated size of the inflatable dinghy measures 6ft 1in x 3ft 1in x 1ft 4 in. There is also an inflatable floor for comfort and two included oars.
What You Can Use It For
The Explorer is made for pools or calm waters. That means that you can take it out to a lake and teach your kid how to row, or even try and interest them in fishing if that's what you're into. In case you just want to relax and have a bonding experience, it is great for a relaxing day out on the lake.
Included Additional Parts
The Explorer comes with a "Double Quick" double-action air pump which pumps air on both fore and both strokes. A repair patch included in case you of accidental tears. It is recommended for kids aged 6 and above.
Specifications:
210-pound weight capacity
Repair patch included
2-person seating
Air pump included
Best Family Inflatable Kayak
Sea Eagle 370 Deluxe
Lightweight And Portable Sport Kayak
The Sea Eagle weighs only 32 lbs, and when deflated you can fit in the smallest car trunk. This does not mean it is not safe or that it cannot hold more than 1 person in it. It has a 650-pound weight capacity, or, in other words, it can hold up to 3 people.
You Can Even Take Your Dog
If your family consists of you and your significant other, and you have a dog that you consider part of the family, this kayak can endure that as well. The Polykrylar hull is made to withstand paws and claws without tearing upon contact.
Made For Many Activities
This inflatable kayak can be used for whitewater rafting if you're into adventure sports, fishing, yacht tending, skin diving, or just a relaxed day paddling at your nearby lake. The included parts are an oar set, foot pump, two canoe seats, carry bag and a repair kit.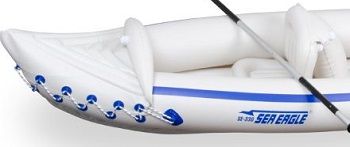 What's It Made Of?
To ensure the safety and durability of the inflatable kayak, there is an extra-thick 33 mm Polykylar hull,l-beam construction floor, inflatable spray skirts, removable front and rear seat, front and rear rope handles, and a self-bailing drain valve. Even though it can fit 3 people, it only takes one to carry it to and from water.
Specifications:
Fits up to 3 people
Claw and paw resistant
Repair kit and carry bag included
Removable seats
Lightweight
Best Inflatable Boat Pool Toy
Swimline Fireboat Squirter
Can't Go Wrong With This One
This kids' inflatable boat is guaranteed to ensure the most fun at your pool party. Kids will love it. It comes in either white or red, has a 200-pound weight capacity to hold multiple people in it, and measures 74.5 x 36 x 33 inches.
Put Out Fires
The inflatable boat comes with its own self-filling water gun so your kids can put out "fires" while they play. They can even pretend to be a captain and their fist mate and rescue those lost at sea. This kids' inflatable boat is also a good idea for a birthday present.
Design Details
There are fire rescue graphics and a red fire engine. The inflatable boat pool toy is made of high-quality vinyl construction for maximum durability with easily inflatable valves that get your kid in the water faster.
There's Even UV Protection
Unlike other similar kids' inflatable boats and inflatable boat pool toys, this one has a canopy with a checkered flag on top of it. The canopy provides a shade which is very useful considering how dangerous UV radiation is.
Specifications:
Fun design
200-pound weight capacity
Canopy for sun protection
Best Family Inflatable Boat
Intex Excursion 4
Great For Families Of 4
If you're a family of 4, this is the inflatable boat for you. With its 1100-pound weight limit and 725-pound weight capacity, the Intex Excursion 4 is safe to hold up to 4 people. The rugged vinyl construction features inflatable I-Beam floor for comfort and durability.
You Can Go Fishing
There are 2 fishing rod holders, a gear pouch, inflatable seat cushions with backrest and oar holders included. If you're like fishing and want to interest your kids in it too, this boat is great for that. For extra safety, a repair kit is included.
Attach A Motor
For extra safety, or just in case your kids lose interest in paddling after the whole day being out on the water, there are motor mount fittings attached. The motor attached can have a maximum 1.5 horsepower. Also, on each side of the inflatable boat, there are grab handles on the bow.
Additional Features Included
Aside from the I-Beam floor and all-around grab line for easy boarding and handling, there is more. The boat features 3 separate air chambers and a safety auxiliary chamber, as well as Boston valves for quick inflation and deflation.
Specifications:
725-pound weight capacity
Holds up to 4 people
Fishing rod holders
Motor mount fittings
Best Kids' Inflatable Boat With Clear Bottom
Sieco Design AQUAVUE Voyager
Look Into The Deep
Just imagine the excitement on your child's face when they see that they can actually look into the water without having to dive. This kids' inflatable boat is a perfect gift for kids who like exploring their surroundings anywhere they go.
Safety Features Included
There is a pull rope which allows for the boat to be hand-pulled around the pool or the beach, depending on where you are. There are safety handles with are strong and durable, and can even be used for guiding paddles.
Other Design Details
The large valve that is featured in the boat makes inflation and deflation easier and quicker. You can inflate/deflate this kids' inflatable boat in under 60 seconds. The 12 in the outer wall keeps your child safe from falling out of the boat in case they do not know how to swim.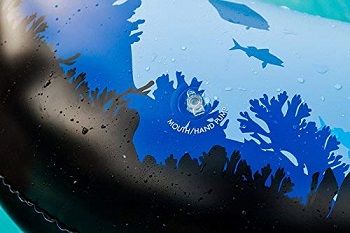 Size Of The Boat
The boat measures 12 x 11 x 4 inches and weighs 3 pounds. It is made for children ages 3 and up, which makes it a perfect birthday present for your little one.
Specifications:
Clear bottom
Pull rope
12" outer wall
Conclusion: Time To Choose The Best Kids' Inflatable Boat
These 5 kids' inflatable boats are only a fraction of what the market offers. All of these are available on Amazon.com, as indicated below in every segment. There are a lot of options and a lot of products which can be used for different purposes. in my opinion, form the ones offered above, I would recommend the Sea Eagle 370 Deluxe model, because you can use it for activities such as fishing as well as for simple paddling. Another one I like is the Swimline Fireboat Squirter, because it not only features a canopy for sun protection, but it also makes for a perfect birthday gift for your kid.
If you're into this kind of product, you can read more about inflatable boats and find more examples in this article. There is even a subgroup of those, inflatable boats with motors and you can read all about them here. In case you like to fish, here is an article about the best inflatable fishing boats.