Looking for an inflatable kayak to have fun with friends and family?
You should read this review of the best four 3-person inflatable kayaks to find all about these spacious inflatables. Read about four very different models from four different brands, all with their special performance and technical details.
All About 3-Person Inflatable Kayaks
Why Purchase An Inflatable?
Inflatable boats bring all kinds of different perks as compared to hard-hull boats. For one, inflatable boats are much lighter, as they are constructed from lighter materials. Furthermore, they are easily portable, as they can be deflated to a much smaller size to be inflated later. Generally, inflatables can also be found at cheaper prices, though there are some models that reach the prices of their hard-hull siblings.
Inflatable Kayak VS Inflatable Canoe
Though generally these two terms are used interchangeably, there are some differences between inflatable kayaks and inflatable canoes. Inflatable canoes have a more open type of design which makes them easier to get in and out of, while kayaks are sleeker and will keep you drier. Kayaks are also usually sturdier and can handle more environmental conditions and types of waters.
Different Kinds Of 3-Man Inflatable Kayaks
3-seater inflatable kayaks differ depending on the materials used in their construction; there is PVC, a standard material, vinyl which is more environment-friendly, and Hypalon, the priciest and sturdiest material of the three. Kayaks also differ on their type and usage: there are recreational kayaks, fitted to lakes and calm water, touring kayaks with long waterlines for efficient paddling, and white-water kayaks, rugged and streamlined to handle hard waves.
Prices Of 3-Seater Inflatable Kayaks
The prices of 3-person inflatable kayaks vary, though it can generally be said that they are pricier than one or two-person inflatable kayaks. These four best 3-man inflatable kayaks all represent different price points of the market; we have the affordable models, the Sevylor Big Basin and the Sea Eagle 3-person kayak. The Saturn 13' kaboat is a mid-range model, while the Aquaglide Chelan HB Tandem XL is the most expensive product on my list.
Where To Buy These Best 3-Man Inflatable Kayaks
To purchase these best 3-person inflatable kayaks, I would recommend using the online marketplace Amazon.com. They can also be purchased on the individual brands' websites, but Amazon.com is recommended due to fair pricing with regular discounts and a simple purchasing procedure.
4 Best 3-Person Inflatable Kayak Reviews
Cheapest 3-Person Inflatable Kayak
Sevylor Big Basin Inflatable Kayak
Recreational Sevylor 3-Man Inflatable Kayak
The Sevylor Big Basin, a 12′ 3" by 3′ 1" inflatable kayak that is NMMA Certified to hold up to 490lbs, and is suitable for anything from a lake expedition to easy white water rivers. Though the Sevylor 3-man kayak can accommodate three adults, it is perfectly suited for a family of two adults and one child.
Constructed With Safety In Mind
The Sevylor 3-person inflatable kayak features multiple air chambers for your safety; if one is punctured, the Sevylor Big Basin is sure to stay afloat. Furthermore, the included double-threaded Boston valves feature an Airtight system that guarantees not to leak air after inflation. The Sevylor Big Basin kayak is a very large vessel, therefore care should be taken in open waters.
Construction And Performance Details
The Sevylor 3-person inflatable kayak features double-layer material construction – heavy-duty PVC is featured throughout, as well as a tarpaulin bottom for extra protection. This makes the Sevylor Big Basin fully puncture, shock and UV ray resistant. The Sevylor Big Basin kayak features built-in spray covers to prevent splashing and keep the passengers dry. The inflatable kayak is easily transportable due to molded carry handles and the carry bag that is included in the purchase.

Comfort & Included Seats
The Sevylor Big Basin comes with three fully adjustable seats, each of which features a bottle holder. One of these seats can also be removed if you're looking to have extra storage space, along with the large rear storage area. Furthermore, integrated d-rings allow you to securely attach your equipment.
Features:
An affordable & recreational 3-man inflatable kayak
Double-layer construction adds protection
Adjustable seats and spray covers provide comfort
Rear storage area and integrated d-rings allow for gear
Best 3-Person Inflatable Kayak For Whitewater
Sea Eagle 3-Person Kayak
Versatile Model From Sea Eagle
The Sea Eagle 370 is a great and affordable model from Sea Eagle, a company with a 40-year old tradition in watersports products. Take the Sea Eagle 3-person fishing, yacht tending, or river running down whitewater rivers up to Class III. This sturdy yet lightweight product can do it all.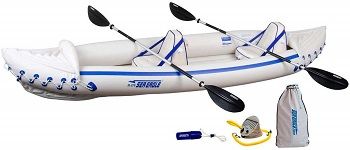 Rugged Construction For Difficult Conditions
The Sea Eagle 370 features very heavy-duty construction, perfect for withstanding tough rivers.  An extremely thick 33-millimeter Polykrylar hull construction along with a rigid I-beam floor provides great sturdiness, included the high-frequency welded seams that ensure inflatable integrity. The self-bailing valve is another great feature for whitewater kayaks to have.
Extremely Lightweight & Portable
At only 32lbs of weight, this 3-seater inflatable kayak is incredibly light and easily portable. This also makes it even easier to handle and to inflate. The five deluxe 1-way inflation/deflation valves that are included make this process even more enjoyable. This Sea Eagle 3-person kayak packs easily into the included carry bag.

Many Convenience Features Included
Along with the aforementioned features, some other important and convenient features deserve a mention. The Sea Eagle 370 features two molded skegs that help with tracking and paddling. Inflatable spray skirts keep you dry while front and rear rope handles help you transport and stay steady in the inflatable.
Deluxe Kayak Pack Keeps You Covered
The Sea Eagle 370 Deluxe Package comes with everything you need to get started on the water: two removable & inflatable seats with improved back support, a foot pump and two 7′ 10" AB30 paddles that can be taken apart for easier storing and feature an aluminum shaft and asymmetrical blades.
Features:
Sturdy 3-man inflatable kayak for Class III rivers
Extremely light and portable
Features rigid I-beam floor and rugged hull construction
Molded skegs improve tracking and controlling
Comes with an all-inclusive deluxe package
Best 3-Person Inflatable Kayak For Ocean
Aquaglide Chelan HB Tandem XL
Touring Design Perfect For Ocean Kayaking
The Aquaglide Chelan HB Tandem XL, renamed to the Chelan 155 HB XL for the 2019 season, is the perfect model for ocean touring. The long waterline along with a sharp water-resistant bow allows this boat to cover distances efficiently. The Aquaglide Chelan HB Tandem XL is the larger version of the Chelan One and has a capacity for up to 300 people or a weight capacity of 600lbs. However, like the Sevylor Big Basin, it is best suited for two adults & a child or pet.
Heavy-Duty Floor & Construction Materials
The Aquaglide Chelan HB Tandem XL features rugged materials for construction, starting with UV resistant 600 DEN PVC fabric. For the hull, heavy-duty Duratex polyester is utilized. A Drop-Stitch Floor that inflates up to 12 PSI is features – Drop-Stitch technology, which features thousands of tiny connected threads, is especially great to ensure rigidity and stability of the flooring.
Keeps You Dry For Long Expeditions
If you want to go out for long kayaking expeditions, it is important to stay dry and comfortable. The Chelan 155 HB XL makes sure of this by providing splash guards at the fore and aft of the cockpit, along with cockpit drains. For storage, you can use the space under the splash guards; additional straps on the bow and stern are included to tie your gear down with.
Extremely Comfortable Seating
The Aquaglide Chelan HB Tandem XL takes care of your comfort with the included Pro-formance seats. The Pro-formance seats come with a variety of convenient features, like an adjustable air cushion and a high backrest for comfort. Added to this are mesh storage pockets ad two fishing rod holders that make the Chelan 155 HB XL a good option for anglers.
Features:
Designed especially for ocean touring
Drop-Stitch Flooring allows premium rigidity
Comfortable Pro-formance seats are included
Best 3-Person Inflatable Kayak With Motor
Saturn 13 ft Kaboat
Versatile Kayak/Boat Crossover
The kaboat is an innovative design by Saturn that combines the best of a kayak and a dinghy/boat. The narrow profile of the kaboat reminds of inflatable kayaks, while the spaciousness and durability are all features taken from classic inflatable dinghies. The Saturn 13 ft kaboat is compatible with both a gas motor up to 10 HP and an electric motor that can be attached to the plywood transom at the stern.
Dimensions & Capacity
The Saturn 13 ft kaboat features large and buoyant 16" diameter tubes and boasts a spacious interior. With its generous weight capacity of 900lbs, this 13 ft Saturn kaboat will keep steady with three people on board. The Saturn 13 ft kaboat weighs a whopping 80lbs, but the Air Deck floor can be removed to make it lighter.
Designed For Difficult Conditions
The Saturn 13 ft kaboat is designed to withstand difficult environmental conditions and was constructed with Alaskan rocky rivers in mind. Thus the floor features an extremely thick 1.5 mm PVC bottom, 0.6 thicker than the kaboat standard. 1100 DEN PVC material is used all-around, also higher quality than the standard 1000 DEN PVC. Durable rub strake protectors are added along the boat's tubes to protect them from punctures.
Performance Details & Safety
A high-pressure 6" inflatable Air Deck floor is extra thick for safety, while four individual air chambers ensure safe mooring in case of punctures. 4 fins are placed on the bottom of the tubes to improve the tracking of the Saturn 13 ft kaboat. Furthermore, an all-around water-deflecting spray skirt with a safety grab rope and a marine-grade plywood transom with a drain plug are included.
Features:
Combines the best of kayaks with dinghies
Suitable for extremely tough conditions
Can be equipped with a 10HP motor
Extremely thick material used in construction
Conclusion: Which Two Of These Four Best 3-Person Inflatable Kayaks To Pick?
Two models stand out from these four great 3-person inflatable kayaks. The first is the Sevylor Big Basin,  an affordable model that features everything an inflatable should, from durable construction to safety mechanisms, and is a great choice for beginners. The second 3-man inflatable canoe I would recommend is the Sea Eagle 3-Person Kayak, a great model that will take you river running in no time with its inclusive deluxe package.
Want to keep on reading about inflatables? Then click on this great article on blow-up boats. If you want to check out some inflatables that can reach great speeds, read about these inflatable boats for sale with motor. Or are you interested in boat tenders? Then read this review on inflatable rescue boats.