Are you wondering which hard-shell kayak you should buy in 2020?
Then you should definitely read this review, where I'll be giving you all the necessary information on the advantages & disadvantages of hard-shell kayaks. I will also be reviewing the top four hard-shell kayaks for sale on the market to give you some concrete examples of quality models.
What You Need To Know About Hard-Shell Kayaks
Hard-Shell Kayaks Vs Inflatable Kayaks
The classical dilemma in the world of watersports is that between hard-shell and inflatable models. Inflatables are a good choice due to their lightweight construction which makes them very portable – they are also frequently cheaper than hard-shell kayaks. However, unlike hard-shell kayaks, you need to inflate them for them to be ready. Hard-shell kayaks also feature improved performance, especially when it comes to tracking and whitewater river running.
Types Of Flatwater Hard-Shell Kayaks
First, we have sit-on-top kayaks, which provide good gear accessibility and are easy to get in and out of; their one disadvantage is that you're very likely to get wet using them. Recreational kayaks feature a closed cockpit and a length of up to 10 ft. Touring kayaks are longer and narrower, which makes them perfect for crossing large distances like ocean bays. Finally, pedaling kayaks, like the Hobie Mirage series, are a great choice for those who want to rest their arms – their price is the only setback.
Types Of Whitewater Hardshell Kayaks
Firstly we have playboats, rather short kayaks which are not suitable for the river running due to how difficult they are to handle. River runners are hard-shell kayaks usually 7 to 8 ft. that provide good comfort and storage space. Creek boats are even larger and can feature either displacement or planing hull, in which case the planning hull is more beginner-friendly. Longboats are old-school kayaks, 10-12 ft. long, that are usually affordable but are quite tight and a bit difficult to maneuver.
The Price Ranges Of Hard-Shell Kayaks
Hard-shell kayaks are, as a rule, more expensive than inflatable kayaks. Still, there are some pretty affordable models on the list, such as the Sun Dolphin Aruba 10 Ft. Kayak. The absolute most expensive kayak, running you over two thousand dollars, is the Hobie 2019 Mirage Revolution 3.
Where To Find Hard-Shell Kayaks For Sale
You can buy find these hard-shell kayaks for sale on Amazon, the number one online marketplace that offers frequent discounts to buyers, as well as an informative layout with a review and rating system.
Best 4 Hard Shell Kayaks For Sale Reviews
Best 2-Person Hard-Shell Kayak
Driftsun Teton 120
Versatile Tandem Kayak From Driftsun
The Driftsun Teton 120 is a child-friendly kayak that can accommodate two paddlers but also features a center seat that can be used by a child. However, this center seat also means that you can use it yourself and go on a solo kayaking expedition. This 12 ft. 2-person hard-shell kayak has a 500lbs weight capacity and will control beautifully however you decide to use it.
Made Out Of Rotomolded Polyethylene
The Driftsun Teton 120 features construction out of rotomolded polyethylene. The difference between fiberglass and polyethylene is that the second is more affordable since the process of making polyethylene boats is quicker. It is also more impact-resistant, but also less performance-oriented and therefore best suited for recreational kayaks. Polyethylene is also easier to repair than fiberglass.
Comes Equipped With Necessary Accessories
The Driftsun Teton 120 can also be used as a fishing kayak, as well as a touring and recreational cruising kayak. It comes with four flush mount capped rod holders along with two mounting points for Scotty accessories, one of the world's leading manufacturers in fishing gear. For storage, you can use the rear storage with bungee lacing, as well as the two watertight storage hatches, one in front of every seat, that also features built-in cup holders.

How To Transport Your Driftsun Teton 120
At 72lbs, the Driftsun Teton 120 isn't too heavy of a hard-shell kayak. Transportation is made easier with four fixed carry handles. Two paddle holders are included to secure your paddles while you are not using them – the wide hull design of the Driftsun Teton will ensure stability and tracking when on the water.
Specifications:
A versatile model that can be used both solo and tandem
Constructed from high-density rotomolded polyethylene
Comes with two watertight storage hatches
Rod holders with two mounting points are perfect for anglers
Best 1-Person Hard-Shell Kayak
Advanced Elements AdvancedFrame Kayak
Hybrid Hard-Hull/Inflatable Model
The innovative Advanced Elements AdvancedFrame kayak features the one-of-a-kind patent by Advanced Elements, the AdvancedFrame technology. The built-in aluminum ribs in the bow and stern emulate the tracking and performance of hard-hull kayaks, while it takes the light 36lbs weight from inflatable kayaks. You can use this solo kayak for calm bodies on water or whitewater rivers up to Class II.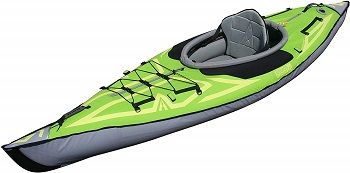 Solo Hybrid Kayak
At its dimensions of 10′ 5" by 32" and load capacity of 300lbs, the Advanced Elements AdvancedFrame kayak is suited for a solo kayaker. Thanks to its lightweight, you can easily transport and store your AdvancedFrame kayak in the carrying duffel bag that is included in the purchase. Thanks to the Advanced Elements spring valves, this kayak will inflate in no time.
More Construction Details
The Advanced Elements AE1012 features a three-layered construction: durable 600 DN PVC is doubled with Diamond RipStop material which prevents puncture damage. The bow and stern seams are reinforced to ensure integrity, as well as molded rubber handles to improve handling.
Can Be Modified With Additional Technology
If you want to take your Advanced Elements kayak to another level, you can further modify it with Advanced Elements BackBone technology, which includes a bow-to-stern frame to optimized performance. You can also add on a Drop Stitch floor, known for its stability and rigidity that does not compromise comfort.
Which Accessories Does It Include?
Firstly, the Advanced Elements AE1012 comes with a high-support, fully-adjustable and padded seat. An inflatable coaming that you can attach a spray skirt is also included, as well as standard accessories like a repair kit and owner's manual. A pump and oars need to be purchased separately.
Specifications:
Hybrid hard-hull/inflatable model
Three-layer material construction for added protection
Modifiable with performance-oriented BackBone and Drop Stitch technology
Best Fishing Hard-Shell Kayak
Hobie 2019 Mirage Revolution 13
The Hobie Mirage Innovation
In 1997, Hobie Mirage introduced revolutionary MirageDrive technology to the world of watersports. The MirageDrive technology allows you to rest your arms and pedal rather than paddle, which is both more efficient and comfortable. These pedals are mounted under the seats and attached to underwater fins with powerful forward propulsion. Shift cables are connected to the fins and rotate them at 180 degrees for maneuverability.
Dimensions & Capacity
This 13′ 5"  by 28.5" hard-hull kayak for sale is suited to a solo kayaker with its load capacity of 350lbs. The Hobie Mirage Revolution 13 provides multiple storage options: a large bow hatch, two mesh storage pockets and two 8" dry twist and seal hatches. If you'd rather have a smaller model, the 11′ 6" by 29" Hobie 2019 Mirage Revolution 11 is also available for purchase on Amazon.com.
Features New Kick-Up Fin Technology
Coupled with the MirageDrive 180°, the Kick-Up Fin technology offers a truly enjoyable experience. Upon reaching an obstacle, the fins will "kick-up", then adjust right back to where they were after you pass it. This allows you to safely use the Hobie Mirage Revolution 13 in both deep and shallow water.
Suited To Anglers
The Hobie Mirage Revolution 13 hard-hull kayak is a great choice for any angler. The pedaling system will allow you to fish while moving the boat around, so you never have to put your fishing rod down. Rod holders are also included for hands-free fishing. Furthermore, a Lowrance Ready system makes the installing of a fish finder supremely simple.
Comes With A Myriad Of Useful Features
There is no understating the variety of features that the Hobie Mirage comes with – the optional sail and bimini mount allow you to transform this kayak into a sailing vessel. The vantage CT seats can be adjusted to four different positions and are extremely comfortable. A retractable twist and stow rudder is included – engage it and disengage with a single pull of a handle.
Specifications:
Features the innovative MirageDrive pedaling system
Multiple storage options are included, both internal and external
Kick-Up Fin technology allows you to enjoy deep and shallow waters
Transform your hard-hull kayak with the optional sail and bimini mount
Fishing rod holders and Lowrance Ready system cater to anglers
Best Cheap Hard-Shell Kayak
Sun Dolphin Aruba 10 Ft. Kayak
Recreational Sit-In Hard-Hull Kayak
Compared to the previous model, the Sun Dolphin Aruba hard-hull kayak is on the complete opposite end of the spectrum. This 10 ft. kayak is an affordable model suited for one person with its 250lbs load capacity – it is the perfect choice for recreational lake and river use. This simple hard-hull kayak comes in five fun colors: blue, citrus, lime, red, and tangerine.
Roomy Cockpit For Comfort
The inside of the Sun Dolphin Aruba 10 ft. kayak is pretty spacious, which is very good for kayaking beginners who might feel constricted in tightly designed models. The sit-in design is great as it will efficiently protect you from getting wet – a spray skirt can also be added to maximize this effect, as well as provide warmth in colder weather. Inside, adjustable foot braces and padded thigh pads on the sides allow you to paddle in comfort.
Features Durable Hull Design
Although the Sun Dolphin Aruba is used in recreational settings, it does not skimp on durability. The hull is made from UV-resistant Fortiflex polyethylene, which is also very high-density. It is suitable for use in both freshwater and saltwater. In case of damage, a limited lifetime warranty is provided.

Decent Storage Options
Since the Sun Dolphin Aruba is a recreational kayak, it means that you will probably use it only for a couple of hours at a time, rather than extended kayaking expeditions – for this, the amount of storage it provides is ideal. The main storage area is located behind the cockpit, and it is a sealed hatch covered with shock cord deck rigging.
Specifications:
Affordable 1-person model for kayaking beginners
Suited for recreational lake and river use
The roomy cockpit provides comfort with interior foot braces and thigh pads
Conclusion: Which Two Of These Four Hard-Shell Kayaks To Get?
To simplify your choice of a model, I would like to highlight two especially great models. For those who want to enjoy kayaking with a partner, the Driftsun Teton 120 is a great, middle-range tandem model with all of the necessary accessories to get you onto the water. Those who have some money to spare are sure to get their money's worth with the luxuriant Hobie 2019 Mirage Revolution 13, which stuns with a myriad of innovative technologies and convenient features.
Want to read up on watersports boats? Why not check out this article on inflatable boats near me. Looking for inflatables that combine rigidity with portability? Then read this review of hard bottom dinghies. And if you're more of a fishing person, you will find what you need in this article on inflatable rafts for fishing.