Inflatable rafts are one of those things that can be used for a multitude of purposes. They can be used as emergency rafts, inflatable party rafts, or blow-up river rafts, depending on the type of activity or purpose you need one for.
This article will give you the most important information regarding inflatable rafts along with examples of inflatable rafts that can be used for different purposes. You'll find 5 best blow up rafts along with their specifications, uses, and availability.
What You Need To Know
What Are Inflatable Rafts?
Mainly used for recreational purposes, those are inflatable rafts that can be used on lakes, oceans, pools, and rivers. There are many available options in stores as well as online, so you can rest assured that you'll certainly find something for yourself.
Are Blow Up Rafts Safe?
They are. Technology has advanced over the years and nowadays, the materials used to make inflatable rafts are as safe as those used to make traditional boats and rafts. You do not have to spend a lot of money on one as well, and they can be used as life rafts as well.
What Can Blow Up Rafts Be Used For
Depending on the type of activity you have in mind, there is really anything for anyone. You can go float fishing on rivers, day floating, attach a trolling motor and carry gear, fish on lakes, or even just get a pool party version and relax while sipping your drink.
Do Not Get One If…
If you're into paddling long distances, it may prove difficult to paddle on an inflatable raft since they may be heavy and difficult to maneuver. If you want to go down Class IV+ rapids, make sure that you get an inflatable river raft that has drain valves. In case you want to go to a place with sub-zero temperatures, keep in mind that PVC becomes less flexible in low temperatures. And if you want an inflatable life raft, make sure it has all necessary emergency gear.
Are Inflatable Raft Boats Worth It?
You do not have to spend a lot of money on a blow-up raft. Of course, depending on the purpose and the included accessories, some may be more expensive than others, but you can be sure to find something that is reasonably priced and offers a lot.
5 Best Inflatable Rafts Reviews
Best Emergency Inflatable Raft
Intex Explorer 300
A Multi-Purpose Inflatable Raft
Even though the Explorer series is known as a kids' inflatable boat, it can be used as an emergency inflatable raft. Measuring 18.9 x 11.9 x 6 in when deflated, and weighing 10 pounds, the Explorer 300 can hold 3 people in it with its 410-pound weight capacity.
Safety Features
Even though this inflatable raft is not self-inflating, it does come with a hand pump and two aluminum French oars. There are of course welded on oarlocks, and a repair kit is included in the package. The characteristic bright orange and yellow colors ensure better visibility of the boat.
More Technical Features
A grab rope on the bow of the inflatable raft is there for easier maneuvering and boarding. For rigidity, the floor is inflatable I-Beam. Dual air chambers with double valves make inflation and deflation quicker and easier.
Be Aware Of This
The Explorer is not made to be an emergency inflatable raft, so there is no canopy to protect you from the elements. Furthermore, there is no first aid kit or any signaling equipment, so make sure to get all of those beforehand.
Specifications:
Holds 3 people
Oars included
Bright colors
Best Self-Inflating Life Raft
Revere Coastal Compact 4 With Canopy Life Raft
Four People Protected
Four people can board this self-inflating life raft, and it measures 330 x 419 mm when stored. It weighs a little over 8 kg so it is not too heavy to carry with you. The canopy protects you from outside elements, and the raft itself is bright yellow for better visibility.
How It Self-Inflates
The raft has a self-contained CO2 inflation system which makes it inflate in less than 30 seconds. You only have to open the red flap on the valise and extend the painterline. After that, you have to give a hard pull and the inflation process begins.
Other Safety Features
For more stability, there are double 200-pound capacity SuperRev ballast pockets. A sea anchor is also included which provides stability in rough sea conditions. A USCG-approved locator light is also included in the package.
More Extras Included
There is a hand pump that you get, a bailer and a floating knife attached to the raft. Besides those, there is a built-in pressure relief valve. It is worth noting that an oar pair is not included.
Specifications:
Self-inflates in 30 seconds
Sea anchor
Locator light
Floating knife
Best Inflatable Party Raft
Bestway CoolerZ Tropical Breeze
A Must-Have Party Accessory
This inflatable party raft is so big it can hold 6 adults and children on it. If you're having a pool party or a kid's birthday, this truly is a must-have for your day of fun. A detachable sunshade is included, and you can dip your feet in the water in the mesh floor area.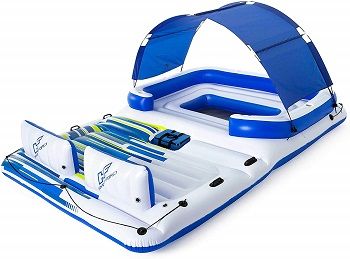 Material Used
The inflatable party raft is made of durable and tear-resistant PVC, and you can take it to the beach, lake, river or ocean, besides the pool. A heavy-duty repair patch is included in case of an accidental tear.
Boarding Is Easy
An all-around grab line makes climbing and handling easier, and sturdy handles on the sides help as well. The grab line can furthermore be used to tie the inflatable party raft to other floats, anchors, boats or docks.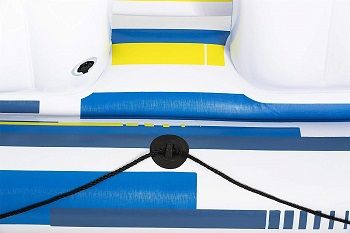 Six Cup Holders
The six cup holders are placed strategically around the float to keep everyone's drink at hand. For even more comfort, there are extra-wide pillow backrests for each person while on board the inflatable party raft.
Specifications:
For 6 people
Six cup holders
Mesh floor
Sunshade
Best 2-Person Inflatable Raft
Intex 58837EP River Run 2 Sport Lounge
A Floating Lounge
The River Run 2 is made for two people and designed with two interconnected lounges. When deflated, size of the inflatable raft is approximately 951 x 62 inches. There are five separate air chambers to keep you afloat. Built-in backrests are included for extra comfort.
What's On It
Two built-in cup holders keep your drinks within arm's reach. Moreover, easy to use connectors enable fastening your River Run 2 to other Intex River Runs. Two heavy-duty grab handles make climbing on it easier.
Built-In Cooler
For even more relaxation, the 2-person inflatable raft comes with a large built-in cooler with a lid. This makes sure that your drinks are not only nearby, but cool as well. The mesh bottom of the floating lounge keeps your feet cool during the day.
Other Features
Besides the five air chambers and the heavy-duty grab handles, there is also an all-around grab rope on the blow-up raft. In case of emergency, a repair patch is included in the package as well.
Specifications:
Built-in cup holders
Built-in cooler
Five air chambers
Grab line
Best Inflatable River Raft
Intex River Run 1
A Relaxing Day
Whether you are on a river or in the pool, this inflatable river raft is perfect for relaxation. Measuring 53 inches in diameter circle, weighing 5 pounds, it is made for a single person. Two durable grab handles help you stay seated on the river raft.
How It's Constructed
Two separate air chambers make sure you stay afloat. A repair kit is included, and there is a mesh bottom to keep your feet cool in the water. For more comfort, there is a built-in backrest and an all-around grab rope for easier handling and boarding.
Keep Your Drinks Close
To keep your drinks close without having to go to the shore or the edge of your pool, there are 2 built-in cup holders on the inflatable water raft. There is even an included warranty if you order this item from Amazon.com.
Watch Out For This
There are a few warnings issued by the manufacturer regarding this inflatable river raft. The measurements will vary based on the way in which it is inflated. Also, location, temperature and humidity can affect the raft's firmness.
Specifications:
Two air chambers
Cup holders
Warranty included
Conclusion: Which Inflatable Raft Will Keep You Afloat?
Depending on the inflatable raft you're looking for and the purpose you want to use it for, there are a lot of choices. If you need an emergency inflatable raft, I would recommend the Revere Coastal Compact 4 because it is self-inflating and has many additional features included. On the other hand, if you're looking for a party inflatable raft, I would recommend the Intex 58837EP River Run 2 Sport Lounge because it has cup holders as well as a built-in drink cooler.
For more inflatable products, check out my article about best inflatable boats for sale. If you like to fish, there's an article about best inflatable fishing boats. And if you want to be faster on the water, read this about best inflatable boats with motor.