Want to enjoy kayaking with speed? Looking to buy the best inflatable kayaks with motors?
Then you should read this review, where I've gathered up three of the best inflatable canoes with motors with varying specifications from three notable inflatable brands. Enjoy reading about these great, speed-oriented inflatable kayaks with the motor mount. I hope you will find exactly what you need.
About Inflatable Kayaks & Canoes With Motor
What Are Inflatable Kayaks?
Inflatable kayaks stand in opposition to hard-hull kayaks; the first difference between them is obvious. Inflatables need to be inflated, while hard-hull kayaks are ready to go immediately. They are also constructed from different materials; inflatable kayaks prefer lightweight PVC or Hypalon material, while hard-hull kayaks will use materials like wood or fiberglass. Inflatable kayaks are much lighter than hard-hulls and thus more portable and are generally cheaper, while hard-hull kayaks offer better tracking and maneuverability.
Types Of Inflatable Kayaks You Can Purchase
Even among the inflatable kayak categories, there are many different types which will change the performance of your inflatable kayak. Firstly, you have rigid inflatable kayaks vs soft inflatable kayaks, wherein the difference is the hardness of the hull; the rigid model is more stable, while the soft is more portable. Another difference would be between PVC and Hypalon kayaks, and then inflatable kayaks with motor mounts and those without.
Trolling Motors On Inflatable Kayaks
There are not many inflatable kayaks that are compatible with trolling motors. You can find rafts and dinghies that have motor mount fittings much more easily. This is due to the more streamlined and lightweight design of inflatable kayaks; those that can be equipped with motors must be built very sturdily to withstand the increased amount of force.
The Price Ranges Of Inflatable Kayaks With Motor
The price range of these kayaks depends on the extra features and the brand that is selling them. Here we will see three inflatable kayaks with motors at all three price points: low, middle and high. What also needs to be considered is that some kayaks come with more accessories than others, so the flat price is sometimes not entirely straightforward.
Where To Buy Inflatable Kayaks With Trolling Motor
Inflatable kayaks with trolling motors can be bought on each individual brand side of the products that I will present, however, for more convenience Amazon.com is recommended. They also offer frequent discounts and feature a great ask-answer system that will get you a quick answer for whatever problem you may have.
Best 4 Inflatable Canoes With Motor
Best Two Person Inflatable Kayak With Motor
Sea Eagle Paddleski 435ps
Versatile Model For Two People
The Sea Eagle Paddleski features a fun catamaran-kayak design. For those who might be disappointed that the Sea Eagle 370 does not feature a motor mount, this model is a worthy replacement. Enjoy unprecedented stability coupled with speed thanks to this inflatable kayak's innovative design – take it paddling, motoring or fishing.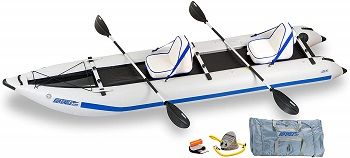 Sit-On-Top Design
The sit-on-top design of this kayak is great for beginners. The comfortable high-positioned seats will allow you to get on and off the kayak easily, and will also alleviate any feeling of claustrophobia. The only downside is that you are more likely to get wet, so dress accordingly.
Sturdy Material Used In Construction
The Sea Eagle Paddleski 435ps uses 1100 Decitex Reinforced material and features quadruple overlap seam floor. The air valves are extra safe and feature extremely sturdy 2000 denier reinforced material. The aluminum yokes are used to provide a rigid structure. In case of damage, the Sea Eagle Paddleski is backed by a 3-year warranty.
Space To Store Your Gear
At a load capacity of 651lbs, the Paddleski gives you plenty of leeway for gear storage. The back of this kayak offers storage space, while 16 d-rings provide you the opportunity to secure your seats and gear. Two rear carry handles and bow handle let you transport the Paddleski with ease.
Engine Capacity & Other Accessories
The Sea Eagle Paddleski will allow an up to 55-pound thrust electric or 3 HP gas engine. A Sea Eagle Side Motor Mount will have to be purchased separately – it is made out of coated marine plywood for durability with aluminum and stainless steel components. It is available for purchase on Amazon.com.
Features:
Will support 55-pound thrust electric or 3 HP gas motor
Versatile catamaran/kayak hybrid design
Sit-on-top construction is friendly for beginners
Best Inflatable Fishing Kayak With Trolling Motor
Advanced Elements StraitEdge Angler Pro Inflatable Kayak
Enjoy This Propulsion Capable Fishing Kayak
At a length of 10'6'' and width of 38.5'', this inflatable kayak will provide ample space for a solo fisherman. The load capacity of 400lbs allows you to pack a moderate amount of gear under the two bungee-laced decks. It features a fin box capable of holding an ElectraFin motor, giving you the necessary speed to reach all the best fishing spots.
Takes Fishing To A New Level
The Advanced Elements Straightedge Angler comes with an accessory frame system which you can use to attach many different accessories, such as rod holders, fish finders, GPS, etc. Another feature that will greatly improve your fishing is the high-pressure drop-stitch floor, rigid enough to allow you to stand while in this inflatable kayak.
Patented Aluminum Rib-Frame Technology
Advanced Elements' special Aluminum Rib-Frame technology is yet another feature that allows fishing in absolute comfort. By incorporating an aluminum frame, rigid panel and inflation chambers in the bow and stern of this kayak, the paddling, and tracking performance are greatly increased. The bow can slice easily through water, while the stern acts as a skeg.
High Comfort & High Support
The Advanced Elements StraitEdge Angler Pro comes with one high-backed, aluminum-framed AirFrame Pro seat which features an inflatable lumbar support bladder to help with aches after a long day of sitting. The mesh construction of the seat is also highly breathable and will allow you to stay cool.
Proprietary Spring Valve For Easy Inflation
Advanced Elements also make use of special technology for their valves, using the trademarked Spring Valves. These feature excellent air retention, they are durable and simple to use. Several of these are integrated with this inflatable kayak with motor for even speedier inflation and deflation.
Features:
Intended for solo kayaking
Comes with a fin box compatible with ElectraFin motor
Accessory Frame System
Features extremely supportive and light seat
Best Cheap Inflatable Kayak With Motor
Sevylor Colorado 2-Person Kayak
Affordable Yet Durable Kayak
The Sevylor Colorado stands apart from other models with its outstanding quality-to-price ratio; made out of thick 18-gauge PVC material and boasting a 1000 DEN PVC hull, this model will stand toe to toe with similar yet high-end products on the market. Adding to this heavy-duty 870 DEN fabric that protects it from the outside, you've got yourself a highly durable, damage-resistant product.
Double Lock Inflation System
You do not need to worry about ending up in the water. The Sevylor Colorado features not only multiple air chambers to allow for your safety, but also a double lock inflation system also dubbed as Airtight system which prevents air from leaking out of the inflatable.
Take It Along On Longer Trips
The Sevylor Colorado will keep you nice and comfortable, even during extended trips. The two adjustable, soft-back seats featured with the Sevylor Colorado are in direct reach to the mesh storage compartment that you can use for drinks and snacks. There is plenty of space between the two seats for you to rest your legs in comfort. Multiple d-rings can be used for tying down gear.
Sevylor Colorado Motor Mount
We come to Sevylor's best feature yet: it comes included with Sevylor trolling motor fittings that can be equipped with a motor to expand your fishing capabilities. Couple this with the Berkley Quick-Set rod holders for optimal fishing convenience.
Comes With Many Accessories
While looking for cheap inflatable kayaks, it is important to take note of which accessories come included and which will have to be purchased separately. If you purchase the base version, you will receive a manometer, carry bag, removable fin and repair kit.
Features:
Great affordable fishing kayak
Durable construction that rivals high-end models
Comes with Sevylor motor fittings
Sevylor Inflatable Kayak Colorado Kit Another Version
This version of the Sevylor Colorado 2-person kayak is almost identical to the previously reviewed model were it not for the fact that it comes at a slightly higher price. This is due to the fact that it also includes a pair of paddles and a foot pump in its accessories.
Conclusion: Which 2 Best Inflatable Kayaks With Motor To Buy?
Though this is a hard choice to make, I would recommend the Advanced Elements StraitEdge Angler Pro for the excellent proprietary Aluminum Rib Frame technology that is sure to both provide great speed and security. Another model that I would recommend is the Sevylor Colorado 2-Person Kayak: this amazingly affordable yet sturdy kayak will keep both you and your wallet comfortable.
If you want to read another great article on the subject of inflatable boats, click on this link for inflatable kayaks near me. Interested in checking out something entirely different than this article, yet still related? Why not find out more about these best inflatable rafts. These two great fishing models didn't quite satisfy? Then you'll enjoy this article on inflatable fishing kayaks for sale.