Interested in buying a cheap inflatable kayak?
Then look no further than this review, where I will be looking at five of the cheap inflatable kayaks for sale. These products offer outstanding quality-to-price ratio, and you will not be disappointed by considering them for a purchase. Firstly, some more information about inflatable kayaks.
Basic Inflatable Kayak Information
Inflatable Kayaks VS Hard Shell Kayaks
The difference between inflatable kayaks and hard shell kayaks is pretty self-evident; inflatable kayaks consist of air tubes that need to be inflated and deflated before use, while hard-shell kayaks feature wood, fiberglass and other hard-material in their hulls. Inflatable kayaks are therefore much more convenient due to their portability and you will be able to find them for much cheaper – on the other hand, the fact that they're so light can make them difficult to control for beginners.
Are Inflatable Kayaks Safe?
Inflatable kayaks employ many safety mechanisms to reduce the risk of emergencies – multiple air chambers keep you afloat even in case of punctures, tough materials are used to resist abrasion and tearing and most minor damage will be reparable with a complimentary repair kit. However, inflatable kayaks are not invincible; they should only be used for their intended purposes and not used in harsh conditions unless indicated otherwise.
Types Of Inflatable Kayaks
Different companies employ different materials and constructing techniques; thus inflatable kayaks can be built from the standard PVC material or more-rugged Hypalon, and they can feature soft floors for portability or aluminum flooring for greater sturdiness. Kayaks also vary on the simplest level of passenger and gear capacity.
The Pricing Of Inflatable Kayaks
The prices of inflatable kayaks vary depending on the above-mentioned criteria. PVC kayaks are cheaper than Hypalon kayaks, while aluminum floor kayaks are also generally more expensive than those with soft flooring. Additional features (removable skegs, number of seats, included oars and/or pump) also factor into the final pricing of a kayak.
Where To Find Cheap Inflatable Kayaks For Sale?
Cheap blow up kayaks can most easily be found on Amazon.com, barring the option of hunting down each individual model on the brands' websites. Amazon.com is great for aggregating all of these products and recommending similar ones, all the while offering discounts to make these bargain purchases even more attractive.
Best 5 Cheap & Affordable Inflatable Kayaks For Sale
Cheapest One Person Kayak
Solstice By SwimlineDurango Kayak
Convertible Model by Solstice by Swimline
The Solstice by Swimline Durango kayak is a great versatile model – featuring a detachable seat, this model can be easily converted from a solo kayak for a tandem kayak. With its considerable 11′ length and around 37" width, this cheap inflatable kayak will comfortably suit both options. With a weight capacity of 440 LBS, optimal performance is ensured.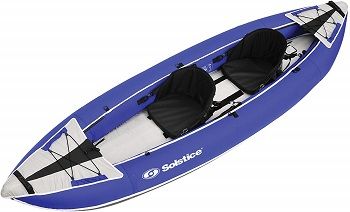 Tough PVC Material Construction
The Durango is built as durable as any other, pricier inflatable kayak. The kayak itself features a durable 22 gauge K-80 PVC interior construction with a 1000 DEN PVC bottom. The seats included with the purchase, though critiqued by some of their comfort, are covered with sturdy 840DEN PVC.
Great Navigation And Maneuverability
The Durango is a great option for white-water rivers, as it comes with a removable skeg to help with tracking and maneuvering. The V-shaped bottom design and 1-inch webbing strake only add to the Durango's navigational possibilities.
Offers Various Options For Gear
Numerous heavy-duty D-ring tie-downs let you secure your gear to your kayak. Elastic cords interlacing the bow and aft stern covers can also be used for additional cargo. Remove one seat and kayak solo for generous storage capabilities.
Easy Assembly Time & Accessories
The Solstice by Swimline is very simple to assemble thanks to the included Boston one way valve. The Durango also comes with a carry bag, which is great to have for portability, a repair kit for minor punctures and owners' manual. The only downside is that it does not come with oars.
Features:
Can go from solo to tandem kayak
Removable skeg and webbing strake great for navigation
Numerous D-rings for securing gear
Cheapest Two Person Kayak
Bestway Lite Rapid X2 Inflatable Kayak
Affordable Leisure Time For Two
If you're looking for a tandem kayak, this Bestway cheap inflatable canoe will suit all your needs at its 350lbs weight capacity. The pre-tested vinyl material ensures damage and UV, oil and salt-water resistance – you can take this cheap inflatable kayak to fishing trips and paddling expeditions on both lakes and rivers.
Safety And Convenience Features
In order to regulate water inside the kayak and keep you as dry as possible, the Bestway Lite Rapid X2 features a form-fitted design and an integrated drain valve to get rid of excess water. For stability, you can use the grab ropes with built-in grommets. You don't have to worry about maneuvering, either – a removable middle keel fin helps with tracking and stability.
Kayaking Done In Comfort
The Bestway Lite Rapid X2 inflatable kayak comes with two inflatable seats with comfortable backrests to put your ease in the first place. You can also adjust these seats according to your preference and convenience. This 126 x 35 inflatable kayak will comfortably accommodate two people.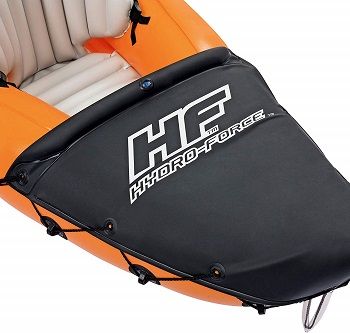 Which Accessories Come Included?
Something that his Bestway kayak holds over the Solstice model is that it comes included with 86'' long, lightweight aluminum oars with a double-bladed design. Unfortunately, it does not feature a complementary pump, so this will have to be purchased before you can start out.
Features:
Fitted design and drain valve help keep you dry
Material resistant to abrasion and environmental damage
Removable middle keep fin for stability
Comes with double-bladed aluminum oars
Cheapest Three Person Kayak
Sea Eagle 370 Inflatable Kayak
Incredibly Light Yet Sturdy
The Sea Eagle 370 inflatable kayak is the bigger sibling of the popular Sea Eagle 330 model. Just like the smaller model, the Sea Eagle 370 is extremely light at 32lbs and has a capacity for three adults amounting up to 650lbs of weight. Though more expensive than the previous two models, at this kind of capacity the Sea Eagle 370 is an absolute steal.
Quality Flooring Construction
Sea Eagle does not compromise on construction for affordability: the Sea Eagle 370 inflatable kayak features an Integral 5-Tube I-beam Floor. These I-beam tubes are larger, meaning that they are also much more rigid than their counterparts, allow for the kayaker to hold a higher paddling position.
Great Speed And Tracking
The Sea Eagle 370 features not one but two molded skegs on its rear, ensuring that the lightweight of the kayak will not outweigh its maneuverability. These skegs are made out of extremely durable plastic which protects them from shock damage and abrasions.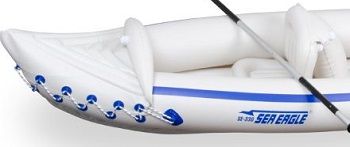 Features Deluxe Valve Technology
Another thing that makes this Sea Eagle model great is that it comes with proprietary Deluxe Valve Technology. Unlike traditional valves that can easily crack under high pressure, these deluxe valves ensure ease of inflation by allowing for air to be pumped inside without leaking out. They feature larger openings for quick inflation and deflation – Sea Eagle guarantees it will take only 8 minutes. They are attached to the hull by molded O-rings and a tether while a final seal ensures airtightness.
Features:
Incredibly light kayak for size and capacity
Features extremely rigid flooring
Deluxe Valves ensure quick inflation/deflation
Two rear skegs covered with durable plastic
Cheapest Fishing Kayak
Intex Excursion Pro Kayak
A Great And Affordable Fishing Kayak
The Intex Excursion Pro features two removable seats with backrests, allowing you to switch between a solo and tandem kayak. At its 400lbs weight capacity, this cheap blow up kayak will allow for both options to be done in comfort – for more space & gear options, kayak solo, for company, simply attach the extra seat.
Features That Let You Fish Smarter
Fish smarter, not harder – the Intex Excursion lets you do this via a removable and adjustable mounting bracket. This allows you to install additional fishing accessories onto the inflatable kayak, like rod holders, GPS systems and fish finders. Stainless steel d-rings allow you to tie down your gear safely.
Quality And Sturdy Materials Used
The Intex Excursion Pro features rugged laminate material with a PVC core that ensures high abrasion and impact resistance while still allowing the kayak to stay light and portable. 3-ply PVC construction is unaffected by gasoline, oil, sunlight, and saltwater – this kind of material also allows more air pressure, which in turn increases rigidity.
Offers Great Stability
This cheap inflatable canoe features two specially designed removable skegs for maneuverability through both deep and shallow waters. Not only will you be able to inflate and deflate this kayak quickly via high-pressure spring-loaded valves, but they will also allow for extra rigidity and stability.
Included Accessories Save Up Money
The Intex Excursion Pro comes with everything you need to get started out, making this model the best affordable inflatable kayak of the bunch: 2 paddles, hi-output pump, carry bag, pressure gauge, 2 adjustable bucket seats, and 2 integrated fishing rod holders.
Features:
A fishing kayak with mounting bracket for accessories
High-pressure valves allow higher stability
Comes with everything you need to get started
Cheapest Kayak With Motor
Sevylor Colorado Inflatable Kayak
Tandem Affordable Fishing Kayak
The Sevylor Colorado 2 person kayak is a popular model from the French company Sevylor. 10' 6'' long and 39'' wide with a weight capacity of 440lbs, you will be able to take another person along for lake and ocean kayaking and fishing.
Equip It With A Motor
Another great thing about the Sevylor Colorado is that it comes included with Sevylor trolling motor fittings to expand your fishing capabilities. The Sevylor Colorado kayak also comes with great Berkley Quick-Set rod holders for hands-free fishing, along with paddle holders to keep the oars out of your way. Paddles are purchased separately.
Double Layers Of Protection
The Sevylor Colorado 2 person fishing kayak is NMMA Certified for high safety and quality construction. It features rugged 18-gauge PVC with a 1000 DEN tarpaulin bottom and 840 DEN nylon cover that add additional layers of protection.

Stays Buoyant In Case Of Emergencies
The Sevylor Colorado inflatable kayak features multiple air chambers for optimal safety. For inflation and deflation, standard double-threaded Boston valves are used, along with an Airtight system designed not to let air leak out. A complementary pressure gauge can be used as to not overinflate the kayak.
Lots Of Space For Comfort
This Sevylor tandem kayak comes with two soft-back seats that are completely adjustable. These seats are in hand's reach of the mesh storage compartment which can be used for drinks and snacks, along with multiple d-rings you can clip your gear to. There is enough space between the two seats for you to paddle in comfort.
Features:
Motor-compatible tandem kayak
Features double layers of protection
Multiple air chambers keep you buoyant
Provides many options for gear & snacks
Conclusion: Which Two Of These Best Affordable Inflatable Kayaks To Buy?
Out of these five best cheap inflatable kayaks, I would recommend the Sea Eagle 370 Inflatable Kayak as a great and affordable multi-capacity kayak that offers top-of-the-line rigidity and portability. For those who enjoy versatile models, you will be very happy with the Sevylor Colorado Inflatable Kayak, a model that can both be used for fishing or be outfitted with a motor for greater speeds.
Did you enjoy this review on cheap inflatable kayaks? Then read this review on inflatable kayaks for sale to find out more about this general topic. If you want to see the best money can buy, click on this review of best dinghies. Fan of inflatables that pack on speed? You can read this review on motorized inflatable kayaks.