If you have ever seen Life of Pi, then you know how important emergency inflatable rafts are. Inflatable lifeboats are an important and usually a must-have part of any activity relating to boats and water. This article tackles inflatable rescue boats in order to help you find the one right for you.
This article will explain the importance of emergency inflatable rafts, how they work and what they're made of. Furthermore, you'll find examples of inflatable lifeboats deemed best based on their specifications, range of possibilities and user reviews.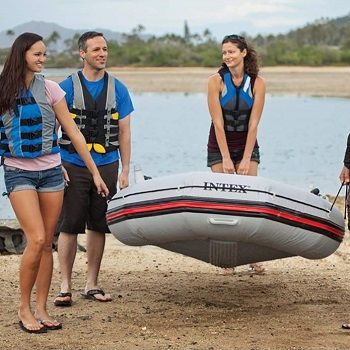 Introduction To Emergency Blow Up Rafts
What Are Emergency Inflatable Boats?
Lifeboats or life rafts are small, rigid or inflatable boats carried for emergency evacuation in case there is a disaster aboard a ship. Any inflatable boat can double as a lifeboat, especially well-equipped ones as well as those that do not take up too much space.
How Do Inflatable Lifeboats Work?
Emergency inflatable boats or rafts either have auto-inflation canisters, which use carbon dioxide or nitrogen), or mechanical pumps. On large ships, a quick release and pressure release mechanism is fitted to the canister or pump automatically inflates the emergency lifeboat.
What An Inflatable Rescue Boat Should Have
Inflatable rescue rafts, or boats, whichever you choose, should have a few things crucial for rescue attempts. They should have oars, flares, and mirrors for signaling, first aid supplies, and food and water for several days. There is usually a cover which protects you from the elements and is highly visible.
Why Should I Get An Emergency Inflatable Boat?
Safety is reason enough. You may think that a disaster will never happen, and why should it happen to you. But as you know, many people think that and yet disasters always seem to happen. For your safety, and those around you, an inflatable lifeboat is a must-have.
What Else Can An Inflatable Rescue Raft Have?
An important part of some can be a motor, or simply motor mount fittings which enable you to attach a motor to your inflatable lifeboat. If you use any type of inflatable boats or rafts as your emergency inflatable raft, they can be fishing-enabled.
5 Best Inflatable Rescue Boats For Sale Reviews
Best Self-Inflating Life Raft
Revere Coastal Compact 4 With Canopy Life Raft
Technical Specifications
This self-inflating raft comes in vivid yellow color and measures 330 x 419 mm in the bag. it weighs only 8.4 kg, so it is not too heavy or too big to store wherever you are. The canopy on the self-inflating lifeboat protects you from the elements, and the raft itself is designed for 4 people.
How It Works
The inflatable rescue raft inflates in less than 30 seconds because it has a self-contained CO2 inflation system. You open the red flap on the valise and extend the painterline. After that, you only have to give a hard pull and the raft will inflate in under 30 seconds.
More Safety Features
For stability on the water, the raft has a double 200-pound capacity SuperRev ballast pockets. There is also a sea anchor which improves stability in rough sea conditions. There is also a USCG-approved water-activated locator light.
Additional Features
Besides the anchor, the self-inflating life raft comes with a hand pump, bailer and even a floating knife which is attached to the raft. There is also a built-in pressure relief valve. Oars are not included so you may want to get those separately.
Specifications:
Holds 4 people
Self-contained CO2 inflation system
Sea anchor
Hand pump
Best Emergency Dinghy
Intex Explorer 300, 3-Person Inflatable Boat Set
Product Details
Measuring 18.9 x 11.9 x 6 in and weighing 10 pounds, this inflatable boat doubles as a rescue dinghy. With the characteristic orange color, it is highly visible, and this model holds up to 3 people with its 410-pound weight capacity. You can teach your kids to row and use it as a life raft as well.
Safety Features
When inflated, the rescue dinghy measures 83 x 46 x 16 in. it is not self-inflating, but a hand pump is included in the package, as well as two 48" French oars. For oars, there are welded on oarlocks. A repair kit is included as well.
More Safety Specifications
For easier maneuvering, there is a grab rope on the bow of the emergency dinghy. The inflatable I-beam floor is designed for rigidity, and dual air chambers with double valves make inflation and deflation quicker and easier.
Keep In Mind
This rescue dinghy does not have a canopy, so you're not protected from the elements. You should also keep in mind that it does not come with any signaling equipment or a first aid kit, so make sure you have those if you get this dinghy.
Specifications:
For 3 people
2 oars included
Hand pump included
Best RIB Rescue Boat
Brine Marine Aluminum RIB Dinghy Tender 10
Dimensions, Capacity And Weight
This rigid rescue boat measures 10ft x 4ft x 18in, and weighs 113 pounds. It can hold a 20-hp motor, and has 1320-pound weight capacity (includes the motor). It can hold 3.5 people and inflates in minutes. For easier transport, simply put your RIB rescue boat in its carry bag.
What's It Made Of
The hull is solid aircraft-grade aluminum and it is powder-coated for durability. The fabric of the rigid rescue boat is UV treated and resistant to the elements. PVC thermo-bonded seams make for best-in-class air holding ability and the boat itself is leak-proof.
Included Features
The RIB rescue boat comes with included oars, aluminum seats, oarlocks, repair kit and an inflation pump. Glue is not included in the repair kit so you should buy it separately. There is also the carry bag that zips around the entire boat when deflated.
Not Included Parts
Like the previous one, this is not a self-inflating RIB rescue boat, and there are no first aid supplies. Those are always available and it is recommended you have them. There is no canopy as well, so keep that in mind when deciding which emergency inflatable raft to get.
Specifications:
Holds 3.5 people
Attach a motor
Oars and pump included
Carry bag included
Best 6-Person Inflatable Rescue Raft
VIKING RescYou Liferaft 6 Person Valise Offshore Pack
Rescue Raft Specifications
This emergency inflatable lifeboat comes in its black carry bag for easy transportation and storage, and it is bright yellow in color. Holds up to 6 people, and even has a canopy to protect you from the elements in case of emergency. Stowed dimensions measure 82 x 47 x 36 cm, and it weighs 33 kg.
Safety Features
There are 4 separate air chambers, and for extra stability there are four 60-liter quick-filling, weighted stabilizing bags. There is an exterior strobe-light as well as an interior light. For added thermal protection there is the insulated double floor.
Extras Included
The canopy is fluorescent for better visibility, and the oversized entrance features an inflatable boarding ramp and ladder. A sea anchor, rescue quoit, and a buoyant knife are included in the package as well. There is also a Type E offshore equipment pack. Moreover, there are internal and external lifelines as well as a righting strap in case of capsizing.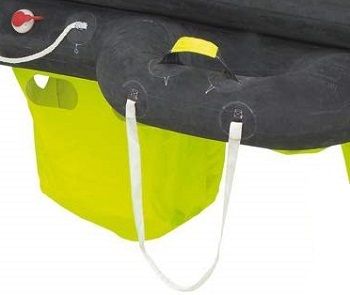 What's Not There
This emergency inflatable raft does not come with included oars or a repair kit so make sure to get those before you voyage into the unknown. Also, make sure you have food and water supplies at hand.
Specifications:
For 6 people
Fluorescent canopy
Anchor and knife
Interior and exterior lights
Lifelines
Best Emergency Inflatable Boat With Motor Mount Fittings
Intex Mariner 4, 4-Person Inflatable Boat Set
Dimensions And Weight
This 4-person inflatable rescue boat measures 57 x 19 x 129 in and has an 880-pound maximum weight limit. It weighs 77.6 pounds, and has an all-around grab line and grab handles for easier transportation.
What's It Made Of
The inflatable boat is made of super-tough laminated vinyl that is resistant to abrasion, impact and UV ray damage. For comfort and rigidity, the floor is heavy-duty extruded plastic. There is an inflatable keel for improved control and handling.
Attach A Motor
As with most Intex inflatable boats, this one has motor mount fittings to which you can attach an Intex trolling motor and get to shore faster. 2 aluminum oars and a high-output pump are included, while Boston valves enable quick inflation. For the oars, there are rotating oar locks and oar holders.
More Included Features
There are battery and gear pouches, inflatable seats, and a repair patch kit. There is no canopy so you're not protected from the elements, keep that in mind. There are even fishing rod holders, in case you only want to use this inflatable boat for recreational purposes.
Specifications:
Holds 4 people
Motor mount fittings
Oars included
Hand pump included
Fishing rod holders
Conclusion: Time To Choose Your Inflatable Rescue Boat
Inflatable rescue rafts and inflatable rescue boats are a good investment to make, and I hope this article helped you realize that. As for choosing the prefect emergency inflatable lifeboat, I do have a few recommendations. The first inflatable lifeboat I like is the Revere Coastal Compact 4 because it has a canopy and it is self-inflating, which saves time. The other emergency inflatable boat I like is the VIKING RescYou Liferaft because it also has a canopy and holds up to 6 people.
If you're interested in similar products, there is a great article with examples of inflatable boats in general. If you're looking for something more specific, read this article about inflatable boats with motor. If you like to fish and are looking for a boat that is fishing-enabled, read this article about the best inflatable fishing boats.