Interested in purchasing an inflatable boat, the affordable, lightweight and easy-to-transport watersports option?
Then keep reading to find out about these top Mercury inflatable boats. These Mercury inflatable reviews will tell you all you need to know about the technical specifications of the top two Mercury dinghies. Let's start with a bit of a background of the Mercury brand.
All About The Mercury Brand
A Brief Overview Of Mercury
Mercury Marine is a company that was founded in 1939 by Carl Kiekhaefer. Today, the company's global headquarters are stationed in Fond du Lac, Wisconsin – they have nine manufacturing centers all over the world, including Mexico, Belgium, Japan, and China. Mercury strives to provide the best engine solutions to their fun and speed seeking customers.
Mercury Product Line Up
Mercury offers a variety of products to water sports fans: firstly, they are famous for their low-emission and low fuel-consumption outboard motors and sterndrives. Mercury also provides maintenance accessories for their motors, Mercury precision parts, and Mercury lubricants, as well as a variety of propellers and various add-ons, such as gauges and displays and steering systems. More importantly, Mercury also sells its Mercury inflatable boats, including their Hypalon dinghies and Hypalon inflatable boats, including air deck boats and Mercury RIB boats.
Quicksilver Inflatable Boats Parts
You might have heard about Quicksilver in connection to Mercury; that is because Quicksilver is a subsidiary under the same brands, but concerns itself with the production of the aforementioned replacement parts and accessories. Quicksilver offers maintenance parts for both marine and power sports engines, stern boards and more.
Mercury Inflatable Boat Prices
Mercury boats are advertised as high-performance and high-construction inflatable boats. They are priced at the high ranges of the inflatable market – while customers have often remarked on the quality of construction of Mercury Marine inflatables compared to most boats on the market, some have criticized the choice of the more affordable PVC fabric rather than Hypalon, for some Mercury dinghies.
Where To Find Mercury Inflatable Boats For Sale?
Mercury Inflatable Boats can be purchased from various Mercury dealers that you can find on their website; to receive your Mercury inflatable dinghy at your doorstep, Amazon.com is recommended for the easy purchasing and shipping process and frequent discounts.
Top 4 Mercury Marine Inflatable Boats For Sale
Mercury 270 Air Deck Inflatable Boat
Easy To Transport Hypalon Inflatable Dinghy
The Mercury 270 dinghy is a general-purpose boat with a capacity of up to five adults and a load capacity of 1202 lbs. This 8' 4'' Mercury air deck is easily maneuverable and portable thanks to its no-complication air deck system – this makes it a good choice for those who value convenience in their inflatable boats. This simple yet effective Hypalon inflatable dinghy comes in two color options: gray and white.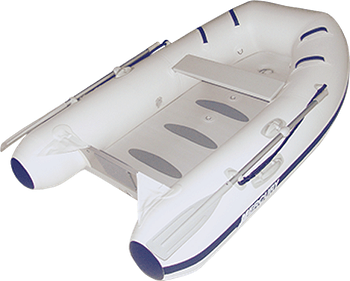 Lightweight Air Deck Flooring
The Mercury 270 air deck features a lightweight, air-filled floor that is soft enough for you to be on your knees, yet hard enough to support up to four adults. The construction features special high-pressure "X-Stitch" fibers that ensure fifty percent more rigidity to traditional air systems.
Choice of Materials
The inflatable dinghy material of the Mercury 270 dinghy is both PVC (a synthetic plastic polymer) and CSM, also known as Hypalon (synthetic rubber). Most inflatable boats on the market feature PVC, as it is a more economical and lightweight choice; however, Hypalon is much more resistant to abrasions and to environmental damage, such as UV rays. This also means that Hypalon inflatable dinghies are pricier.
The Mercury 270 air deck comes in both PVC and Hypalon. There is a slight difference between the weight of one material (PVC at 86lb) and the other (Hypalon at 95lb), and the color, as the PVC comes in gray and CSM in white. The biggest difference is the price and warranty – the PVC will run you cheaper than the CSM and has a 5-year limited warranty compared to the 10 years one of the CSM.
Roomy Interior & Storage Options
The Mercury 270 dinghy features no floorboards for increased storage capacity. This Hypalon inflatable boat also offers lifting handles that can be used as efficient rope holders, and an oarlock system for safe and secure storing of oars.
Additional Accessories
This Hypalon inflatable dinghy comes with one durable Fiber-Reinforced Polymer Seat, a carrying bag and two oars. Reviews have stated that for the price of this Mercury Hypalon inflatable boat, offering only one seat is slightly unfair, taking into consideration the possible capacity of the Hypalon raft.
Features:
Capacity for up to four adults
Air Deck makes this Hypalon dinghy easy to store and transport
A hybrid Hypalon PVC boat that offers you a choice
Has plenty of space for gear
Mercury 290 Air Deck Another Version
The only difference between these two Mercury air deck boats is that the Mercury 290 Air Deck is slightly larger at its length of 9'6" and maximum load capacity of 1400lbs. Otherwise, it allows for the same capacity of four people and comes with all of the features of the Mercury 270 Air Deck.
Mercury 430 Inflatable Boat
Large-Dimension Mercury Inflatable
The Quicksilver 430 Inflatable Boat is advertised for both daily and professional use. This durable Hypalon dinghy for sale can pack up to eight adults at a stunning load capacity of up to 2094 lbs, much greater than the Mercury 270 dinghy. The Quicksilver 430 HD Inflatable belongs to Mercury' Heavy Duty Series. It comes in red only.
Designed For Tough Conditions
The Quicksilver 430 inflatable boat is perfect for hard conditions with its sturdy construction and large dimensions (13'7"). The Mercury 430 inflatable boat is engineered with a sturdy hull that transom that can handle an engine with a maximum of 30 horsepower. Reinforced fabrics and the durable floor will ensure longevity.
Aluminum Sectional Flooring
The floorboards of the Quicksilver 430 HD are made out of aluminum; this makes this Mercury inflatable boat slightly harder to transport, as they are heavier than your usual air deck, drop-stitch floor, but it also offers you greater stability and rigidity. You can safely stand up in this Quicksilver inflatable.
Construction & Materials
Like the previous model, this Hypalon dinghy features hybrid PVC/Hypalon material construction – you can choose whichever one you like the most. It also includes a waterproof, fabric-wrapped transom that makes for greater durability compared to traditional plywood transoms. This Mercury inflatable also comes with a decay-resistant FRP seat.
Safe And Resistant Hypalon Raft
The Mercury 430 inflatable boat has many features that make it safe for use. This Hypalon inflatable features an inside drain valve with gets rid of excess water efficiently and without taking your attention away from steering; a double tear-drop rub strake prevents excess water splash and increases shock resistance; finally, extra bow handles inside the tube give you a more secure grip while also allowing you more holding choice.
Features:
Rugged boat with large dimensions to take on difficult conditions
Hard & sturdy aluminum sectional flooring
Comes with a myriad of safety and convenience features
Mercury Inflatable Boat Parts
Mercury offers some of its Mercury inflatable parts on Amazon.com. This is, for example, the Mercury inflatable boat cover that will fit the Mercury 310 air deck and the Mercury dynamic rib. Quicksilver inflatable boat parts do not include Hypalon glue kit or Hypalon inflatable boat patch kit, but replacement accessories that will work on Mercury inflatables can be purchased on Amazon.com from Inflatable Boat & Marine USA.
Hypalon Inflatable Boats Manuals And Repairing Instructions
Minor tears and punctures on your Hypalon rafts can be mended with the repair kit included with your purchased model. For detailed instructions on how to mend your Hypalon raft, read the 'Repair' section of Operator's manual included on the bottom of Mercury's website, under the 'Documents' heading: the Air Deck Operator's manual can be found here, and for the Heavy Duty Operator's manual click here.
Conclusion: Which Is The Best Mercury Inflatable Boat?
Mercury boats are a great choice due to their high-quality construction and dual PVC/Hypalon models. For anyone who enjoys light-weight, easily portable and no fuss models, the Mercury 270 Air Deck is a great pick. Those who are more into robust Hypalon dinghies with great capacity and sturdy, rigid flooring, the Mercury 430 Inflatable Boat will satisfy all of these needs and more.
Find out more about inflatable boats by clicking on this comprehensive article on boat tenders for sale. Not quite satisfied with the speed and motor options of Mercury inflatables? Then refer to this article on an inflatable boat with an outboard motor. Or maybe you're looking to save up? Then any of these cheap inflatable fishing boats will be a great pick for you.