Being active is an important part of many people's lives and should be an integral part of each person's life considering the impact physical activity has on overall wellbeing and health. Water sports and other water activities are some of the ways to maintain physical fitness. Inflatable river rafts are then a perfect solution for those of you that like to relax on the water.
This article will provide you with valuable information about inflatable riverboats and inflatable water rafts. You'll find 5 best inflatable riverboats and their characteristics, features, uses, and availability.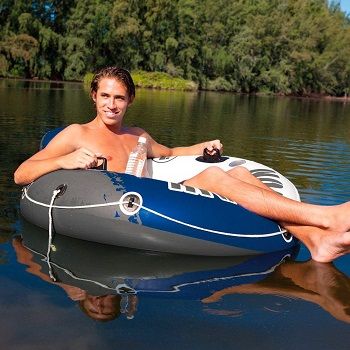 First Things First: Inflatable River Boat Offer
What Are Inflatable Water Rafts?
They are inflatable rafts which are used for recreational purposes, on bodies of water such as lakes, oceans, pools and rivers. Each product serves a different purpose so you'll find the one you need in no time.
Are Inflatable River Rafts Safe?
Of course. Manufacturers pride themselves on the fact that the materials they use to make inflatable river rafts are as safe and durable as the ones used to make traditional boats and dinghies. If you read the reviews, you'll see that users confirm those claims.
What You Can Use Blow Up River Rafts For
That depends on the activity you want. But you can get a blow up river raft for activities ranging from fishing on lakes and rivers, floating on the pool, to paddling on a lake or going down river rapids. Just make sure that the one you choose has all the necessary features that you need for your activity.
Are They Worth It?
As said before, you do not need to spend or invest a lot of money into getting a blow-up river raft. Nor does that mean that if you get a river raft that is inexpensive that the quality will be bad. There are a lot of options which provide great quality at an affordable price.
5 Best Inflatable River Boats Reviews
Best Single Person Raft
Intex River Run 1
Perfect For Relaxation
Whether you are on a river or in the pool, this inflatable river raft is perfect for leisure. It measures 53 inches in diameter circle, weighs 5 pounds, and it is made for a single person. To help you stay seated on the raft, there are two durable grab handles.
Construction Details
There are two separate air chambers to make sure you stay afloat. A repair kit is included, and there is a mesh bottom to keep cool. For more comfort, there is a built-in backrest, and an all-around grab rope for ease of use.
Sip Your Drink
To keep your refreshments nearby without having to go to the shore or the edge of your pool, there are 2 built-in cup holders on the inflatable water raft. There is even an included warranty if you order this item from Amazon.com.
Things To Look Out For
There are a few warnings issued by the manufacturer regarding this inflatable river raft. The measurements will vary based on the manner in which it is inflated. Also, location, temperature and humidity can affect the raft's firmness.
Characteristics:
For one person
Two air chambers
Cup holders
Repair kit
Best Multi-Person Raft
Bestway CoolerZ Tropical Breeze
Perfect Party Float
This giant inflatable pool float can hold up to 6 people on it. Imagine coming to a summer party with this inflatable piece of paradise. There is a detachable sunshade, and you can cool down by dipping your feet in the water in the mesh floor area.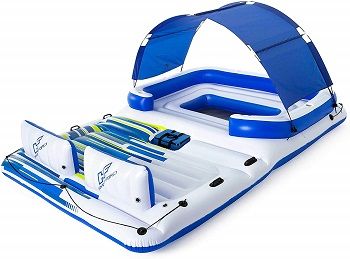 What's It Made Of
The composition of the multiple person floating raft is made of durable and tear-resistant PVC, suitable for all water settings such as the beach, lake, pool, or ocean. In case of an accidental rip, there is a heavy-duty repair patch. It is also easily transported and stored when deflated.
Easy Use
For easier mounting, there is an all-around grab line on the 6 person river raft. Moreover, sturdy handles make climbing on it easy for everyone. You can tie the float to other floats, anchors, boats, or docks with the grab line.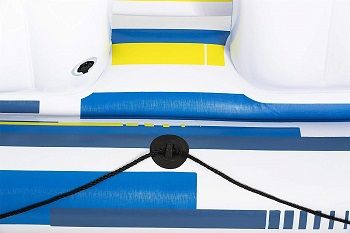 Keep Your Drink Close
There are six cup holders strategically placed around the float, to keep everyone within arm's reach of their drink. Extra-wide pillow backrests for each person on the floating island provide more comfort.
Characteristics:
For 6 people
Cup holders
Repair patch
Best 2-Person River Raft
Intex 58837EP River Run 2 Sport Lounge
A Floating Lounge
The River Run 2 is made for two people and designed with two interconnected lounges. The deflated size of the inflatable water raft is approximately 951 x 62 in. To keep you afloat, there are five separate air chambers. For extra comfort, there are built-in backrests.
What's On It
There are two built-in cup holders to keep your drinks within arm's reach. Moreover, easy to use connectors enable fastening your River Run 2 to other Intex River Runs. For easy mounting, there are two heavy-duty grab handles.
Keep Your Drinks Cool
For even more comfort and relaxation, the River Run 2 comes with a large built-in cooler with a lid. This makes sure that your drinks are not only nearby, but cool as well. The mesh bottom of the floating lounge keeps you cool.
Other Included Features
Besides the five air chambers for extra safety, and the heavy-duty grab handles, there is also an all-around grab rope on the blow-up river raft. A repair patch is included in the package as well, in case of emergency.
Specifications:
Holds 2 people
Cup holders
Cooler with a lid
Repair kit
Best 6-Person River Raft
Sun Pleasure Tropical Tahiti Floating Island
Giant Floating Island
This 6-person river float is large enough to accommodate 6 people on it. The open mesh floor space provides a great spot to soak your feet, and the float is made of eco-friendly PVC with vibrant rainbow-colored accents.
Comfortable For Everyone
The seats on the floating island are spacious and along with the foot room make it comfortable enough for everyone to relax on it. Of course, there are also built-in cup holders to keep your drinks close. There is also a built-in cooler that you can fill up with ice.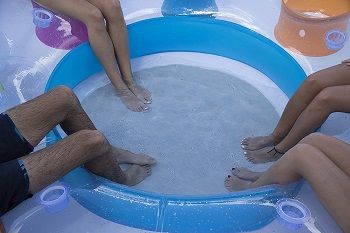 For Easy Access
For ease of access, there are built-in grab handles, which make climbing onto the floating island easy especially when there's no one around to help you climb onto it. The 6-person river raft even comes with its own mesh carry bag, so when the party's over, you simply deflate, fold, and fit it inside the bag for easier storing and transportation.
Specifications:
Holds 6 people
Cup holders
Cooler
Mesh carry bag
Best Ducky Raft
WOW Watersports Mega Ducky 19-1060
For Kids And Adults
The Mega Ducky has backrests as well as sidewalls, which is good if you have kids and they want to climb on board. The secure seating allows riders to choose whether they want to sit in the cockpit, lay on the deck or kneel on the back edge.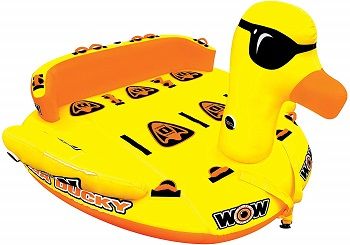 Dimensions And Other
The dimensions of the ducky raft when inflated are 115 x 115 x 65 in, and while deflated it measures 115 x 118 in. The ducky raft even comes with a 1-year included warranty. One of the most important things is that this ducky raft can hold between 1 and 5 people.
Easy Handling
This river raft is made of heavy-duty PVC bladder and has a nylon cover. A safety valve makes for fast and easy inflation and deflation, and also allows for one-way inflation which prevents air leakage. There is an 11-inch 5k aluminum EX tow connector as well.
Other Included Features
For comfort, there are EVA foam seats and knee pads on the ducky raft. For a speedy, safe, and easy ride while out on the water, their water tube has reinforced front and back tow points.
Characteristics:
For up to 5 people
Sidewalls for safety
Knee pads
Warranty included
Conclusion: Get The Best Inflatable Water Raft
Given all the listed products, the choice may be hard to make but it certainly is fun reviewing all the available river rafts. Whether you want to use it to the party or for your kids, I would recommend the Sun Pleasure Tahiti because it holds 6 people and comes with its own carry bag. Another one I like is the Watersports Mega Ducky because it has extra safety features for kids, and can also hold 5 people for an unforgettable party on the water.
If you like boats better than river rafts, you should read this article about best inflatable boats. For their subgroup, there is an article about the best inflatable boats with motor. If you like to fish, read more and find more products in this article about inflatable fishing boats. Furthermore, there is an article about inflatable kayaks, so take a look at that too.