Adventure sports or extreme sports have become widespread lately. One of those is kayaking, and more and more people are taking it up, especially ocean kayaking. If you're on of those people, inflatable ocean kayaks are just what you need.
This article will show you what best inflatable kayaks for ocean do, what they're made of, and where to get them. You'll also find out their specifications, and which inflatable sea kayaks are best, with examples included, based on their specifications and user reviews.
Most Important Things To Know Kayaks For Ocean
Are Inflatable Ocean Kayaks Safe?
That is probably the first thing that comes to mind when considering inflatable sea kayaks. But fret not, as technology has evolved and developed, inflatable ocean kayaks now provide the same safety level as traditional kayaks do.
Why Should I Get A Blow-Up Sea Kayak?
For starters, if you're an adventurous person and you go kayaking often, there is your reason number one. Why rent all the time when you can invest once a be set for a long time. The second reason is that you will not have to spend as much money as you would have to if you were to buy a traditional kayak.
Things To Consider
Aside from the obvious first thing to consider, the price, there are other things too. You should consider their stability, weight capacity, ease of inflation/deflation, weight, size, portability and how easy they are to paddle. This may seem complicated, but this article will highlight all of these features for each product reviewed.
Take More People With You
You do not have to worry if you have a friend or a significant other that is also into sea/ocean kayaking. There is a wide range of options today, from kayaks for solo use, to those for up to 4 people and maybe even more. Some have removable seats so you can add or remove them according to the number of people with you.
You Can Also Go Fishing
You do not necessarily have to use the inflatable kayak in ocean for paddling only. You can also take it out if you like to fish, or maybe to a lake if that's the body of water closest to you. Most come with carrying bags, so they are easily transportable.
5 Best Inflatable Kayaks For Sea Use Reviews
Best 1-Person Inflatable Ocean Kayak
Rave Sports Rave Sea Rebel
Perfect For Solo Kayaking
Weighing only 22 pounds, this inflatable sea kayak is perfect for solo use. It is also easily transportable because when deflated, it rolls into a compact size that fits into the smallest of car trunks. It measures 8'6" x 35" and it is recommended for people up to 200 pounds.
Inflation And Durability
It only takes a few minutes to fully inflate the Rave Sea Rebel inflatable kayak, and that is provided by a high-quality one-way air valve. The hand pump is included in the package, so you do not have to worry about that or spend any extra money on the hand pump.
For Extra Comfort
To provide the paddler with maximum comfort, this inflatable sea kayak features an adjustable seat back which even includes a waterproof zip bag for valuables such as wallet, phone, etc. You can even have your water bottle at hand because there is a beverage holder on the Rave Sports Sea Rebel kayak.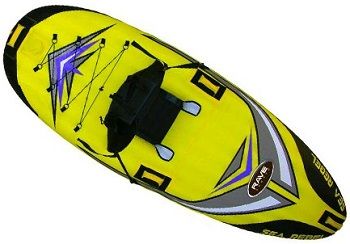 Other Included Features
Besides the high-pressure hand pump, there is also a kayak paddle and a carry bag with handles. When you consider that it is made for solo use, all of these features come in handy for easy transportation when inflated and deflated.
Specifications:
22 pounds
Included hand pump and carry bag
Adjustable seatback
Beverage holder
Best 2-Person Inflatable Sea Kayak
Sea Eagle 380x Explorer
Weight And Size
When inflated, this inflatable ocean kayak measures 12'6" x 39", and deflated measures 31" x 20" x 9" which makes it easily transportable in its carry bag. It weighs 40 pounds, and for durability, it is made of 1000 Denier reinforced PVC with quadruple overlapped seams.
Weight And People Capacity
The 380x Explorer can hold 2 or 3 people and has a 750-pound weight capacity. It has a Class IV whitewater rafting rating, so you do not have to worry about it getting damaged if you take on serious waves. Also, it takes 8 minutes for the Explorer to fully inflate.
Other Included Features
The Sea Eagle 380x Kayak has 16 open/close drain valves, 24 D-Rings, a drop-stitch floor, and front and back carry handles for easy transport while inflated. The 16 rapid drain valves make sure you drain water as quickly as possible.
That's Not All
Aside from the previously mentioned specifications, there is also a separate drop stitch floor that sits on top of the outside floor. It is rigid and high pressure which provides super responsive paddling performance. The outside fabric provides protection for bouncing off rocks and other objects. There is also a large removable fin, which you may or may not need depending on the activity.
Specifications:
2-3-person capacity
750-pound weight capacity
Removable fin
Drop stitch floor
Best 3-Person Inflatable Ocean Kayak
Sea Eagle 370 Deluxe
Three's A Party
This inflatable sea kayak can hold from 1 to 3 people. It has a 650-pound weight capacity, and the inflatable kayak itself weighs 26 pounds. When inflated, the size is 12'6" x 3". It comes with a carry bag so when deflated, it is easily transportable.
Dogs Welcome Too
The PolyKrylar hull is durable and rugged, and the 38-mil hull can endure dog paws and claws without fear of getting punctured. You can take the kayak to go down Class 3 rapids or a relaxed day paddling at the lake.
More Design Features
For rigidity, the Sea Eagle kayak 370 has the I-Beam floor construction. For tracking with maximum speed and efficiency, there are 2 skegs included. Depending on the number of people included, there are 2 inflatable and removable seats. Moreover, there are covered front and rear storage spaces.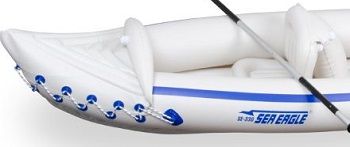 Safety Features And More
For easy portability when the Sea Eagle 370 inflatable kayak is inflated, there are front and rear rope handles. Included are also front and rear self-bailing drain valves, and with 100 pumps from your foot pump, the kayak is inflated. There are also two 84-inch aluminum paddles included.
Specifications:
650-pound weight capacity
Up to 3 people
Removable seats
Paddles included
Carry bag included
Best Inflatable Sea Kayak For Fishing
Sevylor Coleman Colorado
What's It Made Of?
This fishing inflatable ocean kayak is made of 18-gauge PVC, with a thick tarpaulin bottom and a tough nylon cover. All of these features ensure the durability of the inflatable sea kayak. There are multiple air chambers that stay inflated in case one rupture.
Use It For Fishing
For hands-free fishing, there are Berkley Quick Set Rod Holders. Included D-Rings allow you to attach other additional equipment. Adjustable seats provide more comfort when fishing all day, as well as back support. Consider these things especially if you plan on spending the whole day out fishing.
Attach A Motor
In case the whole day of fishing drains you, you can attach a Sevylor trolling motor. That can come in handy if you want to get to shore more quickly or if you are too tired to paddle. To make sure paddles do not get in the way, there are paddle holders included.

Other Additional Features
In case of a rupture or puncture, there is the Airtight System which is guaranteed not to leak. The Boston valve is double-threaded for easy inflation and deflation. Again, for a whole day of fishing, you can keep your snacks nearby in mesh storage pockets.
Specifications:
Multiple air chambers
Rod holders
D-Rings
Mesh storage pockets
Attach a motor
Best Hard-Shell Inflatable Sea Kayak
Driftsun Teton 120 Hard Shell Recreational Tandem Kayak
Important Design Features
Hard-shell kayaks, or traditional kayaks, are what most people think is the safest option when out on the water. Inflatable ocean kayaks are nowadays as safe as traditional ones, but read this section to get a better feel of what hard-shell kayaks are. For strength and durability, this one is made of Single Piece Rotomolded UV Resistant High-Density Polyethylene.
Holds Up To 3 People
You can take this kayak out for fishing, paddling, or other water recreational activities. With a 500-pound weight capacity, the inflatable sea kayak can hold up to 3 people. There is an additional seat to fit the 3 people if there are that many.
Take Anything With You
The inflatable sea kayak includes 4 flush mount capped rod holders for fishing, 2 mounting points for accessories, rear tank well storage, dual watertight storage hatches and cup holders. You do not have to bring 3 backpacks that take up too much space, you can store everything in your vessel.

What Else Is Included
There are 2 adjustable EVA padded seats with back support, which is great if you like day-long fishing.  For paddling, there are 2 anodized aluminum performance kayak paddles with ergonomic grips, and 8 scupper plugs for self-bailing ports.
Specifications:
500-pound weight capacity
Fits up to 3 people
Rod holders
Mounting points
Adjustable seats
Conclusion: Which Inflatable Ocean Kayak Is The Best?
Inflatable ocean kayak or inflatable sea kayak, the name does not matter. Whichever name you like the best for this type of product, with these many options available, the choice is certainly not easy to make. In the hope that this article helped you, I will recommend 2 products I find best. The first one I like is the Sea Eagle 370 Deluxe because you can bring your dog on board too, and it comes with included paddles. The other one I would recommend is the Sevylor Coleman Colorado, because it has a lot of space for the stuff you need to bring with you and you can attach a motor to it.
If you like boats better than kayaks, you should read this article about the best inflatable boats. For their subgroup, there is an article about the best inflatable boats with motor. If you like to fish, read more and find more products in this article about inflatable fishing boats.