Inflatable speed boats are all the rage on the market, countering hard-shell boats in portability and ease of operating. Want to find out the best blow up speed boats in 2020?
Then keep reading this review, where I'll be looking at the five of the best blow up yachts available on the market. Don't miss out on the best inflatable yacht information.
Everything You Need To Know About Inflatable Speed Boats
The Characteristics Of High-Speed Inflatable Boats
An inflatable speed boat is a watercraft that features lightweight side and bow construction, made out of flexible tubes. The material these tubes are made of varies: most boats feature PVC material construction, though some extra rugged boats use Hypalon. Inflatable boats serve many purposes, from having fun at an outdoor pool to traversing Class III white-water rivers or even dubbing in for speedboats via outboard motors: inflatables can do it all.
Different Categories Of Inflatable Boats
There are many different categories of inflatable boats available for purchase from all types of inflatable boat brands. We have the dinghy speed boat, whose main purpose is to serve as a tender for larger boats, and can even be used as an emergency raft; RIB speed boats for sale are, on the other hand, hybrids between inflatables and a traditional boat; high-speed inflatable catamarans are remarkably stable and can be outfitted with sails.
To Buy An Inflatable Yacht Or Hard-HullSpeedboat?
There are many pros a blow-up yacht has over hard-hull yachts: they are lightweight and therefore easy to transport, more affordable, are often more comfortable since they more often than not provide removable and adjustable seats. Traditional boats, however, perform better speed-wise and are more durable due to no chance of punctures.
The Price Ranges Of Blow Up Speed Boats
Today, blow up yachts come in many forms and prices. Some models can cost as little as a couple of hundred dollars, while other, more advanced models will run you for more than a thousand dollars. Some well-known affordable brands are Intex and Bris, while notable high-price brands are Smartkat and Saturn.
Where To Buy Inflatable Yachts
Inflatable yachts can be bought separately on each of the brand's websites. A great website that offers all of these great inflatable speed boats is Amazon.com – you can use it to quickly find other similar inflatable yachts and even great accessories. You might even profit from one of Amazon.com's frequent sale deals.
Best 5 Inflatable Speed Boat Yacht Reviews
Best 20 ft Inflatable Speed Boat
6-Person Inflatable Bay Breeze Boat Party Island
An Affordable Party Boat
When the Bay Breeze Boat came out in 2019, it took the inflatable world by storm. Many articles were being written about this large capacity boat by Sun Pleasure Inflatable, a company that establishes itself as a leading manufacturer and provider of inflatable goods. The Bay Breeze Boat is quite affordable for a vessel its size and split between six people, it is a bargain deal.
Versatile Water-Based Fun
The Bay Breeze Boat is intended for all kinds of fun on the water and even land – use it as poolside furniture or take it on a ride on a backyard swimming pool, lake or bay. This raft is intended for children over 14 years old and will easily accommodate up to six adults with its weight limit of 1320lbs.
Inflating the 6-Person Bay Breeze Boat
The Bay Breeze Boat is absolutely massive at 10' x 20' – this means that it will take a considerably longer time to inflate than other, smaller inflatables. Customers have reported an inflation time of 30-40 minutes. Safety valves are featured for simple inflation and deflation; a pump is not included and needs to be purchased separately.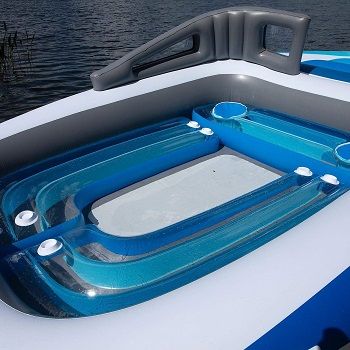 Designed For Maximum Comfort
The Bay Breeze Boat has many features that make it perfect for long, leisurely hangouts with friends – this inflatable yacht includes a rear platform with five handles for easy and safe mounting and dismounting. An inflatable bench seat coupled with eight cup holders and a built-in cooler will keep you relaxed.
Construction Details & Warranty
This inflatable speed boat is built from heavy-gauge PVC and includes a mesh floor that lets you cool your feet. Unfortunately, this raft is not built sturdily enough to support a trolling motor – to steer it, you might use a pair of oars, purchased separately, or simply float along. This product does not come with a warranty.
Characteristics:
Mega-sized inflatable party boat
Comfortably accommodates up to six people
Features built-in coolers and cup holders
Built from PVC material with mesh flooring
Best Inflatable Boat Float
Inflatable Floating Island 5 Person Party Boat Raft
Inflatable Boat Float FromIntex
Intex is an inflatable boat and watercraft company of some renown, offering affordable products for over forty years. The categories of products they offer are spas, floats & toys, above ground pools and sporting goods. This 5 Person Floating Island in blue belongs to their toys & floats category, and is the perfect product for some group, sunny day fun.
Product Dimensions & Capacity
This Intex inflatable boat float measures 111 x 103 x 25 inches inflated and supports a weight capacity of up to 704lbs. It is the perfect size to comfortably accommodate five adults. This product weighs 44 pounds, less than the Breeze Bay Boat at 60 pounds of weight.
Getting In And Out Of The Raft
Getting in and out of the raft is made safe and easy with the included grab rope on both sides. You can also easily anchor the boat to dismount it while floating in water with an included anchor bag that can be filled with sand or other material.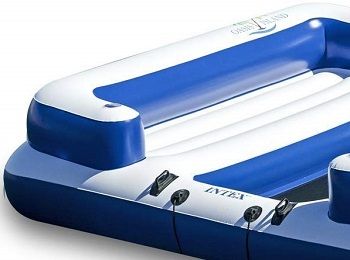 Safety Features And Accessories
This inflatable boat float from Intex comes with Boston valves that not only provide easy inflation and deflation but are airtight, ensuring you won't lose air while on water. In case of minor punctures, you can use the included repair kit – for bigger damage, a 30-day manufacturer's warranty is provided.
Comfortable Lounging Area With Cup Holders
The 5 Person Party Boat Raft comes with a mesh lounging area that lets water seep through for maximum comfort. This area is surrounded by comfortable sitting benches that feature large backrests and armrests for added comfort. Four cup holders are included for storing your drinks.
Characteristics:
Five persons capacity party boat raft
Grab rope for easy entry and exit
Comfortable sitting benches with large backrests and armrests
Best Dinghy Speed Boat
Saturn 12 ft SD365 Inflatable Sport Motor Boat
Popular Design By Saturn
The Saturn SD365 is a great multi-person boat from South Korea and China-based company, Saturn. Their products are ranged in the middle to high price ranges of the inflatable boat market – this dinghy speed boat can be outfitted with an outboard motor with a maximum of 10 HP and can accommodate up to 5 people.
Durable And Rugged Material Used For Longevity
Saturn inflatables all show hallmarks of great, durable design, and the SD365 is no exception to this. It is made out of 1100 DEN polyester material, higher than the standard 1000 DEN material, which is highly resistant to tearing and abrasions. The bottom of the tubes features double layers of material for additional protection.
High-Quality Construction
The Saturn 12 ft SD365 features a high-pressure air deck floor that is both stable and lightweight, keeping this boat light for easy transporting. Some other great construction features are the inflatable V-keel with a rub strake protector and 24mm marine grade plywood transom.
Inflation Is Both Safe And Easy
For this Saturn 12 ft SD365 boat, the air valves have been relocated inside the boat's tubes for protection against the elements. This will allow for easier inflation while minimizing every kind of elemental damage while the boat is left uncovered. Additionally, triangular splash guards protect the plywood transom from water damage.
Myriad Of Convenience Features
The Saturn SD365 comes with two sets of removable aluminum benches and features an all-around grab line that is great for carrying this Saturn dinghy speed boat. A purchase will also include aluminum oars, a repair kit, a carry bag, and a complimentary, generic high-volume hand pump – in short, all you need to try this dinghy out.
Characteristics:
Popular group dinghy from Saturn
Sturdy material and construction used
Can be outfitted with a 10 HP motor
Comes with all the necessary accessories
Best High-Speed Inflatable Catamaran
Smartkat Inflatable Sailing Catamaran
High-Quality Catamaran For Professional Use
The Smartkat inflatable sailing catamaran is a high-quality and high-price trademark product from Smartkat Sailing, a quite young yet outstanding inflatable company. This fast sailing catamaran will accommodate a crew of one to four sailors. This catamaran has a distinct advantage when going upwind and its lightweight of 97lbs lets it reach great speeds.
Versatile Model With Many Uses
The Smartkat inflatable catamaran can also be used without the sails and can be outfitted with an outboard motor with up to 5 HP. Yacht owners can also use this high-speed inflatable catamaran as a tender. The Smartkat will pack nicely into two Smarkat bags and fit into the back of your car.
Sailing Done In Comfort
The 6' long trampoline offers a spacious and comfortable space for active sailing or relaxing while the wind carries you along. For your safety, three hiking straps run along the trampoline to secure your feet while sailing in very strong wind.
Materials And Construction Methods
Smartkat hulls are constructed from heavy-duty, multi-layer PVC that connects to a strong aluminum frame. The mainsail and jib feature rugged Dacron material that gives the sails their strength, resistance to sun damage and allows easy drying. This high-speed inflatable catamaran is reinforced in the center for extra rigidity and stability.
Easy And Quick To Put Together
You can assemble this light high-speed inflatable catamaran in just about 20 minutes without any tools. The finished version comes complete with a three-part mast, battened mainsail, furling jib, centerboard, and rudder. Once you're done sailing, you can take this catamaran apart and put it away in about 10 minutes' time.
Characteristics:
High-price, high-quality product for five sailors
Reaches great speeds due to design and lightness
Very sturdy construction from PVC and Dacron material
Hiking straps along the trampoline to lock in your feet
Easy to assemble and take apart
Best High-Speed RIB Boat
Advanced Elements AdvancedFrame Kayak
Innovative Construction For Optimal Performance
If you're looking for speedy, sturdy RIB speed boats for sale, the Advanced Elements AdvancedFrame kayak is sure not to disappoint. This product offers the best of hard-shelled kayaks and soft inflatables with its hybrid construction with an Aluminum Rib Frame yet lightweight and portable nature.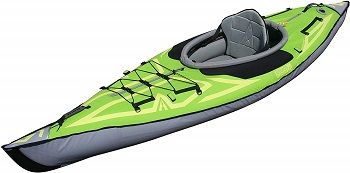 Tracking And Speed That Rivals Hard-Shells
Thanks to this AdvancedFrame kayak's hybrid construction with built-in aluminum ribs, this kayak cuts through water like a blade. The stern also acts as a skeg, increasing this high-speed RIB boat's tracking performance. Coupling this with its comparatively lightweight of 36lbs, you have got yourself a maneuverable speed inflatable boat.
Basic Construction Details
The Advanced Elements AdvancedFrame kayak is constructed from durable 600 DN PVC material and layered with RipStop material technology that prevents abrasions and tears. This high-speed RIB boat also features an integrated pressure valve that stops you from overinflating it. Welded seams and molded rubber handles increase the already high quality of this inflatable.
Compatible With Additional Advanced Elements Technology
Advanced Elements offers more great technology for separate purchase. If you really want to take your boat to the next level, insert the BackBone accessory, a bow-to-stern frame that further enhances rigidity. Drop-Stitch Flooring can also be installed for optimal rigidity and stability.
Other Features & Accessories Included
This high-speed inflatable boat comes with one comfortable, adjustable seat. You can attach a spray skirt to you AdvancedFrame kayak via the included inflatable coaming. A repair kit, duffel carrying bag, and owner's manual are included with the purchase, though you will have to buy the oars separately.
Characteristics:
Features innovative hybrid technology
Achieves high speed and great tracking
Compatible with extra technologies for elevated performance
Conclusion: Which Best 2 Inflatable Speed Boats (Yachts) To Buy?
If you're looking for the largest, most luxurious inflatable yacht to purchase, the mega-sized and supremely comfortable 6-Person Inflatable Bay Breeze Boat Party Island will not disappoint you. Those who are looking for affordable yet high-quality technology should look no further than the Advanced Elements AdvancedFrame kayak, an amazing hybrid of hard-shell kayaks and soft inflatables that combines the best of both worlds.
If you want to find out more on this general subject, then click on this article on the best inflatable boats. If you have an interest in motorized inflatable speed boats, you will enjoy reading this article on inflatable boats for sale with motor. Want to enjoy watersports with friends and family? Read this review of giant inflatable rafts.