Are you an angler or aspiring to become one?
Then you've come to the right place.
If you want to find the best quality inflatable fishing kayaks, keep reading this review. Here I will be giving my tips on these five best inflatable fishing kayaks from five brands. I hope you find exactly what you need.
Everything About Inflatable Fishing Kayaks
What Are Inflatable Boats & Kayaks?
Inflatable boats & kayaks are water vessels built from different soft materials that also need to be inflated before use. As opposed to hardshell boats & kayaks, inflatables are much lighter and deflate to a smaller size, so they are also easily portable. Nowadays, inflatables are engineered to be sturdy and resist puncture damage, so they are perfectly safe.
Different Kinds Of Inflatables
Inflatable boats & kayaks first differ in the capacity of passengers that they can admit; hence, we have a solo, inflatable tandem fishing kayaks, 3-person and more boats & kayaks. Inflatables can be built from different materials, which also makes a difference: the cheaper ones will feature vinyl construction, while PVC is standard. Hypalon inflatables are the rarest to come by and the most expensive. Depending on their use, we have recreational, touring, fishing & whitewater boats & kayaks.
What Every Inflatable Fishing Kayak Should Feature
For inflatable fishing kayaks, the first essential feature that they should all have are rod holders that allow for hands-free fishing. Another very useful feature is swivel seats, which rotate at 360 degrees and allow you to reach all the necessary fishing spots. A hard floor is useful for stability and standing while fishing, while a quiet trolling motor capacity will go a long way in ensuring great catches.
Price Range Of Blow-Up Fishing Kayaks
Fishing kayaks come at a variety of prices, depending on their manufacturer, size, capacity & other features. This inflatable fishing kayak review features mostly low to middle price kayaks, with the most affordable model being the Intex Challenger K1 Kayak Fishing and the most expensive the Advanced Elements Fishing Kayak.
Where To Find Inflatable Fishing Kayaks For Sale
Inflatable fishing kayaks for sale can be found on Amazon.com. This online retailer is recommended due to frequent discounts and a very visible rating and review system for each product that will help you decide which blow-up fishing kayak is right for you.
Best 5 Inflatable Fishing Kayak Tips & Reviews
Best One-Person Inflatable Fishing Kayak
Intex Challenger K1 Kayak Fishing
Visible & Fun Design
The Intex Challenger k1 features a lime green design with sporty black graphic work which makes it very visible while kayaking during all kinds of environmental conditions and times of the day. It is best suited to flatwater settings, meaning lakes and calm rivers, and due to its extremely affordable price is a great pick for a kayaking beginner.
Very Lightweight And Portable Model
This 9 ft by 30-inch inflatable kayak is very portable at a weight of 23.9lbs. The integrated Boston valves provide quick inflation and deflation, along with its modest size that helps get the process over quickly. Thanks to the grab line on both ends, the Challenger k1 can be handled quite easily even when inflated, at a slightly greater weight of 27lbs. You can pack it in the included Intex traveling bag
Features Eco-Friendly Vinyl Material
Both the price and the lightness of this inflatable fishing kayak are owed to the material used in construction, vinyl. However, this does not mean that the Challenger k1 is not sturdy – far from it. The Challenger k1 is very puncture-resistant and will resist UV damage.
Safety Precautions & Floor Construction
Two separate air chambers make sure you will stay afloat in case of puncturing.  What's more important, the flooring included is an inflatable I-beam floor, which offers good stability and rigidity. Another great feature that improves the tracking of this Intex blow-up fishing kayak is the removable skeg.
Other Features & Accessories
An inflatable seat with an adjustable backrest is featured in this closed-type inflatable kayak, while a cargo net on the hull can be used for storage. Included in the purchase are a high-output hand pump, a pair of 86" aluminum handle oars, a carry bag, a repair kit, and U.S. Coast Guard I.D.
Why Buy This Blow-Up Fishing Kayak:
Affordable and simple fishing kayak design
A lightweight model that is easily portable
Eco-friendly vinyl used in construction
Inflatable I-beam floor provides good stability
Best 2-Person Inflatable Fishing Kayak
Saturn Fishing Kayak
Convertible Solo / Tandem Design
The Saturn 13 ft. Pro-Angler Fishing Kayak, also known as the Saturn FK396, has a weight capacity of 700lbs and will accommodate up to two people. However, if you want to pack on more gear, it is possible to remove one aluminum seat to use the extra space for comfort and more storage capacity.
Suitable For Flat Water Settings
This Saturn inflatable fishing kayak is not self-bailing; therefore, it is not recommended for use in busy waters, rather for calm lakes, ponds, and ocean bays. It is possible to puncture holes yourself in the floor, but this should be done very carefully or not at all, as it could compromise the buoyancy of the kayak.
Safe & Puncture-Resistant Material Used
Like all Saturn inflatable kayaks, the Saturn 13. Ft inflatable fishing kayaks feature Duratex 1100 DEN PVC fabric; this kind of fabric is stronger than the standard 1000 DEN PVC used in the construction of inflatables. Furthermore, to prevent tears, a double layer of PVC fabric is layered on top of the air floor and tubes and between the aluminum benches.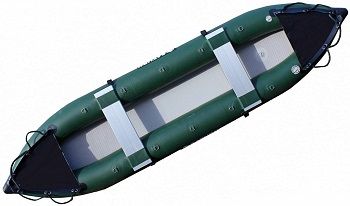 Very Stable Design
The Saturn FK396 features a Drop-Stitch floor made with thousands of interconnecting tiny threads that ensure a high level of rigidity.  The exterior tubes are high-buoyancy and provide great stability, allowing the angler to fish standing.
 Versatile Sitting Options
Though this Saturn fishing kayak comes with two aluminum benches, it is possible to modify them in different ways. Firstly, you can replace the rear aluminum bench with a longer version and add a trolling motor mount. Or you can de-install the aluminum benches and install two regular kayak seats. Swivel platforms can be connected to the aluminum benches with a swivel seat on top.
Why Buy This Blow-Up Fishing Kayak:
Solo/tandem convertible model
Features double layers of material to prevent damage
Aluminum benches are versatile and can be modified to preference
Best Inflatable Fishing Kayak For Whitewater
Sea Eagle 370 Fishing
Capacity & Dimensions Of The Sea Eagle 370
For its fairly large size of 12' 5'' by 2' 10'', the Sea Eagle 370 fishing inflatable kayak is a lightweight model with a weight of 32lbs. The Sea Eagle 370 kayak has a capacity for three adults at 650lbs of maximum carry weight. However, the optimal number of people is two, while three proves a slightly tight fit.
Sturdy Construction Takes You River Running
The Sea Eagle 370 features NMMA Certified construction for high safety measures. Built from a K80 PVC material that is resistant to sun and saltwater, this blow-up fishing kayak also features high frequency welded seams to ensure integrity. This sturdy construction allows you to take your Sea Eagle 370 kayaking down whitewater rivers up to Class III.
Protects From Water Splash
The Sea Eagle 370 inflatable fishing kayak includes other necessary features every good whitewater kayak should have; lashed down inflatable spray skirts will keep you protected from wild waters, while integrated open-and-close drain valves will drain out the water that does enter the kayak. Three separate air chambers on the floor, starboard and port are included to keep you safe.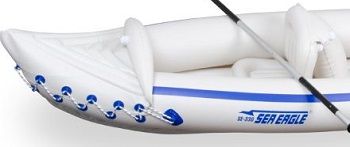 Fishing Package Includes Goodies For Anglers
If you're wondering how the Sea Eagle 370 caters to anglers, here is your answer. The Sea Eagle 370 Sport Fishing Package includes a multi-purpose storage box with two integrated rod holders – just place it in your kayak and you have an instant boost in storage space.  The Sea Eagle 370 also comes with two 7' 10'' paddles, three kayaks seats, a foot pump, and repair kit.
The Sea Eagle 330 Version
If you want to purchase a smaller version of the Sea Eagle 370, the Sea Eagle 330 is available on Amazon.com. This 11' inflatable tandem fishing kayak is only 26lbs heavy and will support 500lbs maximum of weight. This is a bestselling model from Sea Eagle is sure not to disappoint.
Why Buy This Blow-Up Fishing Kayak:
Has a capacity for up to three adults
Can be enjoyed on Class III whitewater rivers
Multi-purpose storage box with rod holders included
Inflatable spray skirts and drain valves keep you dry
Best Inflatable Fishing Kayak With Trolling Motor
Sevylor Colorado Fishing Kayak
Popular Fishing Model From Sevylor
The Sevylor Colorado inflatable fishing kayak is one of the best-selling models from Sevylor. This simple yet refined model has it all: construction, comfort, safety, and great fishing features. 10' 6'' and 39'', this model hits the middle ground between small and large models of blow-up fishing kayaks; with its weight capacity of 440lbs, the Sevylor Colorado is suitable for lake and ocean fishing for up to two people.
Equipped With Motor Mount & Fishing Accessories
What makes this model a great Sevylor inflatable fishing kayak is that it features all of the best accessories a blow-up fishing kayak should have. First are the Berkley Quick-Set rod holders for hands-free fishing, along with oar holders to keep the paddles out of your way. Another great addition is trolling motor fittings – install a quiet motor to be able to reach all of the best fishing spots.
Features NMMA Certified Construction
This Sevylor fishing kayak with 18-gauge PVC construction that is coupled with double layers of protection in the form of a 1000 DEN tarpaulin bottom and 840 DEN nylon cover. This provides multiple layers of protection against punctures.

Safety Features Will See You Through
You do not have to worry even if damage should occur – multiple air chambers will get you to land. An Airtight system is included to stop air from leaking out after inflation, while an integrated pressure gauge will make sure you inflate your kayak properly.
Keeps You Comfortable During Long Trips
Two adjustable, soft-back seats are featured in this Sevylor inflatable tandem fishing kayak. These seats are in hands' reach of the mesh storage compartments, conveniently placed for drinks and snacks. There is space enough between them to rest your legs in comfort, and multiple d-rings can be used to tie down your gear.
Why Buy This Blow-Up Fishing Kayak:
Comes with Berkley rod holders and trolling motor mount
Features multiple layers of protection from damage
Soft-back seats in reach of mesh storage compartments
The cockpit is spacious and features d-rings for gear
Best Hard-Shell Inflatable Fishing Kayak
Advanced Elements Fishing Kayak
Solo Inflatable Fishing Kayak
The Advanced Elements Straitedge Angler is a 9 feet 8 inches by 35 inches sized kayak with a one-person capacity at a weight limit of 300 pounds. Though fairly small compared to some other models on this list, the Advanced Elements fishing kayak is also quite heavy at 41lbs, courtesy of Advanced Element's innovative aluminum rib technology.
Features An Accessory Mounting Rail
The Advanced Elements Straitedge inflatable fishing kayak is truly great thanks to the inclusion of the 1'' accessory mounting rail. This rail can be customized with various fishing gadgets you might find useful, such as rod holders, a fish finder or other equipment.
Performance-Oriented Aluminum Rib Technology
Advanced Elements is known for its AdvancedFrame kayaks that feature built-in aluminum ribs in the bow and stern – this inflatable fishing kayak is no exception. This innovative technology dramatically improves the performance and tracking of the kayak, bringing it closer to hard-hull models. Abrasion pads and five air chambers further solidify the quality construction of this Advanced Elements fishing kayak.
Other Convenient Features
The Advanced Elements Straitedge Angler comes with a high-back seat with lumbar support and two-rod holders. As for storage, bungee deck lacing and stainless D-rings can be utilized to safely store your gear. Paddle holders will secure your oars.
Accessories Included With The Purchase
The Advanced Elements Straitedge inflatable fishing kayak comes with a carrying duffel bag, repair kit, the aforementioned rod holders and accessory mounting rail and an owner's manual. Oars and a pump need to be purchased separately, as they do not come included with this Advanced Elements fishing kayak.
Why Buy This Blow-Up Fishing Kayak:
Comes with innovative accessory mounting rain
Aluminum rib technology optimizes performance
Includes high-support seat and ample storage options
Conclusion: Which Two Inflatable Fishing Kayaks To Pick?
Out of these five great models of inflatable fishing kayaks for sale, I have singled out two I find the top of the top. The first is the Intex Challenger K1 Kayak Fishing, a great and affordable model that has all of the necessary fishing & kayaking features to ensure an enjoyable time. The other model I would recommend is the slightly pricier Advanced Elements Fishing Kayak – the inclusion of the accessory mounting rail and performance-based aluminum rib construction is a great deal for any aspiring angler.
If you want to find out more about inflatables, check out this great article on kayak tenders for sale. Want to find out more about inflatables used for fishing, but kayaks just aren't your thing? Click on this article on rubber rafts for fishing. Finally, if you're interested in kayaking with a companion, this review of 2-person pontoon boats will do the trick.