Traditional boats and kayaks may be made of materials that make them too heavy to handle and carry. That is why lightweight dinghies are a great option for those of you that do not want to carry too heavy vessels but still want to have the best water experience.
This article will show you the best lightweight dinghies, kayaks and boats, all inflatable. You'll also find their characteristics and specifics, as well as Amazon.com links for ordering. The list of the 5 best products available is rated by user reviews and specifications of each product.
Some Basic Info About Lightweight Dinghy Models
Why Get One?
As mentioned above, you will not have to carry a lot of weight, and they're easily transportable. Many inflatable kayaks, boats, and dinghies come with their own carry bags for easy storing and handling when deflated.
Are They Safe?
The short answer is – yes, they are safe. The technology used to make them has progressed over time and now they are made of long-lasting materials. They're also often supplied with many accessories, making them suitable for all kinds of activities.
Do They Last?
Just because they're lightweight and inflatable does not mean they are poor quality. As mentioned above, lightweight dinghies are made of materials that endure the roughest of conditions and can be used for many years to come once you get one.
A Lot Of Options
Nowadays, there is a plethora of options regarding the materials used to make lightweight dinghies and kayaks. You can also find a lot of available products depending on how many people you want to fit in your new lightweight dinghy.
Do I Have To Spend A Lot Of Money?
Of course not. Unlike traditional boats and kayaks, lightweight inflatable dinghies come at a reasonable price. The fact that they're inexpensive does not mean that they will not last. Just be sure to check all the specifications and included features.
5 Best Lightweight Inflatable Vessels
Best Lightweight Inflatable Kayak
Intex Explorer K2 Kayak
Size And Weight
When inflated, this kayak measures 10ft 3in x 3ft x 1ft 8in. It can hold 2 people and the maximum weight capacity is 400 pounds. The inflatable kayak itself weighs 30.6 lbs., so it is not too heavy to carry around when needed.
Materials Used For It
The lightweight inflatable kayak is made of heavy-duty puncture-resistant vinyl. It features 3 separate air chambers as well as an inflatable I-Beam floor for rigidity. Boston valves make deflation and inflation quick and easy.
Included Accessories
The Explorer features 2 inflatable seats with backrests. The seats are adjustable and removable. There are grab lines and grab handles on both ends for easy handling, and there is a removable skeg which provides directional stability.
Included In The Package
The Explorer package consists of a repair patch kit for emergencies, 2 86-inch aluminum oars for paddling, and an Intex high-output pump for easy inflation. A carry bag is included as well, for easier transport and storing.
Specifications:
For 2 people
Boston valves
Adjustable seats
Pump included
Best Lightweight Fishing Dinghy
Intex Seahawk 4 Dinghy
How Big It Is
The Seahawk is made for 4 people, with a maximum weight capacity of 1050 pounds. The exterior measures 351 x 145 cm and weighs 37.5 pounds. That is not a lot if you consider the fact that is can support 4 people on it.
What's It Made Of
For comfort and durability, the Seahawk is made of heavy-duty puncture-resistant PVC. It has 3 air chambers and an inner auxiliary chamber inside the main hull for extra safety. There is a grab handle on the bow and an all-around grab line for easy handling.
You Can Go Fishing
With the 2 built-in fishing rod holders and a gear pouch, you can go fishing and relax all day if you want. Also included are inflatable cushions for comfort and seating stability. In case you get a puncture, a repair patch kit is included.
What Else Is Included
The package comes with a high-output hand pump and 2 48-inch aluminum oars. There are also motor mount fittings, in case you get tired of paddling. There are two pairs of heavy-duty welded oar locks and oar holders on each side.
Specifications:
For 4 people
Fishing rod holders
Gear pouch
Repair patch kit included
Pump included
Best Lightweight Inflatable Dinghy
UBOWAY 2-Person Inflatable Dinghy Set
Size And Weight
This lightweight inflatable dinghy weighs 52 pounds, so it is a bit heavier than the previous 2 but still not too heavy. It measures 230 x 126 mm, and is 33 cm high. It is made for 2 people and has a 572-pound weight capacity.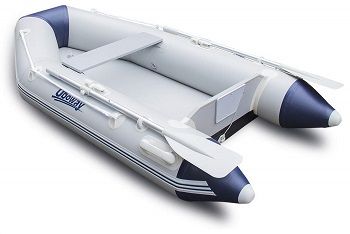 What's It Made Of
For rigidity and durability, the inflatable dinghy is made triple-layered 0.9mm Polyester-reinforced and anti-corrosive coated PVC. There are 4 valves that make inflating and deflating simple and easy. You can even attach a motor to it.
What's On It
There's a paddle lock, a deck holder, D-Ring, transom, and a safety rope. For more convenient sitting, there is an aluminum sitting bench. The inflatable bottom floor is there for more comfort. The boat overall is resistant to sunlight, salt, corrosion, and other destructive elements.
More Included Extras
The foot pump for inflation is included in the package. There are also included aluminum oars, a carry bag, and a repair kit. In case you need an inflatable dinghy for more people, there is a version of this one for four people, but it is naturally heavier.
Specifications:
For 2 people
4 valves
Foot pump included
Carry bag
Repair kit
Best 3-Person Lightweight Inflatable Dinghy
Intex Mariner 3
The Mariner's Capacities
Made for three people, the Mariner weighs 68 pounds. It measures 9ft 9in x 4ft 2in. Since it is made for carrying 3 people, it has an 880-pound weight capacity. Again, heavier than some previously mentioned products, but it can hold 3 adults.
Construction Information
This one is made with 3 separate layers of material for extra strength and durability. In other words, there are two outer layers of heavy-gauge PVC laminated to an inner layer of polyester mesh for extra reinforcement.
On-board Features
There is a motor mount fitting, a heavy-duty slatted floor for extra stability, and rotational oar lock for easier rowing. For the best tracking, there is an inflatable keel with rub strake. For inflation and deflation, there are 2 built-in Boston valves.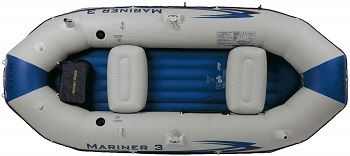 Other Included Features
Besides the ones mentioned above, there are also 2 fishing rod holders, so you can even use this inflatable dinghy for fishing purposes. there are 2 inflatable thwart seats, 1 gear pouch and even one battery pouch.
Specifications:
For 3 people
3 layers of material
Boston valves
2 fishing rod holders
Best Lightweight 3-Person Inflatable Kayak
Sea Eagle 370 Pro
What You Want To Know
Supporting 3 people at a 650-pound weight capacity, the Sea Eagle weighs only 32 pounds. It is suitable for Class III whitewater. The interior measures 10ft 8in x 1ft 1 in, and the exterior measures 12ft 6in x 2ft 10in.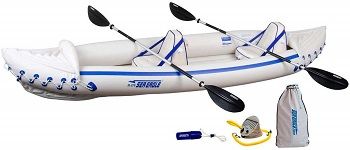 How It's Made
The construction is made of extra-thick 38-mm Polykrylar hull, an I-beam floor for extra rigidity, and has 3 deluxe one-way valves. There's also a self-bailing drain valve. The Polykrylar hull can withstand dog claws and paws, so feel free to take your pet with you.
What's On It
There are inflatable spray skirts, removable inflatable front and rear seat and front and rear rope handles. There are 2 molded skegs for tracking and speed, as well as high-frequency welded seams that fuse the material into one solid piece.
What You Can Use It For
Besides the obvious answer, rafting, you can also take this lightweight inflatable kayak for paddling, fishing, yacht tending, or skin diving. 8 minutes is all it takes to inflate and assemble this inflatable kayak.
Specifications:
50-pound weight capacity
One-way valves
Dog paw resistant
2 molded skegs
Conclusion: Which Is The Best Lightweight Inflatable Dinghy & Kayak?
Given that there is a number of options to choose from, you can always look further for more products of this kind. But out of these, I would recommend the Intex Seahawk for 4 persons because you can take 4 people and even go fishing with it. The other one I like is the Sea Eagle 370 Pro kayak because you can use it for many purposes and even take your dog with you.
If you like boats better than kayaks, you should read this article about the best inflatable boats for sale. For their subgroup, there is an article about the best inflatable boats with motor. If you like to fish, read more and find more products in this article about inflatable fishing boats.