Inflatable dinghies are great for those of you that love water-related activities but do not have the time or money for a traditional boat or dinghy. Blow up dinghies provide the perfect balance of a great product for a reasonable price.
This article will tell you a little something about inflatable dinghies, i.e. their characteristics and specifications. You'll also find reasons why inflatable dinghy boats are a good idea to get, as well as some blow-up dinghy boats deemed best by their specifications and user reviews.
Inflatable Dinghies Basics
Do You Need A Blow-Up Dinghy?
It is not a life or death question, but it can be a good thing to have at home for the summer, to go out to the water with your family or friends to have a day out like that for a change. Since you do not have to spend a lot of money or time on maintenance, it is a good idea.
Are Blow Up Dinghy Boats Safe?
Inflatable boats are as safe as traditional boats nowadays. The materials used to make them provide safety and endurance, as well as comfort and rigidity. Technology has advanced and there is no reason you should think they are not safe.
Are Inflatable Dinghies Expensive?
Not all inflatable boats cost a lot of money. You can get a very good inexpensive deal just by browsing Amazon.com or other similar websites that feature a wide range of products. Keep in mind that just because they are not expensive, that does not mean they are not high-quality.
Are Blow Up Dinghy Boats Durable?
As previously mentioned, the technology used to make inflatable dinghies has evolved and now the materials used to provide long-term use. Most even come with a repair kit in case you run into any trouble. Manufacturers try to create inflatable dinghies which will last for a long time and use the materials that ensure that.
What Can I Use Inflatable Dinghies For?
You can use your blow-up dinghy for a relaxing day by yourself on the water, you can take your family or friends on it. There are even some that are made of paw-resistant materials so you can even take your pet with you.
5 Best Inflatable Dinghies Reviews
Best Inflatable Dinghy With Motor
Intex Mariner 3
Holds Three People
Measuring 9ft 9in x 4ft 2in and weighing 68 pounds, this inflatable dinghy is made to hold three people in it and has an 880-pound weight capacity. It is an ideal inflatable dinghy if you're a family of three or have friends that you would like to take with you.
Three Layers Of Material
There are three separate layers of material that are used to construct this inflatable dinghy. There are two outer layers of heavy-gauge PVC laminated to an inner layer of polyester mesh for extra reinforcement, and all of that for durability and extra strength.
Attach A Motor
An inflatable keel with rub strake ensures better tracking, while for extra stability there is a heavy-duty slatted floor. There are also motor mount fittings, and considering Intex has their own trolling motors, that's a pretty good deal.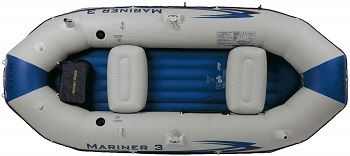 You Can Fish
If you like to fish, fear not, there are two fishing rod holders. Besides those, there is a gear pouch for your valuables, a battery pouch and two inflatable thwart seats. Built-in Boston valves ensure quick and easy inflation and deflation.
Specifications:
Holds 3 people
Motor mount fittings
Fishing rod holders
Gear pouch
Best Small Inflatable Dinghy
UBOWAY 2-Person Inflatable Dinghy Set
Small But Holds 2 People
The Uboway small inflatable dinghy weighs 52 pounds, measures 230 x 126 mm and has a 572-pound capacity. In other words, this inflatable dinghy can hold two people in it, despite its small size.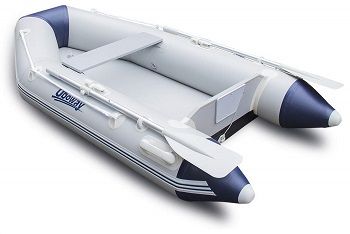 What's It Made Of
The Uboway inflatable dinghy is made of triple-layered 0.9mm Polyester-reinforced and anti-corrosive coated PVC for durability and rigidity. The material is resistant to sunlight, salt, corrosion, and other elements. There are four valves that ensure quick and easy inflation and deflation.
More Included Features
For more comfort while on board, there is an inflatable bottom floor. An aluminum sitting bench is also included for sitting, and there is a paddle lock, deck holder, D-Ring and a safety rope as well. In case you want to attach a motor, there are motor mount fittings as well.
Oars Are Included
While some manufacturers do not include oars in their packages, this one comes with a set of two aluminum oars. You also get a foot pump, a carry bag and a repair kit. If you need a bit bigger boat, Uboway has a 4-person model of this one.
Specifications:
Holds 2 people
Inflatable bottom floor
Oars and pump included
Best Cheap Rubber Dinghy
Intex Explorer 100
A Classic Choice
Everyone has had an Explorer at some point in their lives. With the characteristic orange color, there is a single-person version (this one) and the 2-person model. This one measures 58 x 14 x 33 inches and has a 120-pound capacity.
Included Features
For safety, there are two separate air chambers. They ensure that even if one ruptures, the other stays inflated and keeps the inflatable dinghy (and you) afloat. Also included are welded oar locks and a US Coast Guard ID.
Use It For Anything
Even though the Explorer is not the kind of inflatable dinghy you would take out to the ocean, you can use it for a variety of other purposes. You can teach your kids how to row or simply relax at the pool. It comes at a price of $10, so you really do not have to spend a fortune on this inflatable dinghy.
Specifications:
For one person
2 separate air chambers
Cheap
Best 5-Person Inflatable Dinghy
INMAR 320-TS Dinghy Tender Inflatable Boat
Dimensions And Capacity
The Inmar inflatable dinghy measures 10'6" in length, and the beam measures 5'. The hull weighs 125 pounds and five people can fit inside the inflatable dinghy. You can even attach a maximum of 15 horsepower motor to it.
What's It Made Of
The inflatable dinghy is made of standard 1100 Decitex 0.9mm tubes, but the manufacturer has added the double-hull protection standard. That means that that allows for 1.8mm of lower tube protection. 18" tubes ensure stability and dryness, while the V-Shape inflatable keel provides for better tracking.
What Else Is Included
There is an all-around rub strake and reinforced seat patches on the tube. Besides the motor mount fittings, the inflatable dinghy comes with two paddles, a foot pump with gauge, a field repair kit, a storage bag and a bow bag.
Specifications:
Holds 5 people
Motor mount fittings
Inflatable keel
Paddles and carry bag included
Foot pump included
Best Inflatable Fishing Dinghy
PEXMOR 7.5 Inflatable Dinghy Boat
Four People Can Fish
The 10 x 4.2 feet inflatable dinghy can fit four people in it with its 880-pound weight capacity. It weighs 82 pounds, and even has a wooden floor for extra stability when you stand up.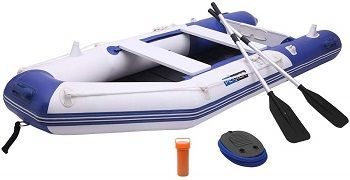 Construction Material
1100D 0.9mm 3-ply PVC is used to make this inflatable dinghy, and the material is resistant to sun and wear. There are three separate air chambers for safety purposes. There are two fishing rod holders on board as well.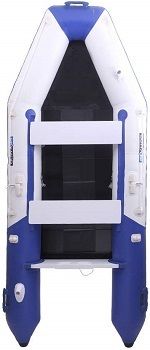 Other Included Features
The package comes with a foot pump, a pair of aluminum oars, and 6 floorboards. You also get one seat plate, a repair kit, a manual and a carry bag. You can even attach a maximum 10 horsepower trolling motor to the back.
Specifications:
Holds 4 people
Three air chambers
Two fishing rod holders
Pump and bag included
Conclusion: Which Inflatable Dinghy Boat Is For You?
There are a lot of options besides the five listed above. If you are not completely satisfied with the products I presented here, feel free to explore other options available. Out of these, I would recommend the INMAR 320-TS Dinghy, because it can hold 5 people and comes with a pump and carry bag. The other blow-up dinghy I like is the Intex Mariner 3, because there are both motor mount fittings and fishing rod holders.
If you like inflatable boats, make sure to check out this article about best inflatable boats with motor. There is also a great article about best inflatable rafts, so give that a look too. For more affordable options, be sure to check out the article about cheap inflatable boats.