Looking to buy an inflatable tandem kayak?
Then you should read this review on five of the best 2-person inflatable kayaks available for purchase in 2020. Read their performance details and other important information to find out which of these best 2-person inflatable kayaks are the best pick for you.
Everything About Two Person Inflatable Kayaks
What Are The Perks Of Inflatable Boats?
Inflatable boats are getting more competitive every day, and now stand side by side to hard-hull boats. Compared to hard-hulls, inflatable boats & kayaks are much lighter and thus gain in portability. Most of them pack down small and will easily fit in the trunk of your car. Inflatable boats and kayaks are frequently cheaper than hard-hulls, and today are built very durably and safely.
Why Buy An Inflatable Kayak?
When picking your inflatable, there are some considerations to keep in mind between the choice of an inflatable boat or an inflatable kayak. Inflatable boats are great because they give you more space and can be found in very large sizes for a great capacity of people; compared to that, you will be hard-pressed to find a 4-person inflatable kayak. Inflatable kayaks, however, are suited for speed and taking on whitewater rivers.
Different Types Of Inflatable Kayaks
Inflatable kayaks are usually found in three sizes: solo, duo or inflatable tandem kayaks and 3-person inflatable kayaks. They also differ in the materials used for construction – standard PVC, eco-friendly Nylon and rugged Hypalon. There are also two distinctly different designs of kayaks: sit-on-top and sit-inside kayaks. Sit-inside kayaks are tighter and less comfortable but will keep you dry, while sit-on-top kayaks provide more comfort but will be more unstable in fast waters.
The Pricing of 2-Man Inflatable Kayaks
The prices of 2-person inflatable kayaks differ based on which inflatable brand they are from. Generally, they are more expensive than solo kayaks, but models can be found at very affordable prices, such as the Explorer k2 kayak from Intex. A model on the high side of the price range is the Aquaglide Chelan HB Tandem XL.
Where To Purchase Inflatable Double Kayaks?
The recommended website to purchase these best inflatable tandem kayaks is Amazon.com. Why? Because otherwise, you will have to track down each of these inflatable canoes 2-person on the individual brand's website. Furthermore, Amazon.com offers frequent discounts and easily indicates the quality of the product via the rating system.
Best 2-Person Inflatable Kayak Reviews
Best Cheap 2-Man Inflatable Kayak
Intex Explorer 2-Person Kayak
Fun & Sporty Design
The Explorer k2 kayak is a true inflatable double kayak at its inflated dimensions of 10' 3'' x 3' X 1' 8'' and a maximum weight capacity of 400lbs. This bright yellow 2-seater inflatable kayak with a fun graphic design on the sides is supremely visible in all types of weather conditions. The Intex inflatable kayak 2-person is best suited for calm waters, such as lakes and calmer rivers.
Some Construction Details
The construction of this Intex 2-person kayak is NMMA certified for safety – three separate air chambers are placed throughout the vessel to provide security in case of punctures. The featured material is puncture-resistant PVC and the inflatable I-beam floor provides good rigidity and stability. Quick inflate/deflate Boston valves ensure speedy set-up.
How Does It Control?
This k2 kayak features a removable rear skeg for directional stability both in shallow or deep waters. The design is constructed specifically to allow for more efficient paddling while keeping water outside of the raft. You don't need to worry about excessive water splash thanks to the raised seating and self-bailing system.
Convenience Features & Accessories
The Intex Explorer 2-person kayak features two adjustable, inflatable seats with backrests that are spaced in such a way to provide leg comfort. A grab line and grab handles are included on each end of the boat to help you both with transport and with stability during your paddling. An Intex Explorer k2 kayak repair kit is included to mend small damages, while the aforementioned Intex Explorer k2 kayak skeg helps with tracking.
Intex Explorer K2 Kayak Modifications
Your Explorer 2-person kayak can be modified in fun ways to provide for a more enjoyable and versatile experience. Patches and tape can be used to make the seams of the Explorer k2 kayak more durable, while skid tape on the bottom will make it more abrasion-resistant. A milk crate can be used to elevate the seats.
Why Buy This Inflatable Tandem Kayak:
A bright and sporty design provides optimal visibility
Construction is NMMA Certified
Streamlined design for efficient paddling and water control
Features puncture-resistant PVC material
Best 2-Person Inflatable Whitewater Kayak
Driftsun Rover 220 Inflatable Tandem Kayak
Rocker Profile Perfect For Whitewater Rivers
The rocker profile of the Driftsun Rover 220 makes it a perfect choice to take on white water rives up to Class IV. This sleek curvature of this inflatable tandem kayak reduces water resistance and allows for fluent control. However, this also means that the Driftsun Rover 220 inflatable kayak is better suited for intermediate kayakers, as this boat will dip to the side and turn at a dime, which takes some skill to correct.
Maneuvering Features & Performance
Along with the already-mentioned streamlined design, this 2-person whitewater kayak features a removable rear skeg for better tracking. At 28lbs, the Driftsun Rover 220 is extremely easy to control, and the self-bailing drain plugs are sure to keep you afloat.
Durable Construction To Withstand Tough Conditions
Double Layered Construction ensures protection from both sides: 1000 DEN reinforced side tubes and a heavy-duty tarpaulin bottom makes this 2-person inflatable very abrasion and element-resistant. A high-pressure floor that can be inflated up 6 PSI gives you the rigidity of a hard-hull kayak with the portability of an inflatable.
Inflation & Transportability
The complimentary high-pressure pump with an integrated pressure valve provides a speedy inflation time of under 10 minutes. You can easily store the Driftsun Rover 220 inflatable tandem kayak into the included travel bag – due to its lightness, it will be a breeze to carry around.
All-Inclusive Package Included
This blow-up tandem kayak will treat both you and your wallet with its comprehensive accessory package. The Driftsun Rover 220 comes with everything you need to get started: two padded EVA seats, two paddles, a removable rear fin, and the aforementioned pump and travel bag.
Why Buy This Inflatable Tandem Kayak:
Suited for Class III and IV white water rivers
Features durable double-layer construction
Rocker design helps with maneuverability
Best Fishing Kayak 2-Person
Sevylor Inflatable Kayak 2-Person
Best-Selling 2-Man Blow-Up Kayak
The Sevylor Colorado 2 is a great inflatable tandem kayak for lake and ocean fishing and kayaking – 10' 6'' long and 39'' wide, it will comfortably accommodate two adults.  With its load capacity of 440 lbs and integrated d-rings, you will be able to pack on as much gear as necessary of this Sevylor 2-man inflatable kayak.
Suitable For Fishing
The Sevylor Colorado kayak 2-person is also a good choice for anglers: Berkley Quick-Set rod holders allow for hands-free fishing, while the oar holders will keep your oars nice and secure while you're busy angling. It is also compatible with a trolling motor, a great feature for fishermen that want to get to the best fishing spots.
The Construction Methods Of Sevylor
The Sevylor kayak 2-person is NMMA certified and features rugged 18-gauge PVC construction. Like the Driftsun Rover 220, a double layer of protection ensures longevity – a 1000 DEN tarpaulin bottom and 840 DEN nylon cover are included in the construction. Though this Sevylor Colorado 2-person kayak does not disappoint in durability, the lack of a rear skeg must be mentioned in comparison to the previous models.
Spacious & Comfortable
The Sevylor 2-person kayak comes with two soft-back seats that can be adjusted to a higher position for improved ease of paddling. The cockpit offers generous space between the two seats, which are in reach of the nifty mesh storage compartments. This keeps your drinks and snacks nice and close.
Will Keep You Buoyant
Cast your worries aside with the Sevylor inflatable kayak 2-person: multiple air chambers are included for your safety, along with an Airtight system design not to allow air leak out. Standard double-threaded Boston valves are used for inflation and deflation, while an integrated pressure valve helps you inflate your Sevylor tandem correctly.
Why Buy This Inflatable Tandem Kayak:
Spacious cockpit offers comfort during long trips
Adjustable seats in hands' reach of mesh compartments
Multiple air chambers & Airtight system ensure safety
A good choice for anglers
Best Convertible Tandem Kayak
Advanced Elements 2-Person Inflatable Kayak
Convertible Tandem Kayak
The Advanced Elements AdvancedFrame Convertible tandem inflatable kayak is a great choice for all those who enjoy versatility in their inflatables. This 15' kayak with a 550lbs weight capacity can be easily converted from a tandem to a solo kayak with an optional deck accessory – alternatively, you also have two different configurations for the solo kayak option, a standard solo deck and closed deck which sports multiple d-rings with bungee lacing and a rear cargo hatch.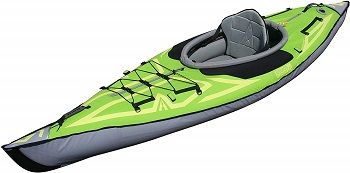 Aluminum Rib Hull Design
A great innovation of Advanced Elements is the AluminumFrame technology, which adds built-in aluminum ribs to the stern and bow of the kayak. This technology drastically improves the tracking and durability of this Advanced Elements 2-person kayak, combining the best of hard-shell kayaks with the lightness of inflatables.
Advanced Elements 2-Person Kayak Mods
If you want to take your Advanced Elements inflatable tandem kayak to another level, equip it with more proprietary Advanced Elements technology. These are the BackBone and Drop-Stitch Floor accessories, both available for purchase on Amazon.com. The BackBone is a bow-to-stern frame that enhances rigidity and performance, while the high-pressure Drop-Stitch floor will increase your stability.
Features Safe Construction
Three layers of material are used to ensure optimal puncture resistance. Along with that, a stunning number of six air chambers are integrated in case of emergencies. Rip-Stop fabric preserves the integrity of your Advanced Elements double kayak. The floor includes an integrated pressure relief valve and the seams of the bow and stern are reinforced.
Comes With Additional Accessories 
This Advanced Elements tandem kayak comes with two folding seats with padded back supports; they can also be adjusted to three different positions within the inflatable tandem kayak. It also features a skeg tracking fin, molded rubber handles, carrying duffel bag and owner's manual.
Why Buy This Inflatable Tandem Kayak:
Versatile convertible design
Aluminum rib technology improves tracking and performance
Can be modified with additional Advanced Elements technology
Featured Rip-Stop fabric prevents puncture damage
Best Inflatable Tandem Kayak For Ocean
Aquaglide Chelan HB Tandem XL
Touring Tandem Design
The Aquaglide Chelan Tandem XL, also known as the Chelan 155 HB XL, is the larger version of the Chelan One. This model features a long waterline and sharp bow with great water resistance, allowing this boat to efficiently cover great distances & ocean touring. The Aquaglide Chelan HB Two has a capacity for up to 3 people or 600lbs, but is best suited to two adults with a pet or child, or simply extra gear.
 Extremely Rigid Flooring
The Aquaglide Chelan HB Tandem XL features durable construction with extremely hard flooring. UV-resistant 600DEN PVC fabric is used in construction, while the hull fabric features Duratex heavy-duty polyester. A Drop-Stitch Floor that inflates to 12 PSI will ensure optimal stability and rigidity.
Goes The Extra Mile To Keep You Dry
Splash guards are placed at the fore and aft of the cockpit, allowing your gear and person to stay dry during extended ocean touring. Cockpit drains further help with water regulation; additional straps on the bow and stern provide a dry space for your bags and other accessories.
Takes Care Of Your Comfort
The Pro-formance seats included with this convertible tandem kayak are perfectly suited for your comfort. These seats come with an array of useful features, such as an adjustable air cushion, mesh storage pockets, a high backrest, and even two fishing rod holders for anglers. Side straps will allow you to quickly clip your seat to your kayak.
Why Buy This Inflatable Tandem Kayak:
Designed to cover large distances quickly
Has a capacity for up to three people
Extra rigid flooring and durable construction
Cockpit drains and splash guard keeps you dry
Pro-formance seats come with various useful features
Conclusion: Which Two Best Inflatable Tandem Kayak To Buy?
Out of all of these great models, I would recommend the affordable Intex Explorer 2-Person Kayak, a great inflatable double kayak for beginners with all of the necessary features for a good time on the water. For more advanced paddlers, the Driftsun Rover 220 is a great and speedy option that will take you adventuring down exciting whitewater rivers.
Want to keep on reading about this subject? Check out this article on inflatable kayaks near me. For those looking to save a penny with some affordable models, refer to this review of cheap inflatable kayaks. And if you're looking for rugged design, you will find what you need in this article on hard shell kayaks for sale.