If you want to read about one-person pontoon boats, this review is perfect for you.
Here I will be reviewing 5 of the best single person pontoon available for sale in 2020. Enjoy finding out everything about them, from their technical specifications to their performance and special features. Keep on reading to learn about the best one-man pontoon boats.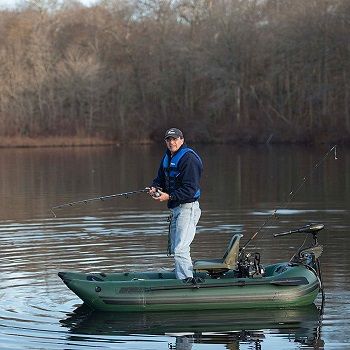 What You Should Know Before Purchasing One Man Pontoons
What Are Inflatable Pontoons?
Pontoon boats can be seen as a subset of inflatable boats, such as inflatable kayaks & dinghies. Inflatable pontoons are constructed differently than these other types – they consist of two inflatable tubes, the pontoons, upon which rests a buoyant structure, such as an aluminum floor.
Should You Buy An Inflatable Pontoon Or Boat?
Thanks to this specific structure, inflatable pontoons feature a sit-on-top design that is great for a watersports beginner. It is easier to get in and out of compared to the typical kayak or dinghy design. Inflatable pontoons generally offer more leg space and gear space, though their bulky size will make them slower than an inflatable kayak. This is why many pontoons come with motor mounts.
The Advantages of One Man Pontoon Boats
There are many advantages of 1 person pontoon boats over larger models. First of all, they are smaller and lighter, and therefore easier to inflate, deflate and transport.  Due to their size, they will also be easier to control, which can prove as an advantage for a beginner.
The Price Range Of Single Person Pontoon Boats
Generally, one person pontoon boats come at cheaper prices than larger versions. In this review, we'll be looking at some cheaper models from Classic Accessories and Wilderness, some middle-priced products like the Sea Eagle one-man pontoon boat, and a pricy convertible one-man pontoon from Outcast.
Where To Buy 1 Man Pontoon Boats
These best one-man pontoon boats can be purchased individually on various sites on the Internet, or at physical retailers that offer them in their lineup. However, to find all of these products in one place, Amazon.com is recommended. You will also be able to profit from frequent discounts and a simple purchasing and shipping procedure.
Best 5 Single Person Pontoon Boat Reviews
Best One-Man Fishing Pontoon
Classic Accessories Colorado Pontoon Boat
Perfectly Suited To Anglers
There are multiple reasons why the Classic Accessories Colorado is a great choice for the aspiring angler. Firstly, this one-man pontoon fishing boat offers an excellent load capacity of 400lbs – with only one passenger, this will leave more than enough room for gear. Secondly, this one person fishing pontoon comes with rod holders with non-corroding oarlocks. These holders can be rotated to three different positions on each oar stand, which will allow you to reach any fishing spot.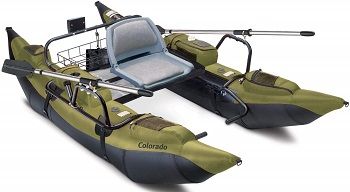 Everything About Construction
Double layers of protection including an abrasion-resistant PVC bottom and a nylon top cover ensure the durability of your vessel. This single person fishing raft also comes with a powder-coated steel tube frame and temperature resistant bladders.
Compatible With Motor
Equally important both for fishing and for your enjoyment is the fact that this one person pontoon fishing boat comes with a trolling motor mount and battery platform. An additional convenient feature is that the motor can be mounted in two positions. Other reviews have mentioned that this 1 person fishing pontoon is best suited for a 30lb thrust motor, and have added that a gas outboard will void your warranty.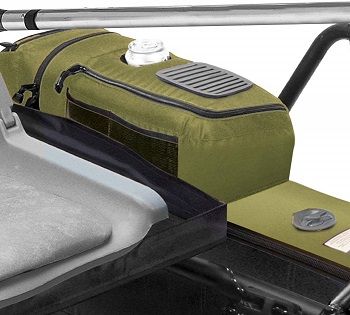 Fishing In Comfort And Safety
The fold-down plastic seats are padded and come with non-slip footrests that can adjust to a variety of leg lengths. The high positioning of the seat will allow you maximum visibility. For storage, plenty of options are provided, allowing you to go on extended trips: this single person fishing pontoon features 12 zippered pockets, 10 mesh pockets, and two insulated drink holders. For easy access and safe storage, detachable micro-foam fly patches are included.
Characteristics:
A high capacity one-man fishing pontoon
Comes with adjustable rod holders
Features trolling motor mount for better speed
Plenty of storage options
Comfortable seating with adjustable footrest
Best Convertible One to Two Person Pontoon
Orvis Outcast Fish Cat 13 Pontoon Boat
Large-Sized Convertible Pontoon
We come to the largest and most expensive pontoon boat on the list, the 65'' x 13' sized Outcast two-person pontoon boat. The reason why I've included this pontoon in this best one-man pontoon boat review list is that you can easily convert this two-person pontoon into a single person pontoon, which makes it a great choice for those who want to combine solo watersports with group expeditions.
Fabric & Metals Used In Construction
This Outcast inflatable pontoon makes use of standard 1000 DEN PVC material, while the AireCells feature vinyl seams. The frame is made out of 11-piece aluminum and features a removable front frame module that allows you to convert this boat's capacity. With an oversized tube diameter of 20'', this pontoon boat will keep you stable and buoyant.
Capacity And Storage
At its capacity of 750lbs, this one-man/two-person fishing pontoon offers you ample storage options. When converted to a one-man pontoon, the possibilities become even greater. The Outcast 13' pontoon boat features two side storage bags on each of the two pontoons, and a large steel rear storage platform – this can also be used for an optional battery & electric motor. The front platform can be used for smaller gear.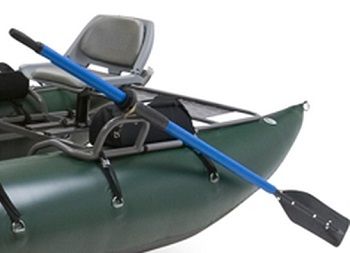 Other Important Features
This Outcast pontoon boat is quite heavy at 170lbs – unfortunately, it does not come with a transport wheel, so something to that tune will need to be purchased separately. The Outcast also features 2 air chambers along with Summit II valves – an OSG 5 Year Limited Warranty is sure to cover any kind of lasting damage sustained by this pontoon boat.
Characteristics:
Heavy-duty, large-capacity pontoon boat
Can be converted from tandem pontoon to one man pontoon
Large storage capacity with four included storage bags
Features an extensive 5 Year Limited Warranty
Best One-Man Pontoon Boat With Motor
Sea Eagle 285 One Man Pontoon
Lightweight & Portable Design
The Sea Eagle 285 is a frameless single man pontoon – this means that, compared to aluminum frame pontoon boats, the Sea Eagle 285 is extremely light and easy to transport. At only 42lb of weight, this motorized one person inflatable pontoon boat will pack down small and light and is perfectly suited to one person.
Which Motor To Use
This 1 person pontoon comes with an optional motor mount that can be equipped with a 55lbs max thrust or 3HP 42lbs max gas motor. If you equip it with the gas motor, the Sea Eagle will be able to reach 5 to 7 miles per hour; with the electric motor, this number falls to 3 to 4 miles.
Can Be Used For Fishing
This versatile 1 person pontoon boat is also a great choice for any angler. The first great addition is the swivel seat, a comfortable seating option that also allows you to rotate 360 degrees and reach all of the best fishing spots. Another key feature is the two built-in rod holders and a side pouch and stern bag that can be used for storage.
Sturdy Construction & Flooring
The Sea Eagle 285 single person pontoon boat features an extremely stable and sturdy floor construction. The integrated wooden floorboards layered by 1000 DEN fabric allow you to safely stand while fishing. Some other included construction features are two air chambers and quadruple overlapping superior glued seams.
Comes With All-Inclusive Package
The Sea Eagle 285 Pro Package comes with all of the necessary fishing equipment. Along with the already mentioned features, this package also includes a pump that will inflate the Sea Eagle 285 in 5 minutes' time, an oar set, stripping apron, stow pouch, repair kit, and owner's manual.
Characteristics:
Frameless design is extremely lightweight
Sturdy floor construction allows you to stand
Comes with an all-inclusive package
Best Cheap One Person Pontoon Boat
Classic Accessories Roanoke One Man Pontoon
Affordable And Easy To Maneuver Pontoon
The Classic Accessories Roanoke is the most affordable 1 man pontoon boat on my list. At only 43lbs of weight, this product is comparable to the Sea Eagle 285 with its easily transportable nature and maneuverability. This product is also not as resistant to strong winds due to this lightweight, so it should not be used in open seas.
Classic Accessories Hallmark Materials
Just like the Classic Accessories Colorado, the Roanoke features double-layer construction with a PVC bottom and nylon top. Safety is ensured by American Boat and Yacht Council standards. In case of damage, the Roanoke comes with a 1-year limited warranty.
Plenty Of Storage Options
This one-man pontoon boat for sale offers plenty of storage space at a load capacity of 350lbs. A rear platform behind the seat can be used for storage, along with two large, zippered armrest pockets. Additionally, you can use the mesh under-seat platform.
Additional Accessories & Features
The Classic Accessories Roanoke 1 person pontoon boat comes with a plastic fold-down seat with adjustable footrests. It also includes combination quick inflation/deflation valves and a steel tube frame. A quality pair of detachable 6' oars are included in the purchase.
Characteristics:
Affordable single person pontoon boat
Very light and easy to maneuver
Sturdy construction to ABYC standards
Comes with many storage options
Best One-Man Pontoon Boat For Whitewater
Wilderness SE 9ft Single Person Pontoon
Suitable For Whitewater Use
The Wilderness SE, a 9-foot single person pontoon boat exclusive to Costco, is a relatively heavy-weight model at 80lbs. This makes it suitable for whitewater rivers up to Class I since it will rock less and it will not turn as quickly, making it easier to control in busy waters. Though this weight might worry you due to transport issues, a transport wheel with an included oars and anchor system will alleviate your worries.
Good Capacity & Gear Storage Options
This 1 person pontoon boat provides a good load capacity at 400lbs for person & gear. With its many featured storage options like the six mesh and six zippered pockets, you won't be lacking for space to store your food, drinks and other.
Construction And Performance Details
Though this one person pontoon boat comes at a very affordable price, you don't have to worry about construction – like other Classic Accessories pontoons, the Wilderness SE utilizes a heavy-duty PVC bottom along with a tough nylon top. It also features an optional two-position trolling motor mount.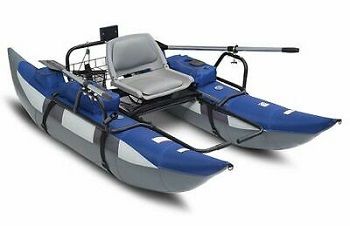 Features That Ensure Comfort
You won't lack for comfort in the Wilderness 9 ft. 1 man pontoon boat. Enjoy the nifty fold-down swivel seat, as well as a fully adjustable seat and footrest mount that complies with a variety of leg lengths. This is a great feature for anglers, along with the integrated three oar-lock positions equal to the slightly pricier Classic Accessories Colorado.
Characteristics:
Simple yet versatile one-man pontoon boat
Suitable for Class I rivers
Sturdy & comfortable construction
Provides a good capacity and storage options
Conclusion:  Which Is The Best One-Person Pontoon Boats To Buy?
Out of all these excellent models, the Classic Accessories Colorado Pontoon Boat is recommended for its medium price coupled with a variety of convenient features designed especially for anglers. For those who don't mind spending some extra cash to get a large yet durable product, the Orvis Outcast Fish Cat 13 Pontoon Boat is a great choice for both solo travelers and two people with its convertible design.
Find out more about inflatable boats by reading this article on best pontoon boat for sale. Interested in larger sized inflatable pontoons & boats? Why not read this review of big inflatable boats. And if you haven't had enough of pontoons, I recommend this review of 2 person pontoon boat with a motor for your enjoyment.