Are you interested to buy an inflatable kayak offer, but just don't know where to start?
Then read this review about the best 5 Sea Eagle kayaks to learn everything you need to know about Sea Eagle inflatable kayaks, from dimensions to the fine technical details. Keep reading to learn about all of the best-selling Sea Eagle kayaks, like the Sea Eagle 370 and the Sea Eagle 330.
Everything To Know About Sea Eagle
The History Of Sea Eagle
Sea Eagle, short for Sea Eagle Boats, is a family-owned and operated business founded in 1968. Located on Long Island, the company's office is very near to the historical Port Jefferson Harbor, where they profit from closed and secluded bodies of water. Today, Sea Eagle strives to expand and innovate and continue offering quality products at an affordable price.
Sea Eagle Product Range
Sea Eagle offers a wide range of products for fans of watersports and inflatables. Sea Eagle inflatables are divided into a couple of categories: Sea Eagle inflatable kayaks, Sea Eagle fishing kayaks, and Sea Eagle inflatable boats.  Out of all of these products, the kayaks offer the most variation and are further split into different types, such as the Sea Eagle Explorer, Sea Eagle FastTrack, and Sea Eagle Razorlite lines.
More About Sea Eagle Kayaks
Sea Eagle boasts many improvements in its Eagle inflatable kayaks over the years. Today, they offer competitive technologies and construction methods, featuring industry-leading one-way valves, thicker hull material and specialized material formulation for both durability and reliability on the water. Sea Eagle kayaks, fast and easy to handle, are advertised both for beginners and experienced kayakers. Sea Eagle inflatable kayaks are covered for three years against manufacturer's defects.
The Price Range Of Sea Eagle Blow Up Kayaks
Sea Eagle products vary from low price ranges to middle price ranges – for example, the Sea Eagle 330 and Sea Eagle 370 are extremely affordable models, while the larger inflatables such as the Sea Eagle 420x come at a much steeper price. Still, compared to other products on the market, the low price ranges are very fair, while the higher prices are still consistent with other mid to high range products.
Where To Buy Sea Eagle Kayaks For Sale?
Sea Eagle kayaks can be purchased either on Sea Eagle's website, but Amazon.com is recommended due to ease of purchasing and shipping and frequent discount offers. Sea Eagle has an updated and informative marketplace on Amazon.com that makes this browsing process even easier.
Best 9 Sea Eagle Kayaks For Sale Reviews
Sea Eagle 330 Inflatable Kayak
Bestselling Sea Eagle Kayak
The versatile Sea Eagle 330 is Sea Eagle's most popular inflatable kayak.  Very light and extremely portable, weighing only 26lbs, this kayak is a great choice for a two-person kayaking excursion. This 11' kayak from Sea Eagle will support up to 500lbs of weight, which means that you can also pack a decent amount of gear in. You can also use it solo and pack on extra gear. The Sea Eagle kayak 330 is suitable for up to Class III white water rivers.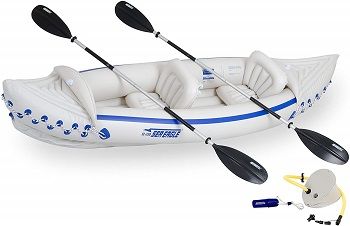 Easy Set-Up
With the Sea Eagle 330 solo, you will be ready for the water in a matter of minutes –six, to be precise. Simply inflate the kayak with the included foot pump. Storing the Sea Eagle SE330 is even easier, as this model packs down to a little fraction of its inflated size.
Integral 5-Tube I-beam Floor
The Sea Eagle SE330 inflatable kayak features large I-beam tubes that are much more rigid than the smaller tube; this kind of flooring also allows for a higher paddling position. Both the speed and maneuverability of the Sea Eagle 330 for sale are improved thanks to this 5-tube I-beam floor.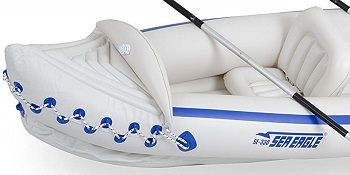 Designed For Better Tracking And Speed
Sea Eagle is very aware of the importance tracking skegs have for inflatable kayaks – that's why the Sea Eagle kayak 330 features two molded skegs on its rear. Made out of extremely durable plastic, your skegs will be safe from shock and abrasions.
Features Deluxe One Way Valves
Sea Eagle ensures the quality of their valves, praising them over traditional pipe valves that easily crack and lose pressure. These five deluxe valves allow for air to pumped inside without it leaking out, and its larger opening allows for quick inflation and deflation. Molded O-rings and a tether keep them attached to the hull, and a final seal ensures their integrity and airtightness.
Features:
Lightweight and portable Sea Eagle kayak
Features rigid 5-tube I-beam floor
Two rear skegs ensure good speed and tracking
Deluxe One Way valves make inflation and deflation simple
Sea Eagle 330 Deluxe Other Version
The Sea Eagle SE330 Deluxe inflatable kayak is the exactly same kayak as the Sea Eagle 330; the only difference is the accessories that the kayak comes with.  Compared to the Sea Eagle 330 inflatable kayak which comes with two SEC seats, two paddles, foot pump, and repair kit, the Sea Eagle 330 Deluxe also features inflatable spray skirts and a rugged carrying bag with a sturdy shoulder strap.
Sea Eagle 330 Pro Other Version
The Sea Eagle 330 Pro kayak is yet another version of the base Sea Eagle SE330 model; this time, the seats featured are not SEC, like in the base Sea Eagle 330 version or the Sea Eagle 330 Deluxe version, but super comfortable Deluxe Kayak Seats which provide additional back support.
Sea Eagle Kayak 370
Lightweight Yet Sturdy
Just like the Sea Eagle 330, the Sea Eagle 370 is a very lightweight kayak that is only marginally heavier than its smaller version at 32lbs. This 12' 5'' SE370 kayak will comfortably fit two adults, but it also allows for a slightly tighter three-person fit. At 650lbs, you will still have the capacity to pack your gear.
Durable, High-Quality Construction
The Sea Eagle SE370 is NMMA Certified, ensuring a high level of safety for both users and the environment. The Sea Eagle SE 370 kayak is constructed from K80 PVC material – customers are advised not to glue D-rings on the boat as it could stretch the material and cause damage to the kayak which is not covered in the warranty. The Sea Eagle SE370 kayak also features high frequency welded seams and sun and saltwater resistant hull material.
Designed To Keep You Dry
The standard Sea Eagle SE370 inflatable kayak model comes with lashed down inflatable spray skirts to keep you and your gear dry. Integrated open and close drain valve will help keep water out of the Sea Eagle 370, while the five Deluxe One Way air valves will ensure you stay out of the water yourself.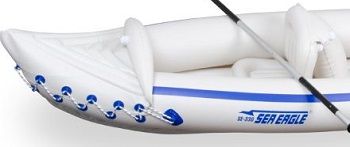 Accessories Included
The standard version of the Sea Eagle kayak 370 comes with the Sea Eagle 370 hull, two 7'10" AB30 Paddles that feature an asymmetrical blade and disconnect into four parts for easy storing, three SEC kayak seats, a high capacity foot pump, and small repair kit.
Features:
A bigger version of the Sea Eagle SE330
Constructed from K80 PVC material
Comes with all necessary accessories to get you started
Sea Eagle 370 Pro, Sea Eagle 370 Deluxe & Sea Eagle 370 Fishing Other Versions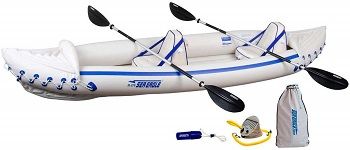 Just like the Sea Eagle 330, the Sea Eagle 370 comes with a various versions that feature upgraded accessories to the base version. The Sea Eagle 370 Deluxe adds on a carry bag, the Sea Eagle 370 Pro inflatable kayak features the carry bag, multi-purpose storage box and two Deluxe Inflatable kayak seats, while the Sea Eagle SE370 inflatable sport kayak has all of this (sans one seat) and adds on a multi-purpose storage box with two rod holders.
Sea Eagle 380X Inflatable Kayak
Extremely Rugged Sea Eagle Inflatable Kayak
This tough inflatable kayak from Sea Eagle's Explore series is a versatile vessel that is sturdy enough to take you through class IV white water rapids, but comfortable enough for a leisurely flat-water ride. This 14' inflatable kayak can accommodate up to three people with its load capacity of 750lbs.
Features Rapid Self-Bailing
To ensure safety and dryness in rushing waters, the Sea Eagle 380x comes with 16 rapid self-bailing drain valves that will get rid of water before it can even come in. Keep them closed for a dry and stable experience on flat-waters.
Double Protection Flooring
The Sea Eagle 380x inflatable kayak features a removable and high-pressure drop stitch floor that is as lightweight and sturdy. Its position on the bottom of an outside floor adds double rigidity and layer of protection against abrasions and punctures. This easy-to-remove nature is also useful for cleaning.
Large Removable Skeg
The Sea Eagle 380x kayak features a large removable rear skeg that will transform your inflatable kayak from whitewater to a flat-water vessel; simply remove it while in white water rivers to prevent obstructs, and add it on when in open waters for better maneuverability and tracking.
Other Features & Accessories
The Sea Eagle 380x is constructed from durable 1100 Decitex Reinforced material and features quadruple overlapped glued seams. It also comes with three air chambers placed in the port, starboard, and floor for extra safety. The Sea Eagle 380 also supports electric engines with a max weight of 15 lbs. This Deluxe version comes with everything we've come to expect from Deluxe versions: two deluxe kayak seats, a carry bag, but also a slide in skeg for even better tracking.
Sea Eagle 380X Explorer Pro
The Pro version of the Sea Eagle 380x inflatable kayak comes with additional convenient accessories, such as the two tall back seats made of thermal molded foam with a zippered rear pouch, a kayak carrying bag that wraps around the boat's hull and two kayaks stow bags for additional storage.
Sea Eagle FastTrack 385
Light-Weight Rigid Inflatable Kayak
The Sea Eagle 385 is a lightweight and sleek Sea Eagle inflatable kayak – at its weight of 35lbs, it is one of the lightest RIB inflatables on the market. This makes the controlling of the Sea Eagle 385 ft simple and stress-free. At around 630lbs of load capacity, the Sea Eagle 385 will accommodate up to three adults, either on white-water rivers up to Rating II or flat-water rides.

Designed For Speed
The Sea Eagle 385ft is engineered precisely for efficiency and speed. The asymmetrical design – tapered and narrow at the bow but wider at the stern – allows the Sea Eagle FastTrack 385 to easily glide through waves while providing buoyancy right where the sitting positions are.
Patented Rigid Inflatable Keel
Sea Eagle's Patented NeedleKnife Rigid Inflatable Keel is what gave the Sea Eagle FastTrack 385 its name – this unique technology allows the Sea Eagle 285 FastTrack for sale to paddle faster and straighter than other inflatable kayaks. Its sharp bow and stern mold allow the keel to cut through waves, while also providing enough buoyancy and lift.
Construction & Materials Used
Like all other Sea Eagle inflatable kayaks, the Sea Eagle 385 is NMMA Certified. It features the same construction as the robust Sea Eagle 380x, meaning 1100 Dtex Reinforced material and quadruple overlapped seams. It is sturdy enough to allow for an electric engine of max 15lbs weight.
Storage Options
The Sea Eagle 385 ft features 18 D-rings for securing seats and gear. You can also make use of the front and back spray skirts that feature space below them, along with rope lacing that can be used as additional storage above.
Features:
Sleek, speed-oriented Sea Eagle FastTrack kayak
Patented keel allows for faster and straighter paddling
Asymmetrical design adds to speed
Sturdy construction and quality materials used
Has plenty of storage options
Sea Eagle 473RL Razorlite
Lightweight & Speedy Sea Eagle Razorlite
The Sea Eagle 473rl is a high-performance solo kayak with a load capacity of 500lbs, ensuring more than enough capacity for gear and accessories. Very light and fast, reaching up to 6 mph, the Sea Eagle 473 is the perfect kayak for thrill-seekers and paddlers of intermediate or above level.
Straight Hull Design
This Razlorlite kayak features a unique straight hull design: this proves the maximum straight hull waterline length, which, combined with the narrowness of the Sea Eagle Razorlite 473, ensures optimal paddling speed. The plastic bow and stern molds cut through water like the edge of a razor cuts through butter – Sea Eagle ensures the high-quality performance of the Sea Eagle 473.
Made Entirely Of Drop Stitch Material
The Sea Eagle 473 Razorlite inflatable kayak is the world's first kayak made entirely out of Drop Stitch material, combining 3'' Drop Stitch material for the flooring and 4'' Drop Stitch material for the side walls. Made from thousands of interconnected threads, this material ensures remarkable rigidity due to its ability to be inflated to 10 psi, which is much higher than the usual Sea Eagle kayak standard of 3-4 psi.
Glides Through Water Quickly
The bow and stern of the Sea Eagle 473rl are engineered to allow this Razorlite kayak to glide quickly and effortlessly through water: the double concave design at the bow allows for friction and drag to be reduced, while the double concave at the stern makes for a clean exit. Coupling this with the tapered Drop Stitch sidewalls that ensure buoyancy, you end up with a stellar, innovative product.
Adjustable Foot Rest
The Sea Eagle 473rl Razorlite takes you comfort in account – furnished with a fully adjustable ergonomic foot brace, you can spend extended kayaking trips in perfect comfort while maximizing your paddling efforts. The front and rear spray skirts along with 2 drain valves will keep you perfectly dry.
Features:
Special design ensures remarkable speeds
Recommended for intermediate to high-level kayakers
Features an ergonomic footrest
Made entirely out of drop stitch material
Other Available Sea Eagle Kayaks
There are many other high-quality Sea Eagle inflatable kayaks on the market: from the Explorer line, the Sea Eagle 420x and the Sea Eagle 300x, then the Sea Eagle Razorlite 393rl from the Sea Eagle Razorlite series, the Sea Eagle FastTrack 465 and the versatile, hybrid inflatable, the Sea Eagle 435ps. All of these products are available for reviewing and purchase on Amazon.com.
Sea Eagle Kayak Accessories And Parts
Sea Eagle sells a variety of Sea Eagle Kayak Accessories on Amazon.com. For example, the Sea Eagle kayak paddle, featuring an asymmetrical blade and aluminum shaft that disconnects into 4 parts for storage convenience. Sea Eagle also sells their Sea Eagle kayak sail, made with a strong aluminum frame and accompanied by a nylon carry bag.
Conclusion: Which Sea Eagle Kayak To Choose?
Out of all of these excellent Sea Eagle inflatable kayaks, it is difficult to pick which one is the most outstanding. However, for those who are looking to save a penny and yet purchase a great, sturdy starter inflatable kayak, the best-selling Sea Eagle 330 inflatable kayak is a great choice. Those who are more adept at kayaking and enjoy top-of-the-grade, innovative technologies will not regret purchasing the supremely fast Sea Eagle 470rl Razorlite of the Sea Eagle Razorlite line.
Check out more information on inflatable boats by clicking on this inflatable rubber boat article. Boats that pack a little bit of power are your passion? Then read this review on inflatable boats for sale with motor. But if that isn't your thing, water sports fans who just want to enjoy a little bit of leisure time on water will enjoy this article about inflatable rafts for lakes.